March 2020 will be a month Austral Fisheries CEO David Carter will never forget. The race against time to assemble crews and put ships to sea as the world collapsed around him and his team – first daily, then hourly – played out like a thriller.
By Brad Collis
He says it was like the escape scene in Tomb Raider, where there are "giant boulders steamrolling down, everything exploding, coming apart. One stumble and game over."
David Carter is talking about an unprecedented and dramatic sequence of events in which he and his team flew around the world and criss-crossed Australia in a desperate effort to crew, prepare and dispatch fishing boats to sea as the COVID-19 pandemic effectively shut the world down.
The challenges and quick-draw decisions were coming thick and fast as international, national and state borders closed, one after the other, trapping skippers and crews mid-journey, and, crucially, official government observers that boats must carry.
Urgent high-level talks were taking place around the clock to gain regulatory exemptions and to negotiate quarantine arrangements that would allow crews to assemble, be briefed and put to sea before harbours were closed.
On 1 April, when the Northern Prawn Fishery and the Southern Ocean Patagonian Toothfish Fishery both opened, David Carter could scarcely believe they had managed to navigate the tightening COVID-19 lockdowns and get their fleets to sea.
"We had 172 people at sea on 15 boats – three Mauritius-based longliners in the sub-Antarctic, 11 Cairns-based prawn trawlers in the Gulf of Carpentaria, and a snapper trapping boat out of Darwin."
As the COVID-19 pandemic started to unfold internationally, Austral's management team had predicted some of what was to transpire. It already had its Patagonian Toothfish crews assembled at the company's base in the island nation of Mauritius off the South African coast. The crew had been quarantined in readiness, along with three official observers, who were based in Cape Town, South Africa.
Image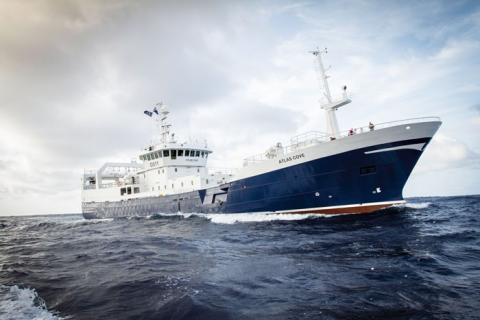 The Atlas Cove is safe at sea after staff completed the required time in quarantine.
Photo: Austral Fisheries
When news broke that Mauritius would close its borders on 19 March (with just one day's notice), Austral's support staff there were instructed to get the last plane out, even though their work was not completed. They all eventually made it to Perth (and subsequent quarantine) via Dubai.
The skippers, who normally rely on the support team for provisioning and fuelling, had to finish preparing for sea themselves and get the boats out.
"Everyone had completed their quarantine so, at this point, the best place for our crew was at sea, away from exposure to the virus," says David Carter.
For the next five days the fleet sailed in limbo as talks were held between Austral Fisheries and the relevant authorities to find a solution to allow vessels to continue operating in international waters and under the required regulatory observation. It was a scenario beginning to be played out in ocean fisheries all around the world.
David Carter says everyone was doing their best to help, and a sense of Team Australia prevailed during debates about the pros and cons of different options for continuing to operate under changing conditions internationally.
"We received a lot of government assistance to help get through the maze of complex regulations and requirements until we were, finally, in a position to begin fishing."
David Carter and his management team then flew to Cairns, "where things were also starting to get sticky".
The company was preparing 11 prawn trawlers for the start of the northern prawn season. After a risk assessment submitted to, and approved by, the Australian Maritime Safety Authority (AMSA), it was able to fast-track crew inductions.
"Along with the rest of the seafood industry we were given an exemption for some induction activities which would otherwise have exposed people to working in groups," David Carter explains.
"As is normal practice now for new crew, we used a tablet-based 'learning management system' for shipboard safety inductions, as opposed to the past practice of cramming 80 people into a room. Similarly all the sign-ons and briefings were done boat by boat, again to reduce mingling."
By the end of that week all the boats were able to sail and everyone held their breath for 14 days.
If anyone on any boat showed any COVID-19 symptoms the company's risk management plan dictated that boat had to return to port and to quarantine.
New challenges arise
As the last prawn boat was ready to sail, word came through that WA would be closing its borders on 5 April, so David Carter and his team had to hurriedly find flights to return to Perth, arriving home with just hours to spare.
The WA Government had made it clear that anyone missing the deadline would be locked out; that, under the Australian Constitution, state residents had to be treated the same as non-residents.
Back in WA, everyone for a brief moment thought most of their problems were now solved … until word came through that the Carpentaria Shire in northern Queensland was closing its borders.
The shire includes the coastal township of Karumba, where the prawn boats offload their catches. The shire's concern was that backpackers and the out-of-region workforce that supports the prawn industry might increase the infection risk to Indigenous communities.
The Cairns management team moved into overdrive to recruit a workforce and medically check everyone to ensure they were COVID-19 free.
The Carpentaria Shire accepted a proposal to charter a plane to fly in workers and transport them directly to the company compound, with no one permitted to leave except the one person nominated to shop for groceries.
"Then we had the problem of the boat crews by then having been at sea and therefore in quarantine for longer than the unloading crews in the compound. So, until the shore workers had been isolated for 14 days, the first boat crews to come in had to unload themselves to maintain social distancing.
"It was pretty tough on people and it was a relief all-round when by the second week in April we were able to say, OK everyone has now been isolated for over 14 days, you can mingle, but still only inside our sealed-off compound."
After a few weeks of comparative calm, Austral Fisheries management is now working on ways to manage the mid-season break when the toothfish boats normally return to port in Mauritius, which is still closed. One option is for the boats to sail instead to Albany in WA to unload.
"But having gone through what we did to get the fleets operating, everything now is just practicalities to be managed."
Market impacts
On the markets front, David Carter says China is slowly reopening, but in the US buyers are still holding considerable stock because of the slump in consumption.
"We estimate at least a 30 per cent price fall in the US seafood market. This may, of course, be offset by the weaker Australian dollar, cheaper fuel and government assistance programs such
as waiving of levies and export incentives.
"So the next decision is whether we follow the market, or take a gamble and put product into storage. And on top of COVID-19, the prawn season isn't looking that good anyway. The catches this year are down."
David Carter says the experience has led to considerable management analysis by the company, one component of which has been to 'recalibrate' its approach to risk and to balance it against other imperatives.
"While others may later sit in judgement of the decisions we had to make under pressure, I believe it behoves us to acknowledge risk, manage it, and carry on," he says.
"We were very mindful, from the moment this episode began, of our obligations to so many people to keep going; to maintain a safe environment for our crews who earn their living fishing; and the supply chain businesses that are also relying on us to deliver product, not to mention the broader issue of keeping available to everybody a supply of marine protein."
He says the other 'take-home' from all this is how everyone pulled together.
"It has been quite humbling, from the boat crews to the front-line operations staff who put their own health and wellbeing on the line; escaping from Mauritius, going into quarantine, and the guys in Cairns where isolation was not always possible, but they did what had to be done to help.
"Add to that the support we have been given from the Australian Government through its agencies including Australian Fisheries Management Authority, AMSA, the Department of Agriculture, Water and the Environment, and the Australian Antarctic Division … I get goosebumps when I try to take it all in."
---
Image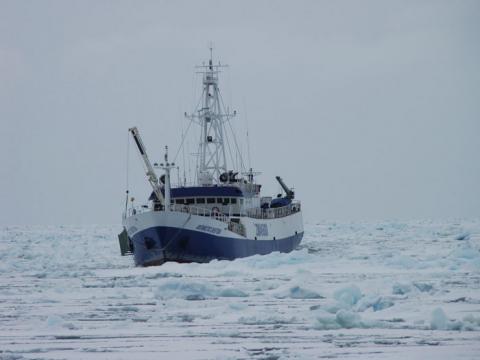 Australian Longline's
Antarctic Chiefton
has been caught in port at Mauritius without its full crew.
Photo: Australian Longline
Waiting game suspends business as usual
Tied to the wharf in Port Louis, Mauritius, is the Antarctic Chieftain, one of two Patagonian Toothfish longliners operated by Hobart-based Australian Longline. On board are 16 crew members who, at the time of FISH magazine going to press, had been confined to the vessel for more than six weeks, with no one allowed on or off.
Two bright notes in an otherwise challenging situation is that one of the crew is the cook and the boat had been fully provisioned for the start of the Heard Island and McDonald Islands (HIMI) fishery season. Other crew members include the chief and second engineers, factory manager and bosun.
Not with them are the New Zealand skipper, the first and second mates, and another crew member, who were all still en route to Mauritius when its borders were suddenly closed on
19 March. Mauritius has since extended its initial 15-day closure to 4 May.
Australian Longline managing director Malcolm McNeill says the crew members are in good spirits as they are accustomed to long periods aboard.
Malcolm McNeill says the company is playing a waiting game, hoping it will still be possible to resume fishing for the second half of the HIMI season.
The company's second longliner, Antarctic Discovery, is at sea in the Macquarie Island Toothfish Fishery.
"The ultimate goal is to get the Antarctic Chieftain's remaining crew to the boat so they can go directly to the fishing grounds, but this would require the Mauritius airport to open and for New Zealand and Australian citizens to be allowed in," he says.
Failing this, the company is working on a plan to get a qualified Mauritian captain and first mate to the vessel and sail it to Australia for resupply. This, however, will require Australian authorities to accept Mauritian seagoing certificates, allowing crew to arrive from New Zealand to meet the vessel and for the Mauritian crew to return to Mauritius.
"So we face several major hurdles under both scenarios, and that's before we even know if there will be flights available."
Malcolm McNeill says the company has taken a $6 million revenue hit from missing the first half of the HIMI season. This figure will double if the boat remains stuck in port all season.
"In addition to the vessel issue we have had cancellations or significant price drops on pre-virus sales agreements. Fortunately we've been able to on-sell this fish again with a $1.5 million price decrease."
The price of Patagonian Toothfish dropped during the January−March period by US$6 per kilogram, or about 21 per cent.
He says the company could manage the decreases, as prices would be expected to recover over time. However, having invested $40 million in a new factory longliner vessel, due to be delivered at the end of the year, the loss of the 2020 season is a major financial blow.