Amid the turmoil the COVID-19 pandemic has brought to markets, businesses and people's everyday lives, the importance of the seafood sector provides some level of comfort to those working within it.
By Ilaria Catizone
Amid the turmoil the COVID-19 pandemic has brought to markets, businesses and people's everyday lives, the importance of the seafood sector provides some level of comfort to those working within it.
For many in Australia's fishing and aquaculture sectors, however, effects of the pandemic are severe and come on top of several other significant fishery and market disruptions: extreme summer ocean temperatures, drought and extensive bushfires. All these disruptions are expected to have a long-term impact on the profitability of fishers and seafood producers.
That being said, the impact of government restrictions to stem the spread of the coronavirus on both domestic and international markets and supply chains has so far been highly variable.
The FRDC has been mapping the impact of the COVID-19 pandemic on the sector, both separately and in conjunction with the impact of other disruptive events. It is keen to understand how the virus affect its activities and what short-term research could assist industry and government responses.
Intelligence gathering and early discussions with stakeholders have identified impacts in the following areas.
Export demand
Of those seafood sectors that export product, 90 to 95 per cent have been affected. The high-value Rock Lobster and Abalone fisheries have been severely impacted along with other species such
as Coral Trout and live eel exports. China is Australia's largest seafood buyer, but exports of Rock Lobsters halted in late January when China began progressively moving into a lockdown to arrest the spread of the virus. Lunar New Year celebrations, normally a peak period for seafood sales, were effectively cancelled and demand plummeted.
Positive signs began to emerge in April that Chinese markets were slowly reopening, although early information suggested prices would be lower than before the pandemic started.
Domestic food service
In Australia a very high proportion of domestic supply is provided to food services. The closure of restaurants due to the coronavirus restrictions has resulted in a drop in demand of around 70 to 80 per cent.
Some innovation is occurring, with restaurants moving to sell takeaway, and fish and chip shops appear to have been less affected. A mix of imported and domestic seafood is sold into this sector.
Image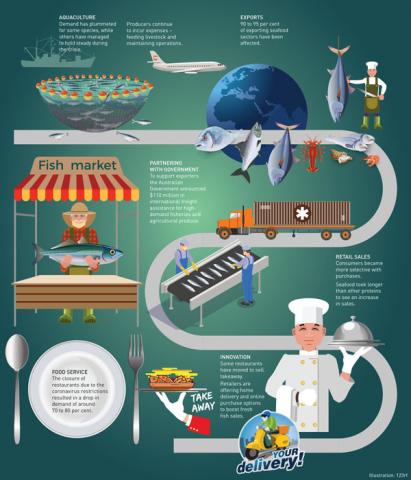 Keeping seafood supplies flowing
Photo: 123rf
Domestic retail sales
Retail sales of seafood remain more robust than exports and food service markets, although seafood was not a primary choice when consumers began stockpiling food supplies as coronavirus restrictions were put in place in Australia.
This may be related to perceptions that seafood does not freeze well and a lack of consumer confidence in preparing seafood at home, as identified in FRDC market research. Consumers also became more selective with what they bought and seafood took longer than other proteins to see an increase in sales.
However, companies that supply major retailers, particularly supermarkets, appear to be faring well despite the market disruptions. For independent seafood retailers the story is more complex and the impacts are highly variable; some companies are struggling while others are seeing strong sales.
Campaigns to 'buy local', particularly in coastal towns currently missing tourist dollars, have helped to boost fresh fish sales in some areas. A number of retailers have also found success through online sales and offering home delivery.
Key consolidators such as Sydney Fish Market, Melbourne Seafood Centre and A Raptis and Sons, and major wholesalers such as Clamms and De Costi, have been critical to supply continuity.
Fishing fleets
Demand issues aside, social distancing, travel restrictions and quarantine requirements for crew have affected some fleets' ability to fish. Restocking vessels with food and other supplies has been difficult given shortages of some foods and limits on purchases to address peaks in demand and supply difficulties caused by stockpiling.
Aquaculture
In the aquaculture sector, some of its market strengths are now the same factors that are causing pressure to mount. The usual need to provide a year-round supply and to target premium food service with a quality controlled product means production systems are fully stocked. Although demand has plummeted, producers continue to incur the daily expenses of feeding livestock and maintaining operations.
The Australian Barramundi Farmers Association (ABFA) reports cash flow is the critical and immediate issue while alternative markets are sourced.
"The Barramundi sector is heavily invested in food service, which has now mostly stopped. We are working to show consumers that Barramundi freezes well and is a good alternative to meats in everyday meals, and we are seeing some increase in retail sales, but there is a significant price difference in what the producer receives," says ABFA's CEO Jo-Anne Ruscoe.
Longer-term recovery is likely to be affected by disrupted production cycles as producers are unable to, or reluctant to, stock fingerlings, coupled with large volumes of seafood needing to be harvested and no assurance of a rapid recovery in the food service sector.
Imports
Mark Boulter, executive officer of the Seafood Importers Association of Australasia, also anticipates lower orders for imported product in coming months as businesses use existing inventory.
He says importers work largely with the food service sector and, with the widespread bushfires and muted Lunar New Year celebrations, many had already been experiencing a difficult year before the coronavirus restrictions hit. This has left many sitting on larger inventories that they would have hoped to sell by now, but have not.
"There is also likely a switch away from any high price point products to more commodity products like Hoki, Basa, Hake, etc., that are retail ready – think frozen one kilogram bags aimed at the retailer's chest freezer cabinets, as this is what consumers are going to be looking for."
Partnering with government
In many cases the Australian Government has stepped in to provide a lifeline to industry. For example, in the Abalone sector, the ability to can or freeze product is helping some businesses to manage production processes and variations in demand. In Tasmania, the government has provided funding to help can product that had been held live, awaiting processing for export.
To support exporters the Australian Government has also announced $110 million in international freight assistance for high-demand fisheries and agricultural produce. This will initially focus on the key markets of China, Japan, Hong Kong, Singapore and the UAE, with four key departure hubs: Melbourne, Sydney, Brisbane and Perth.
In early April, Atlantic Salmon producer Tassal became the first seafood business to partner with the Australian Government through the assistance program, beginning twice-weekly flights of product into Taiwan.
The Geraldton Fishermen's Co-operative in Western Australia reported in its recent newsletter, The Brolos Catcher, that on 7 April its team at Welshpool, Perth, packed the first load of rock lobsters to fly to China since the COVID-19 pandemic began in January. The delivery took advantage of a back-freight opportunity following the import of essential medical supplies. 
New products
Other businesses are making new products to weather the pandemic. For example Austral Fisheries, while also affected by food service closures, has taken advantage of the fact it is a vertically integrated business and adapted its products to meet changing demand.
In partnership with its US distributors it has developed retail-ready fixed weight portions of Glacier 51 Toothfish for major retail supermarket chains in that country, such as WholeFoods. There have also been more enquiries from food service distributors seeking retail lines and smaller pack styles suited to home delivery.
Sales and marketing manager Dylan Skinns says the company is seeing significant lift in retail sales. Supermarket chains across Australia, Asia and the US are still performing well, with a threefold increase in weekly orders.
He believes the current crisis is also an opportunity for a massive reset, for industry, for supply chains and for customers. He advises businesses in the sector to "take time to think and strategise how you can do business differently".
---
The FRDC has established a dedicated stakeholder consultation page, to collect information that will help develop industry and government response packages.