At the coalface of customer service, seafood retailers and those food-service outlets that have been able to continue trading have had to adapt quickly in order to keep their doors open during the coronavirus crisis. The crisis has affected thousands of seafood businesses across the country; FISH spoke to just a few to gain a window into how they are adapting to the changes.
By Annabel Boyer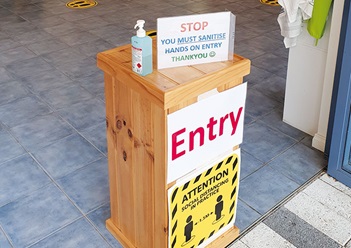 Australia's leading seafood wholesale operator, Sydney Fish Market (SFM), has had to overhaul both its wholesale auctions and retail outlets.
"We are doing everything we can to maintain our important position within the supply chain," says SFM's chief executive officer Greg Dyer.
"If we are not open for business then there are significant issues around the coastline of Australia in terms of people not being able to market their product, so our focus has been to ensure complete compliance with the requests and regulations issued by authorities."
Achieving this has meant working closely with the NSW Premier's Office, NSW Health Department and NSW Police Force.
Changes have included reducing the number of people on the auction house floor at any one time to a maximum of 100 people, strictly enforcing social distancing and providing hand sanitisation points throughout the market.
There are overarching limits to the number of people allowed in the facility at any one time, as well as limits for each retailer, and guidelines have been developed to ensure those numbers are maintained as people move in, through and out of the market.
The day-to-day auctions in April were very different from those in February. Buyers who would normally be side by side on the buyers' stand as they bid for the morning's catch are now at least 1.5 metres from one another, as the social distancing rules require.
The buyers' stand normally holds 150 people or so, but that has been reduced to just 55 buyers on any given morning. The remaining buyers – about 60 or 70 of them, depending on the day − trade remotely, either from their places of business or from alternative spaces made available to them by SFM.
While the market has had the capability for remote trading for some time, SFM's software and server capacity has needed upgrading to facilitate the much larger uptake of remote trading technology that is now occurring.
Kerry Strangas is a buyer at SFM and president of the Master Fish Merchants' Association. "I've been extremely impressed by all the protocols and the action that the Sydney Fish Market management has taken," he says.
"When you arrive you sanitise your hands, have your temperature taken and are counted. They account for everyone who is inside at all times [by using] a single entry and exit."
He says within his own business, Poseidon's Harvest, located in the Southgate Shopping Centre in the Sydney suburb of Sylvania, the changes have not been too onerous. This is partly because of the small size of his business: his three or four staff are easily able to stay far enough away from one another at all times. The width of the counter keeps staff well clear of customers and, in addition, "it's a very long counter which facilitates social distancing".
"The main difference has been the number of times we wipe and sanitise the counter window." Southgate Shopping Centre management has marked the floor on the customer side of the counter to indicate where people should stand.
During the Easter weekend – one of the busiest events on the calendar for seafood businesses – rope barriers were placed to ensure people queued while maintaining the required distance. Kerry Strangas says he has been surprised by how compliant and patient people have been while they wait to be served.
Easter trading
In fact, Easter presented a welcome boost to many seafood businesses, despite the significant logistical challenges involved in complying with government regulations and ensuring public safety. In order to remain open for Easter trading, SFM developed a plan to cope with the expected influx of visitors. In addition to the changes already in place, on-site parking was reduced so people could queue in the carpark, with one person per car space. NSW Police helped to coordinate the movement of customers in and out of the market, while also ensuring people maintained appropriate distance from one another.
Everyone who entered the market was temperature checked. Greg Dyer says the visibility of temperature checking, which was well publicised by the media beforehand, certainly added to consumer confidence that the market was taking people's safety seriously.
"Principally, we wanted to make sure people felt safe and they didn't feel like it was a free-for-all," he says.
Ordinarily SFM sees upward of 100,000 people pass through the market on the Easter long weekend. Greg Dyer says they estimate this year there were about 50,000.
"We think it was probably the largest gathering of people that has occurred since COVID-19 began anywhere in Australia and we did it with military precision. It was nothing like what Sydney Fish
Market is on a standard Easter weekend, but it worked. It went as well as I could possibly have hoped."
Local loyalties
Anecdotal reports suggest that while many restaurants have closed, or are struggling to establish takeaway trade, existing businesses with a good reputation are doing well.
In Mackay, Queensland, Debbie Ahern, who owns and runs Debbie's Seafood, selling mostly fresh local seafood, says this Easter has been their best ever.  
"In Mackay people have really been going crazy over seafood this Easter. I think it's about supporting local business, so we can keep our staff employed."
Because it was so busy, she even had a staff member on the door letting people in and out, so nobody else had to touch the door handles.
Debbie's Seafood includes a seafood retail outlet, a café and a number of seafood trucks stationed at regular locations in Mackay. During the Easter weekend they used an extra seafood truck to increase the number of access points for customers and to help prevent any potential crowding.
As other retailers are doing, Debbie's Seafood provides hand sanitiser for customers at their sales points and has marked the floor of the shop with crosses to show people where to stand. She says since the shutdown began, hygiene practices have been altered so surfaces such as EFTPOS machines and counter tops are more regularly wiped down. Another focus for Debbie Ahern's team has been staff education. Information about practices such as hand washing has been distributed to staff and practices are supervised more thoroughly.
Debbie Ahern's team has also adapted to help customers at risk. "With people who are vulnerable, they will ring ahead, and we'll prepare their seafood and take it out to them in their car, where they can pay using one of our little mobile EFTPOS machines. We are calling it our 'car door service'," she says.
Adapting without tourists
On the other side of the country, in Albany, Western Australia, fish and chip shop Hooked on Middleton Beach has also been improvising.
The business was named Australia's best fish and chip store in 2018, but Albany is a tourist town that has no tourists. This has meant Hooked on Middleton Beach has had to make several changes in order to make the most of a tough new business environment and to deal with new social distancing requirements.  
"We've had to diversify to sell fresh fish as well, which we've never done before, and we are delivering to those who need it," says owner Shane Vale. For that reason, we've also started to do a lot of Facebook advertising to let people know what's in store. Like this week, the weather's been good and we've got a lot of different species." Another change is most orders are being made by phone, so that people can minimise the time they spend in the shop.
"We actually have a little radio that we are using to connect the person on the door to the kitchen, so we can bring orders out to customers who have already paid for their orders over the phone."
For Easter and the increased foot traffic that came with it, Hooked on Middleton Beach set up separate entry and exit points out of the shop, and had a staff member controlling the flow of customers into the shop and ensuring they sanitised their hands before entry.
Shane Vale says business has dropped about 40 per cent with travel and physical distancing restrictions, although he is happy with the Easter trade. He says he has had to lay off staff, but has tried to minimise the impact, particularly for those who depend entirely on income from the business.
"It was a little bit scary for the first couple of weeks, when shutdowns came into place. We have a dine-in section that we've had to close, but we are just cruising along as best we can."
---
Photo captions (from top right):
For day-to-day auctions at Sydney Fish Market, social distancing restrictions mean buyers now sit apart and only 55 people are permitted entry into the stand. Others traders are able to work remotely. Photo: Sydney Fish Market.
Fish and chips stores such as Hooked on Middleton Beach have implemented social distancing measures and hand-sanitising stations upon entry. Photo: Hooked on Middleton Beach.
Customers entering the Sydney Fish Market are counted to control the number of shoppers inside. They are also required to sanitise their hands and have their temperature checked before entry. Photo: Sydney Fish Market.
During the busy Easter weekend, NSW Police coordinated the movement of customers in and out of Sydney Fish Market, ensuring people maintained appropriate distance from one another. Photo: Sydney Fish Market.