In the past month or so, every aspect of our lives has been changed by the spread of COVID-19, the disease caused by the novel coronavirus. This is more than a cliché. Borders are shut, many of us are spending most of our time at home, and many supply chains and markets have been severely disrupted. But what does this mean for those in the seafood sector and how do the new regulations announced by state and federal governments apply?
Many seafood-sector participants are food producers and thus classified as essential services. Because of this, they can carry on producing seafood and delivering it to the Australian public.
So, for example, while public property auctions have been banned, the daily auction at Sydney Fish Market has continued, albeit with the new social distancing measures in place and with restrictionson the number of people allowed on the auction floor.
Similarly, many seafood processors, producers, retailers and takeaway food providers are able to continue operating, provided they follow the new protocols. With the ban on sit-down dining, restaurants around the country have shut their doors, although many are adapting to online and takeaway business models in an effort to see out the crisis without completely shutting down.
Image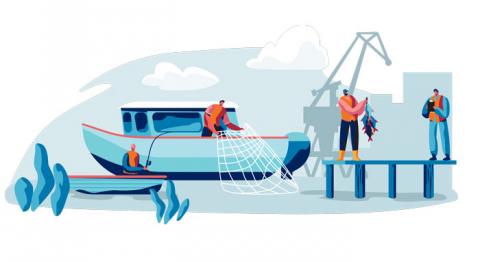 Physical safety
Physical distancing regulations in Australia, designed to minimise the spread of COVID-19, require a minimum of 1.5 metres between people at all times, regardless of the activity. This includes activities on fishing vessels, in food processing facilities where seafood is prepared and processed, in aquaculture facilities and in food service outlets that have continued to operate since the outbreak, such as takeaway shops. Employees who can do their jobs remotely, such as those who work in offices, are urged to work from home.
The stakes are particularly high for crew of fishing vessels heading to sea for extended periods of time. Not only is social distancing near impossible in the confined quarters of a fishing vessel, becoming ill with a highly infectious illness such as COVID-19, which can require specialised medical care, is simply not an option. For this reason the crews of fishing vessels that fish for extended
periods have been quarantined for 14 days before departure.
The Australian Maritime Safety Authority advises that if a vessel is unable to comply with social distancing requirements, it must seek advice from the Australian Department of Health (www.health.gov.au) as to whether it can continue to operate. Many remote Indigenous communities are particularly vulnerable, so maintaining distance from these communities is also important.
Food safety
There is no evidence that food is a source of transmission for the virus; however, it is important that food businesses take extra care with all aspects of health and hygiene. Food Standards Australia has produced a great fact sheet on keeping surfaces and equipment clean: www.foodstandards.gov.au/foodsafety/standards/Pages/Cleaning-and-sanitising.aspx.
The World Health Organization has also issued precautionary recommendations including advice on good food handling and preparation hygiene practices. They can be found at www.who.int/emergencies/diseases/novel-coronavirus-2019/advice-for-public.
If someone is displaying symptoms that could potentially be attributed to COVID-19, then they should remain at home, avoid preparing food for other people and seek medical advice.
Mental health care
It is natural to feel stressed and anxious during this time of upheaval, so be kind to yourself. While social distancing is important, maintaining regular connection through channels such as telephone and video is also important. It can also help to maintain a routine and do regular exercise.
It is important at this time to stay up to date with the best information. Below is a list of resources and services.
Health assistance
The Australian Department of Health updates the 'Health alert' page every day with the latest medical advice and official reports. See www.health.gov.au/news/health-alerts/novel-coronavirus-2019-ncov-health-alert.
HealthDirect is another good source of medical information on the coronavirus. See www.healthdirect.gov.au/coronavirus.
For questions about testing for COVID-19 or the welfare of people with the virus, contact your state or territory health authority.
The Coronavirus Health Information Line is available to call 24 hours, seven days a week for information on the coronavirus: 1800 020 080.
The Australian Government is encouraging people to download its COVIDSafe app to speed up contacting people exposed to coronavirus. See https://www.health.gov.au/resources/apps-and-tools/covidsafe-app.
There are a range of services that can help with the mental health challenges the coronavirus presents:
Lifeline Australia − 13 11 14, www.lifeline.org.au
Mensline − 1300 789 978, www.mensline.org.au
Kids Helpline − 1800 551 80, www.kidshelpline.com.au
Beyond Blue − 1300 224 636, www.beyondblue.org.au
Aussie Helpers − 1300 665 232, https://aussiehelpers.org.au
The Ripple Effect − www.therippleeffect.com.au
Rural Alive and Well – www.rawtas.com.au
Other forms of assistance
Safe Work Australia has developed a range of resources to support employers and their employees during this challenging time. See www.safeworkaustralia.gov.au/covid-19-information-workplaces.
Many are experiencing financial hardship due to the pandemic. To see what services are available to you, visit Services Australia: www.servicesaustralia.gov.au/individuals/subjects/affected-coronavirus-covid-19.
---
National business support programs
An overview of assistance available for fisheries has been compiled by the Department of Agriculture. See https://www.agriculture.gov.au/coronavirus/fisheries
The International Freight Assistance Mechanism (IFAM) is offering air freight support to exporters into key overseas markets – China, Japan, Hong Kong, Singapore and the United Arab Emirates – from four departure hubs: Melbourne, Sydney, Brisbane and Perth. See www.austrade.gov.au/news/news/international-freight-assistance-mechanism.
JobKeeper payments have been introduced to cover the costs of employees' wages. They are also available to self-employed business operators such as sole traders. Eligible businesses will receive $1500 per employee per fortnight for up to six months. See https://treasury.gov.au/coronavirus/businesses.
Cash flow boosts of between $20,000 and $100,000 are being provided for businesses with employees. Small and medium-sized business entities with aggregated annual turnover under $50 million that employ workers are eligible. See https://treasury.gov.au/coronavirus/businesses.
The instant asset write-off threshold has been increased from $30,000 to $150,000, and allows businesses to deduct 50 per cent of the cost of an eligible asset on installation. Eligible businesses are businesses with aggregated turnover below $500 million. See https://treasury.gov.au/sites/default/files/2020-04/Fact_sheet_supporting_businesses_4.pdf.
Apprentice and trainee subsidies are being made available to small businesses employing fewer than 20 employees that retain an apprentice or trainee. The apprentice or trainee must have been in training with a small business as at 1 March 2020. See https://treasury.gov.au/sites/default/files/2020-04/fact_sheet-supporting_apprentices_and_trainees_0.pdf
Austrade is continuing to offer the Export Market Development Grants (EMDG) scheme to help businesses access export markets. To be eligible, businesses must have an income of not more than $50 million in the grant year, incurred at least $15,000 of eligible expenses under the scheme and have principal status as an export business. See www.austrade.gov.au/Australian/Export/Export-Grants.
The Rural Financial Counselling Service (RFCS) continues to be available. Rural financial counsellors provide financial advice to agriculture businesses, including fishing enterprises, and help businesses implement plans to meet the current challenges. See www.agriculture.gov.au/ag-farm-food/drought/assistance/rural-financial-counselling-service.