Seafood is one of the world's most traded commodities and Australia is a small cog in the huge wheel of international trade. However, it is clear that the impacts being felt across the globe have been similar to those facing our own seafood sector.
The United Nation's Food and Agriculture Organization (FAO) released its Food Outlook – Biannual Report on Global Food Markets, with a particular focus on the impacts of COVID-19. The FAO expects production from capture fishers will decline 2.0 per cent in 2020, with a 1.4 per cent decline for aquaculture. This will equate to a 5.8 per cent drop in the value of fisheries, or from US$159.6 billion to US$150.4 billion (www.fao.org).
Other impacts include logistical challenges caused by border and transport shutdowns, the movement of workers, market access disruptions, and changing consumer needs. Aquaculture operators around the world have been challenged by rising prices for feed. Processing sectors have closed due to the reduction or loss of consumer demand, and this has had a significant impact on post-harvest workers, the majority of whom, globally, are women.  
A significant number of large seafood companies around the world have also been directly impacted by COVID-19 through infections amongst their workforces, both on vessels and in processing facilities. There have been widespread incidences affecting countries such as Ghana, Norway, Chile and the US, as well as companies including Trident Seafoods, Ocean Beauty Seafoods, Peter Pan Seafoods, High Liner Foods, Pacific Seafood, Thai Union, Bornstein Seafoods, Bristol Seafood and Blue Harvest Fisheries.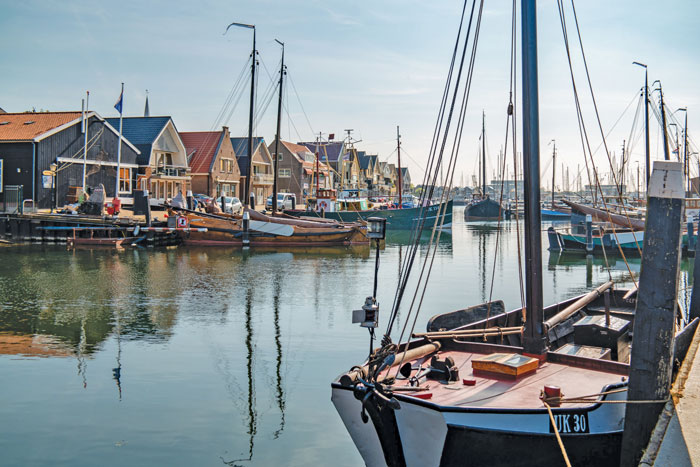 Urk, Netherlands, May 2020: fishing boats in the harbour prepare to go back out fishing after the global COVID-19 outbreak.
Photo: 123rf
On a more positive note, as the crisis hit, countries around the world officially declared fishing and aquaculture to be essential services. And while the seafood industry has seen significant disruption due to its reliance on food service, there remains cause for optimism.
Asian nations are ahead of many others in terms of easing restrictions designed to prevent the spread of COVID-19, and there are early signs of consumer demand for seafood returning. Denmark-based whitefish processer Espersen has restarted production of McDonald's Fillet-O-Fish after two months of shutdown. Other major fish producers have reported increased sales throughout the crisis with farmed Atlantic Salmon deemed virtually 'recession proof'.
Finally, the global seafood industry is also contributing to the race for effective COVID-19 treatments. A Norwegian biotech firm has announced plans for phase two of trials to clinically assess its salmon oil brand OmeGo as a potential treatment for patients with COVID-19-related acute respiratory distress syndrome.
Below are some further updates on the impacts of COVID-19 on the seafood sector around the world.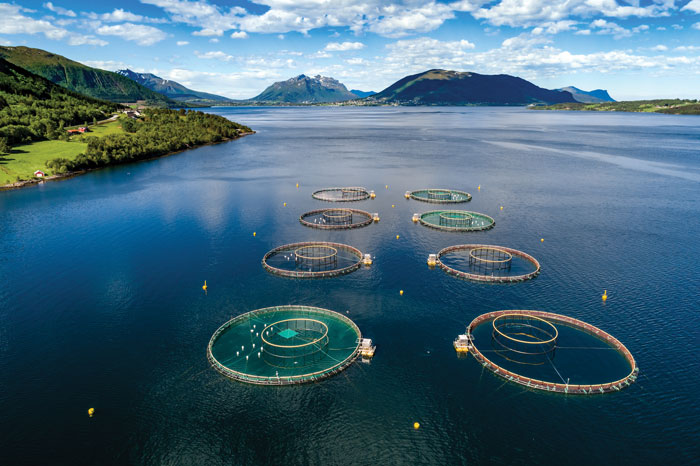 Farmed salmon, Norway.
Photo: Shutterstock
The US
The seafood supply chain in the US comprises about 1.7 million jobs and $145 billion in sales. Of the US's $2 trillion stimulus package, about $300 million is being distributed to states to pass along to the seafood community.
Retail sales continue to hold fairly well and there have been some surprises with consumers embracing a wide variety of species to cook in their homes.
Some retailers halted their fresh offerings, but with increased demand they realised this category would be highly profitable; they quickly made their fresh seafood available again and redistributed staff to accommodate the demand.
Food service demand has dropped by 90 to 95 per cent in many areas. Given that this sector makes up around 70 per cent of seafood sales, the drop is a significant issue. Initially there were concerns amongst consumers that the coronavirus could be transmitted from food, including seafood. The US Food and Drug Administration released a short video assuring people that food was safe and not a vector for COVID-19.
Seafood producers have diverted product normally intended for food service to retail, which has required efforts to relabel and repackage appropriately. For many producers in the major seafood production regions along the US Pacific north-west coast, boats had already completed fishing for the season when the effects of the pandemic emerged.
This timing was fortunate, as it was established early on that the disease on boats was a serious threat, and the conclusion of the fishing season lessened this risk.
An infectious disease working group was set up, with medical, government and industry representatives, to establish necessary quarantine protocols and to prevent crews returning to shore, or boarding vessels for extended fishing periods, being misinformed.
In June it was reported that outbreaks of the virus had been detected onboard fishing vessels, including an American Seafoods vessel, where 85 crew members were confirmed as infected.
Seafood Expo North America, North America's largest seafood trade exposition, has been rescheduled from earlier in the year and is now expected to take place from 22 to 24 September 2020 in Boston.  
European Union (EU)
Across the EU, 50 per cent of coastal fleets ceased fishing during the crisis, with many preferring to remain in lockdown for health safety.
Although many large vessels have ceased fishing, artisanal fishers have continued to operate, taking orders by phone and delivering to homes. Those that are still fishing include deep sea fishers and those fishing for pelagic species around Africa. However, crews are remaining onboard rather than coming onshore to avoid infection.
Prices for seafood have dropped significantly. About half of the EU's seafood production is normally sold to food service and, with the closing of restaurants, these sales have dried up. High-value seafood has been the most heavily affected. Demand for seafood from fishmongers and other retail outlets has mostly remained stable.
With fishing and aquaculture among the hardest-hit sectors, the EU has provided emergency financial aid to operators. Amendments have also been made to the European Maritime and
Fund to allow for the more flexible allocation of resources.
Throughout the pandemic, transport across the EU has remained steady. However, air transportation has become more challenging with greatly reduced capacity.
Euronews has explored the impact of the COVID-19 crisis in the article 'Coronavirus: supporting Europe's battered fishing industry', at www.euronews.com.
Norway
Production in Norway initially declined by about 15 per cent due to industry workers being in lockdown, but the impact has gradually decreased and production rates have lifted.
About 85 to 90 per cent of Norwegian-produced seafood is exported. When the spread of COVID-19 started to impact sales, producers quickly began freezing more product, putting more in storage as markets became inaccessible.
The Norwegian Government has provided funding for companies with a 30 per cent drop in sales, but few seafood companies have been affected to this extent.
Demand for Norwegian seafood has become more unpredictable, with greater demand from some markets and reduced demand in others, contingent on varied changes to food service and retail surges across the region. For example, while exports of whole Atlantic Salmon have dropped, there has been greater demand for fillets – reflecting the switch in demand from food service to retail.
Seafood companies have been hiring people who lost their jobs in other affected industries.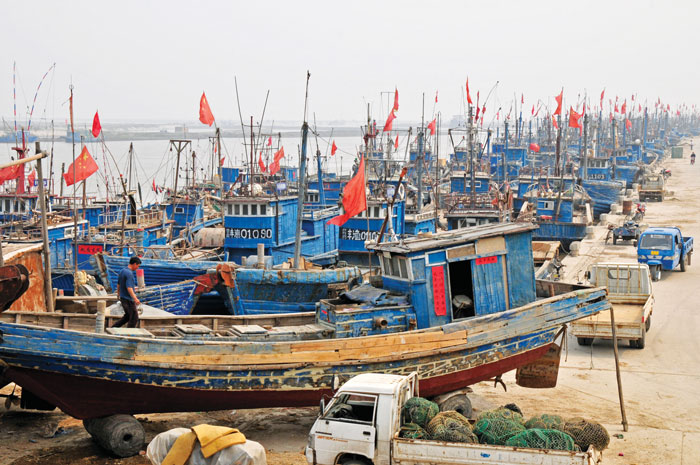 Docked fishing boats.
Photo:123f
The UK
Many vessels in the UK have ceased fishing as a result of lockdown restrictions and decreases in seafood demand due to food service closures.
The consumer-focused 'Sea for yourself' marketing campaign run by Seafish is encouraging UK consumers to opt for locally caught seafood and providing them with information on how to access it.
Seafish is also educating seafood producers on ways to reach consumers directly while markets such as food service and export are disrupted. This includes opportunities like quayside sales.
Industry is also working with government agencies to relax labelling requirements to ease the pressure on producers during this difficult time.
New Zealand
While much of the sector was able to continue operating as an essential service, at the height of the national lockdown, up to half the New Zealand fishing fleet ceased fishing.
For the companies that did continue to operate, strict lockdown measures were enforced, demanding strong and fast compliance in relation to social distancing, health and hygiene requirements.  
The export of live and chilled product to China was severely affected by lockdown laws, although this has recovered somewhat with the New Zealand Government providing airfreight support to help seafood producers and other premium product suppliers continue to access international markets.
During the shutdown period, only major retailers such as supermarkets remained open, leaving consumers with limited access to fresh seafood, which was mostly replaced with cold storage and tinned items. Food service was completely closed, greatly reducing the demand for seafood. As New Zealand eases its restrictions, some of this demand is returning.
Japan
Japan's fishing industry faced some critical situations when restrictions on entry to foreign ports prevented landing operations and crew replacements. The decrease in demand for eating out and a reduction in inbound and domestic tourists have reduced the consumption of seafood and led to falling market prices, especially for high-end fish such as tuna.
Exports of marine products stagnated and business talks with foreign buyers have been challenging. The Japanese Government has provided support to the industry via its COVID-19 Emergency Economic Package. This has included a range of measures to ensure employment and business continuity within the sector, providing support for foreign skilled workers and for the storage of excess catch. Japan's seafood exports have also received government support.
Industry associations have focused on increasing demand for fishery products during this period by promoting direct online sales, providing seafood for school lunches and launching marketing initiatives.
Global aquaculture
The FAO's Food Outlook reports that a deteriorating outlook for farmed seafood following restaurant closures has seen aquaculture producers delaying harvests and reducing stocking targets. In Asia, shrimp farm harvests that normally begin in April have been delayed until June/July, with this forecast to reduce production in India by 30 to 40 per cent. India was the largest exporter of frozen seawater shrimp in 2019, with a 24.9 per cent share of the market, worth $4.3 billion.
The contraction of aquaculture production is expected to reduce the demand for feeds, although with COVID-19 now under better control in China, it is expected Chinese demand for fishmeal will strengthen as the sector begins to rebound.
However, in Peru – the leading global fishmeal and fish oil producer – the Government has introduced a number of preventative measures that have direct implications for the anchovy industry, which underpins meal and oil supplies. The FAO says measures enforced include restrictions on boats entering ports, physical distancing policies for crew members and a directive to prohibit boarding for people over the age of 60. These factors will all lead to a decline in fishmeal and fish oil production in 2020, with short-term price increases as a result of material shortages from Peru.
WorldFish
Internationally, non-profit research organisation WorldFish leads efforts to reduce poverty and hunger by improving fisheries and aquaculture. It is concerned the impacts of COVID-19 will be particularly dire for poor and vulnerable people living in developing countries.
Director general of WorldFish Gareth Johnstone says the economic fallout is expected to push more than half a billion people into poverty, with communities in Sub-Saharan Africa, North Africa and the Middle East expected to suffer the most. The impacts will disproportionately affect women and girls.
Its website, www.worldfishcenter.org, provides ongoing updates on these impacts and on initiatives unfolding in the regions with which it works, such as Solomon Islands, Kiribati, Vanuatu, Timor-Leste, Bangladesh, Cambodia, Myanmar and the Philippines.