FISH magazine asked a cross-section of customer-facing industry players to share their insights into the trials and tribulations – and even the triumphs – experienced during the coronavirus crisis.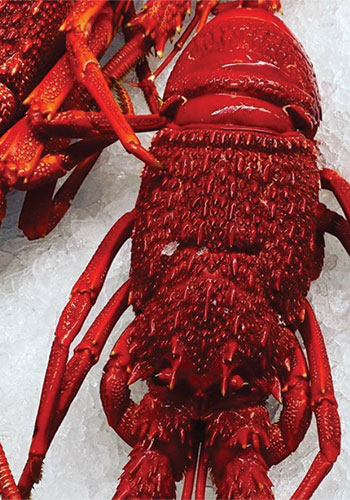 Premium partnerships
Red Coral Seafood, Melbourne, Victoria
It took the COVID-19 pandemic for James Marinopoulos to realise one of his business dreams.
"We've always wanted to do home delivery," says the owner of Red Coral Seafoods, a wholesale-focused business that started in 1982 in Melbourne's Bayswater. "But the restaurant side was growing too fast, killing the idea. Before you know it, eight years have gone by and nothing's happened."
Within a week of restaurant closures enforced as part of virus containment measures, Red Coral had lost 90 per cent of its trade. "I went home, developed a website and called some friends," he says. The outcome was Food Squad, a home delivery platform enlisting a group of wholesalers and producers into a one-stop premium home delivery shop. And the result? "It's gone ballistic."
Part of the appeal, James Marinopoulos believes, lies in the marketplace concept that means households do not have to deal with multiple deliveries. Above all, it has proven that people at home want top-notch produce. Mother's Day, for example, saw Food Squad deliver 300 lobsters. Giant Scarlet Prawns are another, more everyday, case in point – Food Squad has been struggling to keep up supply at around $90 a kilo. New Zealand's premium Ora King Salmon is outselling the Tasmanian product, and Glacier 51 Patagonian Toothfish is selling "by the truckload".
"People are sending us emails saying 'please don't discontinue this when it's over'," says James Marinopoulos. "And we won't. Why would we?"
More information: www.redcoralseafood.com.au or and www.melbournefoodsquad.com
---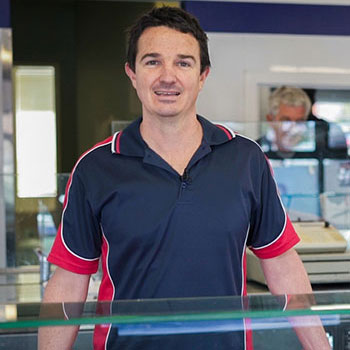 Consumers embrace novelty
Harley & John's Seafood, Wollongong, NSW
When the coronavirus struck, Wollongong seafood supplier Grant Logue (pictured above) decided it was an opportune time to act on a home delivery model he had been contemplating for a while.
"It had been on my mind and this gave it a real push," says the owner of Harley & John's Seafood of his plan to band together with local food businesses to synchronise deliveries.
Grant Logue was the driving force behind the enterprise, and the one to call it quits when glitches in the system – most significantly, problems getting the technology up and running – undermined his confidence that the service would be as reliable as the home delivery market demands.
"Basically, I didn't want to rush it and wreck it because it's something that I really think will work if I have enough time to spend on it," he says. "I will revisit it in the future, hopefully within six months, when things aren't so crazy."
That is another way of saying the retail side has been strong. Harley & John's is selling double the number of oysters they do at ordinary times and home consumers have shown themselves to be more adventurous in their species choices.
"I put something up on Instagram about scampi and had about 10 inquiries from people who had never had it before but were keen to try it. I think this whole coronavirus episode is going to change eating habits, even when restaurants reopen. Consumers have shown they're going to be a bit less cautious in their seafood choices."
More information: www.harleyjohnseafood.com.au
---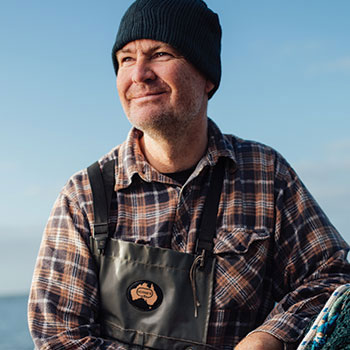 Direct from the fishers
Fair Fish, South Australia
A novel business model in a time of the novel coronavirus could have been a recipe for disaster, but Fair Fish has been making quiet inroads into its twin ethos of getting a fair price for fishers and promoting the bounty of South Australia's oceans – including secondary species – to restaurants and the public.
"Coronavirus certainly made us think outside the box very quickly," says Bart Butson (pictured below), chairman of Port Adelaide-based Fair Fish. Started in 2017 as an industry and government-backed initiative, Fair Fish was only weeks into its evolution as a fledgling corporation, majority-owned by fishers and selling 'shares' of their catch to the public, when the shutdown struck.
The Fair Fish model had been based on the idea of a public marketplace – "once a week pickups, meeting the fishers, all the romance of whole fresh fish packed in ice" – until stymied by the new realities of social interaction.
With its restaurant customers no longer buying, Fair Fish quickly rejigged its website into an online shopfront, and news about its new Adelaide home delivery service was sent out via email, Facebook and Instagram, including paid posts. The number of home customers registered has increased from about 260 to 700 and the 40 kilograms of seafood sold directly into households each week now averages several hundred.
Bart Butson says the home delivery model has helped Fair Fish weather the crisis, but he is unsure if home delivery will continue once the real-life marketplace resumes. He says the personal connection between fishers and customers is at the heart of Fair Fish. "It really strengthens the social licence aspect that Fair Fish is all about. It may not be the core of our business as we had hoped, but it's still important."
More information: www.fairfishsa.com.au
---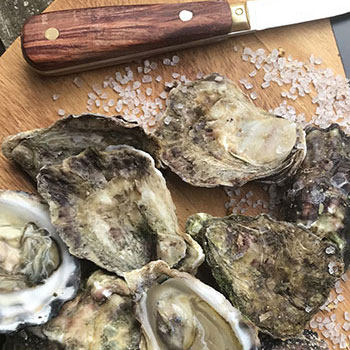 Home-shucked quality
Appellation Oysters, New South Wales
Premium live oysters can be a tricky beast in the home delivery market. "If you send a box of 20 and one might be open because they're a live product or not stored correctly, then the customer wants to have their single oyster replaced," says Davin Charlesworth, general manager sales and marketing at Australia's Oyster Coast.
Before COVID-19 struck, times were already tough for the 50-odd oyster farms that stretch 1200 kilometres along New South Wales' east coast. "We had the fires then floods, with every estuary pretty much closed for a week or two, then the fear. It's the three fs," Davin Charlesworth says.
Keeping their premium brand Appellation Oysters in the market has been a game of incremental change rather than the big statement. The price for a five-dozen box was lowered to the same price per dozen as a 10-dozen box, and single-dozen-sized trays were included in each box to facilitate restaurants serving them as part of their home delivery model.
"We've resisted putting the product into supermarkets or any market that doesn't freshly shuck or have the same quality and serving standards," says Davin Charlesworth.
Expectations have been temporarily lowered across the industry, he believes. Some restaurants that have continued to trade are selling Appellation Oysters at $3 a piece, down from $5, in order to be more relevant to the take-home market.
Plans to launch an 'Appellation @ Home' delivery model were temporarily on hold at the time of going to print, says Davin Charlesworth, thanks to the slow easing of COVID-19 restrictions. "Right now we are holding on the launch as we are seeing things open up in traditional channels … We will probably progress without haste."
More information: www.appellationoysters.com
---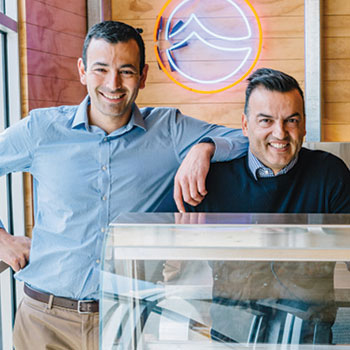 Home deliveries raise profile
Ocean Made, Collingwood, Melbourne
The story of inner Melbourne-based Ocean Made Seafood is certainly not uncommon amid the coronavirus crisis.
Because Ocean Made primarily wholesales to restaurants, business dropped 85 per cent almost overnight. For George Lucas, who founded the business with John Christopoulos in 1999, the only thing to do was pivot to retail.
"We had a small retail store for nearly 15 years next to our factory in Collingwood, and while it's around five or six per cent of the business, we've always had a strong name. We thought we'd branch out and deliver to people's houses."
The media generated by Ocean Made's home delivery move is testament to the calibre of Melbourne restaurants that use its produce, including Attica, Kisumé, Supernormal and Maha.
For George Lucas, it was equally a promotional move to up retail sales. "In terms of turnover it doesn't come close to compensating for the wholesale side of things, but with 14 to 15 vans on the road with our name written on the side, it's good for visibility."
Increasing their retail range has seen the addition of products such as Sea Urchin and Giant Scarlet Prawns, which have been successful, but George Lucas is unsure whether this marks a blip or a shift in purchasing habits.
"People will go back to work and back to restaurants. Will they still have the time to cook so much at home? It's a hard one to answer right now."
More information: www.oceanmade.com.au
---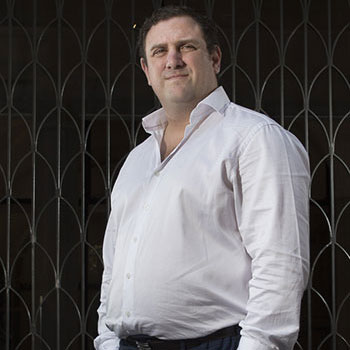 Diversifying online
Manettas Seafood Market/ShoreTrade, Online/national
As a seafood retailer operating solely on the web for the past three and a half years, Peter Manettas was in an excellent position to deal with the unprecedented surge in home delivery.
"Being one of the first to go into that space was important to establish a strong brand that consumers trusted. We saw the B2C market was being ignored by the industry quite heavily, with the general assumption that Coles and Woolworths had home delivery all sewn up. Since COVID hit all we've seen is a bunch of retailers try to catch up, but there's a lot that goes into an online business."
The other string to his bow, the B2B business ShoreTrade, has also grown "exponentially".
ShoreTrade was set up to let fishers and fisheries list product on an online marketplace with end-to-end cold chain logistics, and Peter Manettas says an already large database of buyers is now being served by a "hugely accelerated" number of sellers.
For those sellers, he says, "COVID-19 has proven you can't rely on just one section of the market. When it initially hit in China you saw it in the lobster fisheries.
They started coming to us and saying 'what other sections of the market have you got?'.
We were able to turn it around and get it online and market it out to other areas. The smart players here are going to look at what went wrong and say 'my business model needs to be more robust'."
More information: www.manettas.com.au or www.shoretrade.com