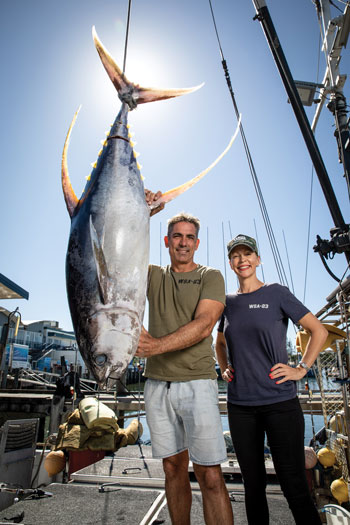 Walker Seafood Australia owners Pavo and Heidi Walker with a whole Yellowfin Tuna being hauled off their boat in Mooloolaba.
Photo: Paul Harris
The first clue Heidi Walker had that something was wrong was when she happened to check her phone in the middle of the night in mid-March.
By Bianca Nogrady
"My customers in the US were sending me messages saying 'do not send us more fish' and 'we can't take any more fish, we're going into lockdown'," says the co-owner of the Queensland-based tuna company Walker Seafoods. "We had five boats at sea, all catching fish, so I knew we had to do something because I had a lot of fish coming in and at this point there was no opportunity to send fish anywhere."
The COVID-19 axe fell overnight and it was terrifying, Heidi Walker says. But rather than panic, the company threw themselves into finding a solution.
Local markets
The first thing Walker Seafoods did was set up a pop-up shop outside their factory in Mooloolaba. It attracted the attention of local media and soon was flooded by locals wanting to get their hands on – and teeth into – the kind of premium produce that is normally only sold into exclusive export markets, such as the US and Japan, and high-end restaurants in Asia and Australia.
Their second move was to contact Coles supermarkets, with the help of John Susman from seafood agency Fishtales. Within a week and a half, they had worked out a deal to get Walker's Yellowfin Tuna into 150 of Coles' stores. It sold out within hours and more deliveries are now on their way.
"We realised we were onto something good," Heidi Walker says, of the new market opportunity, which the company plans to continue in the longer-term.
Walker Seafoods may be one of the rare good-news stories of the COVID-19 pandemic. But amongst all the devastation caused by the pandemic and its associated shutdown of export markets, hospitality and tourism, businesses are doing what they can to adapt.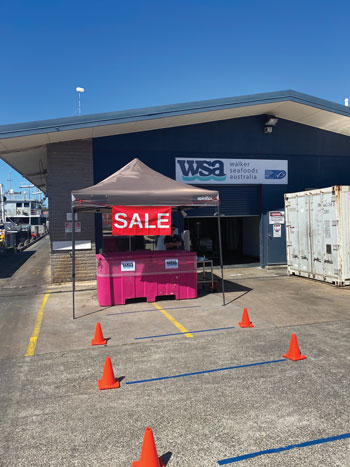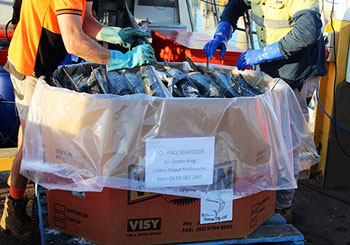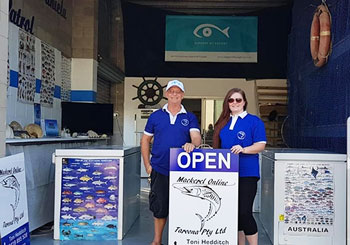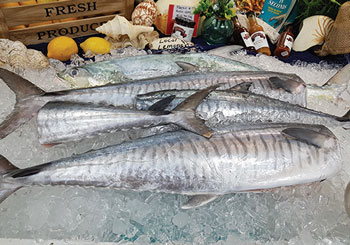 Fisher Bryan Denny from Ocean Blue Diving in Tasmania runs a small two-pronged operation harvesting Abalone and Periwinkles, and has found this diversification has really helped see him through so far. When his Abalone business stopped in January, as China closed its borders, he was still able to fish for Periwinkles that he supplies to a west Sydney restaurant. Then, as the restaurant also had to close later in March, China began opening up, so he switched back to the Abalone business.
The Northern Territory seafood industry, like many others, has been impacted by the loss of the hospitality market, as restaurants in its towns and cities closed and Lunar New Year events – traditionally a boom time for fishers – were called off.  
"Some fishers have stopped fishing because they physically can't move the volume they need to," says Katherine Winchester, CEO of the Northern Territory Seafood Council. Others are taking advantage of the downtime to do repairs or engage in some business reflection, but "that obviously can't go on forever", she says.
Some are trying to move product within the local community, either direct to consumers or through existing retailers. Local retailers, in particular, have been offering their support to help fishers to sell their wares. Others are making the move from fresh product to frozen, selling both direct to consumers and through existing retail channels. Several fisheries in the Northern Territory already had good links with supermarkets, which Katherine Winchester says has been "a real lifeline".
"Businesses are looking for ways to diversify and find new markets, essentially to try and create some movement rather than just opting for storage and waiting till things open up again," she says.
Freezer conversion
Taroona Pty Ltd & Mackerel Online is one company taking this approach. It operates in the Spanish Mackerel troll line fishery off Darwin and has two boats – one supplying fresh fish and the other fitted with freezers to supply frozen product. Ordinarily the business sells into the pubs and restaurants of Melbourne, but since the pandemic both demand and price have plummeted.
As a result, the company made the expensive decision to put a freezer and cryovac facility on its 'fresh' boat and to focus on smaller packs. It built a freezer outside its shopfront in Darwin, put solar panels on the roof to run it, and opened up a new virtual shop called Mackerel Online. All up, owner Norm Hedditch reckons he has spent $35,000 to $40,000 on the conversion. But he is glad he did it.
"I'm really happy with the way it's going," he says. Frozen product now coming off both boats is selling online, through his retail shop, and is also sent to Queensland and Western Australia to supply the fish and chip market. The move to frozen has increased turnover and helped the business turn a profit.
As well as selling his own one and two-kilogram frozen packs of fish, Norm Hedditch is expanding the produce available in his own shop to include local prawns, Barramundi and King Threadfin. He also started a home delivery service, which was going well but has dropped off since the lockdowns started lifting.
The retail shift
The shift from wholesale and hospitality into consumer retail can be a challenging one, and not all are able to make that transition as smoothly, according to Fishtales' John Susman.
"In some instances they've approached it well and in others instances they've approached it quite naively in terms of the lack of recognition for what retail channels look like and how they operate and what are the demands."
For example, a fisher who is used to having a five-minute transaction with a chef for an order in the hundreds of kilograms might find it a very different experience to deal with the questions of a home cook ordering two fillets for dinner that night.
"You need to have recognised levels of food safety plans, of record-keeping from wharf to store, and you may need to have services of a third party to assist in processing and distribution," John Susman says. It also means changing packaging – for example, from one kilogram of crab to 100 grams – and complying with consumer labelling requirements.
But the upheaval of the COVID-19 pandemic can also provide opportunity, both for fishers and retailers, says Heidi Walker.
"Increase your consumption of Australian seafood, and now's the time to do it because the price has never been better," she says.
Fast-moving marketing
It is certainly a message that Australian prawn producers are keen to get out there. Immediately after COVID-19 shut everything down, the collective of prawn producers behind the Love Australian Prawns campaign held an emergency meeting to see how they could salvage the situation.
"We did a quick-turnaround social campaign to encourage people to go to the seafood department of their supermarket and ask for a box of frozen prawns," says Ben Hale from digital marketing agency Adpower, which came up with the Love Australian Prawns campaign. That was just the first step in what has been a nimble and fast-adapting social media campaign making the most of changing consumer behaviour during the pandemic.
The campaign crafted posts to take advantage of consumers making their own meals while working from home and the rise in home baking. As the lockdown stretched out, the campaign encouraged consumers to try complex and diverse cuisines from India and Thailand.
"Over six to eight weeks we managed to create as much consumer engagement as we did over the entire summer," Ben Hale says.
Not everyone can pivot their business model so quickly. Oysters are one industry that has taken a significant hit from COVID-19, with John Susman estimating the industry is down by 60 to 70 per cent. The challenge is that oysters are largely seen as a premium product that is enjoyed in restaurants, not at home.
"The industry hasn't done a huge amount of work in terms of teaching consumers how to enjoy oysters at home on a Saturday night," he says. But producers are adapting and some brands have been working on significant public campaigns over the past couple of months to try to change that.
Despite the challenges of COVID-19, John Susman believes things could change for the better for Australian fishers, retailers and consumers. However, "the domestic market still needs to be encouraged", he says. "My fear is that the producers themselves, as soon as international markets reopen, will forget about the domestic market because they'll think it's just too much work."
The true impact of COVID-19 is still unfolding and likely will be for some time, says Katherine Winchester. Some fishers are already starting to open up their businesses – for example, mud crabbers
are looking to get back out and fishing in the coming days, despite the lack of airfreight.
While restaurants and cafes have reopened around the country, the restrictions on customer numbers may mean reopening is not an economic prospect for some. Despite this, Katherine Winchester says she is feeling quite optimistic about the future – of the Northern Territory seafood industry at least.
"A lot is yet to unfold for us," she says. "We're looking to boost that confidence wherever we can and making sure we can adapt and come out of this as strong as possible."
Photo captions (from top right):
Walker Seafoods" pop-up shop outside their factory in Mooloolaba. Photo: Walker Seafood.
Companies such as Taroona are finding new markets in order to keep trading. Photos: Taroona Fish and Mackerel Online.