Five million Australians every year experience food insecurity; sometimes all it takes is an unexpectedly large bill, a cut to working hours, a health issue or a car in need of repair and suddenly a person is faced with the distressing choice of paying for food or paying the rent.
By Bianca Nogrady
That was before the COVID-19 pandemic. Foodbank Australia, a food relief organisation, says since the onset of the crisis the number of people needing help has increased by 50 per cent. "We've had the economic impacts of a lot more people being put out of work with very minimal notice," says Jacqui Payne, national program manager of agriculture for Foodbank.
The hospitality sector has been hit particularly hard as social distancing restrictions have closed venues across the country, or reduced them to take-away only. Many hospitality staff have also been unable to access JobSeeker or JobKeeper payments because they are on working visas that mean they are ineligible, but also they cannot work in other industries because their visas are tied to their sponsoring employers.
People working in the seafood sector are among those affected. Seafood Industry Australia acting CEO Veronica Papacosta says the organisation is trying to have fishers included
in the JobKeeper support program: "A lot of people in the industry missed out on JobKeeper payments due to the style of employment in the industry."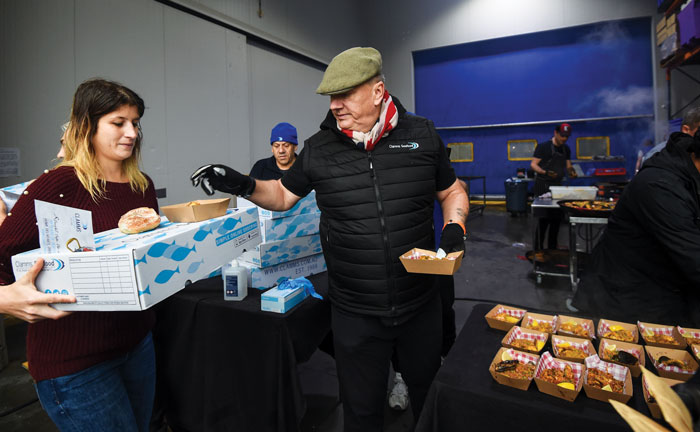 Chef Ian Curley, of French Saloon in Melbourne, handing out freshly made paella.
Photo: Penny Stephens, The Age.
Meal service
In these difficult times, the seafood and hospitality industries are among those stepping up to support their colleagues, communities and fellow humans who are struggling. Whether it is providing produce at or below cost, donating it entirely or providing free meals, these helpers have been all that is standing between many people and hunger.
Chef Neil Perry's staff are accustomed to creating exquisitely constructed plates of food, each item carefully positioned to create an edible work of art. Now they're working with huge vats of hundreds of litres of food, producing meals that are handed out for free in Sydney and Melbourne to thousands of unemployed hospitality staff, students and those who have found themselves on the edge of survival during the COVID-19 pandemic.
The initiative is backed by Rockpool Dining Group's charitable arm – the Rockpool Foundation – with help from the general public through donations of money and produce. The seafood industry has been helping out with donations of fresh seafood. Meals are also being provided through services such as Foodbank and OzHarvest.
The initiative has been growing steadily towards a target of 1500 to 2000 meals a day in Sydney and 1000 in Melbourne.
On a smaller scale, Brisbane also pitched in with 'Help our Hospo' events in May and June. The Fish Factory provided the space and executive chef of Stokehouse Q, Ollie Hansford, organised fellow chefs to prepare 300 free, ready-to-cook, two-serve dinner packs. He says they opted for a simpler program for further events, providing less-structured seafood hampers with a range of fish and other ingredients for those in need to cook at home. Ollie Hansford says seafood suppliers had been incredibly generous with their donations, which included Ora King Salmon, Fraser Isle Spanner Crab and Petuna Ocean Trout, as well as clams, Pipis and octopus.
Supply packs
Other seafood suppliers have also been organising food handout programs. In Melbourne, seafood wholesaler Clamms Seafood has been providing free boxes of mixed seafood to hospitality workers who have lost their jobs or are 'doing it tough'. The idea took root when the company saw Sydney-based seafood retailer Poulos Brothers had started a program.
"Our hospitality industry was suffering and, despite us also facing difficult times, we wanted to support the industry that has supported us for over 30 years," says Stephanie Kaparos, CEO of Clamms Seafood. "We called suppliers, they were really quick to jump on board – it all came together in a matter of days."
All the produce in the boxes is donated either by Clamms Seafood or by other suppliers, and the list of those suppliers is huge: Humpty Doo Barramundi, Huon and Tassal salmon, Petuna salmon and trout, Cloudy Bay clams, Ora King Salmon, Advance mussels, Blue Harvest, and even non-seafood produce such as olive oil, cheese, bread and chips from suppliers such as Levantine Hill and Hotel Agencies Hospitality Supplies.
It's been a rollercoaster experience for Clamms Seafood, which, as a supplier to the food service sector, is also suffering financial hardships from the pandemic.
"It's emotional to see the sheer number of people that will come and line up and wait for food to create some meals," Stephanie Kaparos says. "The hospitality workers have been very emotional and we've had a lot of people in tears."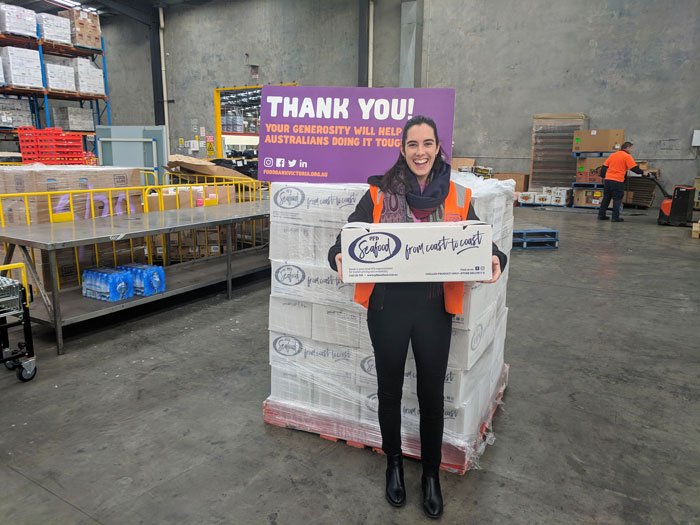 Foodbank Australia worker Morgan Deans with donated seafood, used to help provide meals for those in need.
Photo: Foodbank
Seafood donations
Northern Territory company Humpty Doo Barramundi had been trying to work out how it could donate fish to food charities such as Foodbank even before COVID-19 struck, says Tarun Richards, co-owner and brand manager of Humpty Doo. But because it sells whole fish, the challenge was how it could package those donations.
When COVID-19 struck, Foodbank contacted suppliers such as Humpty Doo and offered to cover some of the costs of processing and delivering produce. Meanwhile, Humpty Doo and food processor and distributor PFD Food Services worked out a way that Humpty Doo's produce could be processed and frozen so Foodbank could use the supply.
It is now processed into portions and bagged to Foodbank's requirements, and frozen for delivery to Foodbank in a few states, says Miles Toomey, chief marketing and sales officer at Humpty Doo. "It's two Australian family businesses helping Australian families, because without PFD this would not have happened."
The company is also providing fish to Clamms Seafood for its boxes for hospitality workers, and to Sydney chef Colin Fassnidge – who is providing free meals from his Sydney restaurant Banksia Bistro to those in need. It is also hoping to assist Neil Perry and the Rockpool Foundation with food donations.
Another Australian aquaculture company, Indian Ocean Fresh Australia, has provided Yellowtail Kingfish to Foodbank at no cost, which owner and manager Erica Starling describes as a "triple win" for the company. "Firstly, we were able to provide healthy, freshly harvested and frozen fish to Foodbank Australia for their customers," she says. "Secondly, as a small business, we were able to generate a little extra work and pay for our own staff who were directly impacted by the sudden closure of the hospitality and food service sector." And thirdly, she says, it has meant the company will be better able to optimally manage its biomass of fish.
Jacquie Payne from Foodbank says it has been exciting to be able to offer people a choice of quality Australian fish and seafood alongside the usual pantry staples that Foodbank provides.
"People who are going through food insecurity still deserve dignity of choice and access to quality fruit and vegetables and product," she says. "This is an opportunity to get some of the best quality Australian produce and fish through to those people who might otherwise have completely gone without."