Online courses have been the go-to format for education and training around the world during COVID-19 restrictions. But they also provide valuable long-term opportunities for Australia's seafood sector, as operators are often in far-flung corners of the country.
By Catherine Norwood
Safety training
For those at sea, the online national safety program SeSAFE, funded by the FRDC, is a means to acquire the latest maritime safety training or update their knowledge. SeSAFE project leader Steve Eayrs says the program has developed a suite of dedicated training modules for the fishing industry, which can be accessed any time that is convenient to fishers, irrespective of their location. "This training is ideal for fishers while restrictions on physical distancing are in place."
As restrictions ease, the program will continue to offer easy access to module-based training to anyone, in the safety of their home. An email address is all that is needed to start.
Most modules are around five minutes long and participants work through each one online. There is no need to travel and take part in group training.
"Crews at sea can also receive training onboard, either in a group or individually, or if quarantined, without risk of exposure to others onshore," Steve Eayrs says. "And if internet is an issue at sea, training is still available – providing modules are downloaded onto a tablet prior to going to sea." The entire crew can also receive training simultaneously by connecting the tablet to a monitor in the wheelhouse or galley.
One of the newest models added to the program, developed in response to the threat of COVID-19, focuses on personal health in the confines of a boat, and personal hygiene to minimise risks of bacterial and viral infection at sea.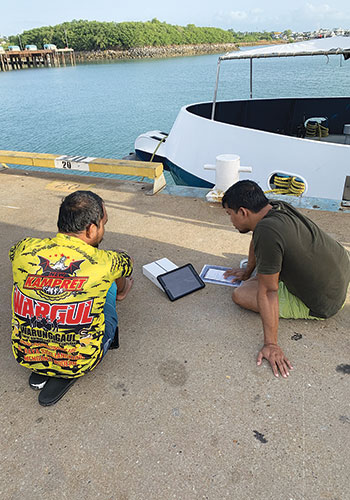 From left, the Australia Bay 2's mate Hari Wibowo and skipper Budijati Sutowo Nur test out the SeSAFE learning modules on a tablet at the wharf in Darwin.
Photo: Mike O'Brien
SeSAFE now has 42 modules available, including risk assessment, personal safety, operational safety and emergency response, and can provide a solid foundation for the induction processes that are mandatory on all commercial fishing vessels.
Where onshore group training is not available under COVID-19 restrictions, SeSAFE can act as a 'place holder' until it is safe to provide practical, hands-on training.
General Manager of Australia Bay Seafoods Michael O'Brien says the company's crews have made use of the SeSAFE training for the past two years. They started with a shore-based group training session once a year. Australia Bay Seafoods has three boats operating year round, with up to 40 crew doing the training.
"Now we've put it onto the boats," Michael O'Brien says. "We have a tablet on each of the boats, and the SeSAFE modules are downloaded so crew can do them offline. I've chosen the 25 modules relevant to our business that I want crew to do, but it's up to the skippers whether they do the modules individually, or as a group."
The decision to access modules offline and at sea has worked well in light of COVID-19 restrictions. The company has also moved from annual training to twice-yearly refresher training – in January and July. When the next round of training falls due, and with quarantine restrictions likely still in place for those at sea, they will be well placed to complete it.
Michael O'Brien says he uses the SeSAFE training in conjunction with another app, called Miracle Mobile, which creates electronic documents to record their training activities. The company is in the process of adding all of its Safety Management System documents and related documents for each vessel to the app to provide an electronic reference and record of all relevant activities. With all documents in the one place, the task of recording training activity for each skipper is streamlined and simplified.
Leadership for women
Women in Seafood Australasia (WISA) is running what president Karen Holder describes as a "101 in leadership" to help young women take the first steps towards a greater role in the sector.
The C-Leaders online course is being run by the National Rural Women's Coalition, and the first program offered was filled quickly. A second course is planned for early 2021.
Karen Holder says providing the training online is essential as it makes it accessible to those whose other commitments or location prevent them attending more formal face-to-face leadership programs.
It is helping to meet what she says is a strong demand for training to help women in the sector improve their skills, thus enabling them to contribute more to the future of the sector and their local communities.
The six-week course, which started in June, is designed to help participants learn about their own leadership style and build confidence. They will also have the support of online forums created to discuss the course and share ideas.
The course is free to WISA members and is funded by the FRDC.
Community engagement
Peak fishing bodies in New South Wales, Queensland, South Australia, Victoria and Western Australia are offering free online training for members of the fishing sector, with a focus on leadership and community engagement.
Seafood Industry Victoria is coordinating the course and executive director Johnathon Davey says it provides a firm grounding in the skills people might need to participate in a community organisation or to take on a leadership role. It is open to anyone in the seafood industry, including fishers, crew, seafood processors, retailers, those in aquaculture and their family members.
The course covers oral, written and interpersonal communication skills, meeting processes, technological knowledge, decision-making, identifying opportunities for involvement and community engagement. At the conclusion of the training each participant will have a personalised community engagement plan for his or her business.
Johnathon Davey says the online components of the course will take about six hours to complete and will be followed by a one-day, face-to-face training session. There will be several of these sessions in each state, and travel costs to attend the session closest to each participant will be covered.
The Australian Maritime and Fisheries Academy developed the course, which is supported by funding from the Australian Government and industry peak bodies. Further programs may be provided if the first course is successful.
---
More information
SeSAFE
Steve Eayrs
0472 784 530
seayrs@sesafe.com.au
www.sesafe.com.au
Women in Seafood
www.womeninseafood.org.au
Professional Fishers' Association (NSW)
(02) 6652 7374
0429 303 371
admin@pfai.com.au
www.nswpfa.com.au
Seafood Industry Victoria
(03) 9687 0673
admin@siv.com.au
www.siv.com.au
Queensland Seafood Industry Association
0417 631 353
eo@qsia.com.au
www.qsia.com.au
Western Australian Fishing Industry Association
(08) 9432 7777
admin@wafic.org.au
www.wafic.org.au
Wildcatch Fisheries South Australia
(08) 7221 1960
office@wfsa.org.au
www.wfsa.org.au