The fishing industry is in the spotlight as the Australian Maritime Safety Authority leads renewed efforts to improve onboard workplace safety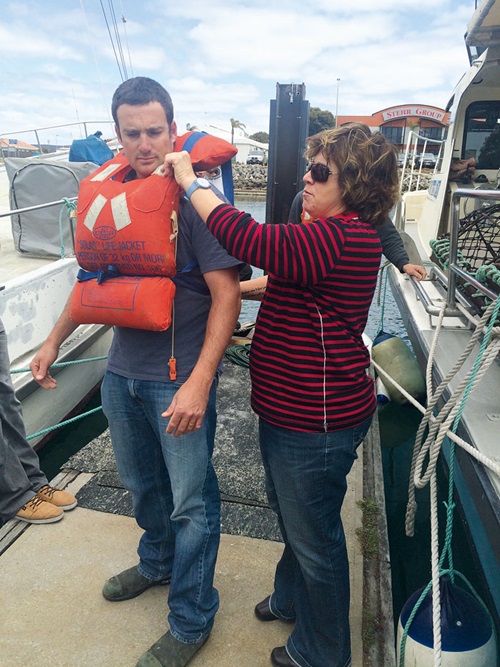 Clean Green program participant Jarrod Day and workplace health and safety trainer Tanya Adams.
Photo: Southern Rocklobster
By Peta MacDougall
Working at sea is a high-risk occupation. The death rate for workers in Australia's (wild-capture) fisheries is 22 times higher than the nation's all-industry average (2010-11).
Improving safety within the fishing industry has been a long-term challenge and since 2013 the responsibility for regulating the onboard workplace health and safety (WHS) of domestic ocean-going vessels has moved from multiple jurisdictions and agencies to one national agency – the Australian Maritime Safety Authority (AMSA).
The newly appointed chair of AMSA is Stuart Richey, a Tasmanian-based fisher and a seasoned skipper, with more than 40 years at sea, who knows personally how important safety is for the whole crew.
In his new role he will help oversee the introduction of recent changes to the National System for Domestic Commercial Vessels, designed to simplify the rules while also lifting baseline safety standards.
These changes have made the safety requirements consistent across all vessels on the sea and inland waterways, including all fishing and tourism operations and passenger vessels. The changes also introduce new minimum requirements, including the need for a Safety Management System (SMS) to be in place on each boat by 1 July 2016.
"The sea is a challenging workplace; conditions continually change," Stuart Richey says. "There can be a lot happening on the deck and one slip of concentration can put you and others in a very dangerous situation.
"Getting the message out to the fishing industry is vital. The seafood industry is now a major focus for AMSA under the new national system, and the development of SMSs will be an important component of this," he says.
Liaison officer for AMSA Wes Oswin says there is plenty of support available to help boat owners develop an SMS through AMSA and its state and territory service providers. He says the aim is to create a commitment to safety at all levels within a business and to make safety top of mind in day-to-day operations.
The revised National Standard for Commercial Vessels (NSCV Part E – Operations) covers Class 3 fishing operations. Copies of the standard, additional guidance material and sample SMSs for fishing operations are available for download from the operational safety section of AMSA's website.
An SMS must identify and control risks and provide a method to ensure that the risk controls are effective. It should include the roles and responsibilities onboard, crew training and induction, procedures for onboard processes, emergency plans, systems for maintenance of vessel and equipment, and logging and recording events.
Some fishing industry groups have already developed safety standards as part of their own certification procedures, and are in the process of updating these to include changes to revised national standards. One such certification program is the Southern Rocklobster industry's award-winning Clean Green program.
Industry initiative
The Clean Green program was established in 2004 to meet emerging market, community and government challenges at all levels of the rocklobster supply chain, an industry worth $300 million and employing more than 2500 people across three states.
While workplace health and safety (WHS) is an essential component of the Clean Green accreditation, the program incorporates many other elements, says the executive officer of Southern Rocklobster Ltd, Ross Hodge.
"It establishes best practice standards for food safety and quality, animal welfare, managing the environmental impacts of fishing operations and sustainability through compliance with the Environment Protection and Biodiversity Conservation Act," he says.
"It was the first standard of its type in the world within the fishing and seafood industries and is implemented across the total supply chain, not just 'onboard'. The program is being mimicked across Canada and North America to make their products more appealing in international markets."
Participants are audited by an independent third party Conformity Assessment Body, which is accredited against the International Organization for Standardization (ISO/IEC) Guide 65:1996 and Joint Accreditation System of Australia and New Zealand (JAS–ANZ) Procedure 15.
The Clean Green program is owned and maintained by Southern Rocklobster Ltd, the national peak body owned by rocklobster licence holders across South Australia, Tasmania and Victoria.
Updating the Clean Green program to reflect the changes to the revised national system for commercial vessels is part of its strategy of continuous improvement – one that provides ongoing support to its accredited members.
Stuart Richey says the Clean Green program is an excellent example of how an accepted industry standard can be modified to pick up the AMSA requirements at minimal cost.
"Southern Rocklobster Ltd is to be congratulated for taking the initiative and benefiting all their fishers both from a safety point of view and financially."
Wes Oswin says AMSA has recently been working with Southern Rocklobster Ltd and the South Australian Rock Lobster Advisory Council to update the existing Clean Green SMS to comply with the revised national standard.
"The Clean Green program has also been widened to take into account other types of fishing operations and help them to identify and manage their risks. This will be of great benefit to operators that carry out more than one type of commercial fishing," Wes Oswin says.
 "It's great to see that Clean Green participants not only get comprehensive initial training on the program but are provided additional support to customise the SMS to their particular operation.  
"This should help to ensure that the owners and crew understand the program, that they develop an SMS that is relevant and specific to their particular operation and that the Clean Green SMS ultimately ensures the safety of the vessel and crew," Wes Oswin says.
Clean Green workshops
Ross Hodge says there will be workshops rolled out in Tasmania, Victoria and SA throughout this year to bring current members of Clean Green up to date on the new safety material.
In October 2014 Southern Rocklobster Ltd held two one-day workshops in the SA northern zone for rocklobster fishers to join Clean Green and will hold the second day of training to complete the program requirements in early 2015. There will also be training sessions offered in the SA southern zone, Tasmania and Victoria for fishers who would like to become accredited with Clean Green and are new to the program.
"Southern Rocklobster's Clean Green program is leading the way in self-regulation and by completing it fishers will meet their legislative requirements for a safe vessel and a safe workplace.
"The introduction of AMSA's National System for Domestic Commercial Vessels has boosted interest from rocklobster fishers in becoming Clean Green accredited, as it is by far the most efficient and cost-effective option for complying with SMS and also WHS regulations," Ross Hodge says.
New WHS code
With the adoption of new 'model' WHS legislation in most Australian states and territories, with the exception of Victoria and Western Australia, the Clean Green program is also updating and expanding its WHS codes to ensure its accreditation complies.
"The new expanded WHS code in the Clean Green program addresses some of the hazardous tasks that employees undertake on the boat, in addition to AMSA's SMS requirements. "Checklists and procedures have been included in Clean Green so fishers can easily address these in their planning and be compliant."
The Primary Industries Health and Safety Partnership (PIHSP), which is part-funded by the FRDC, has recently produced a report and a fishing fact sheet to help employers and workers understand their legal WHS responsibilities and to easily access important information to help meet these requirements. 
Both publications can be accessed here
---
The Clean Green program incorporates protocols and procedures for:
Establishing a safe working environment to meet all vessel operational and workplace health and safety (WHS) legislative requirements including crew safety and induction training.
Implementing best practice in food safety and quality (GMP – Good Manufacturing Practice) and animal welfare requirements for lobster handling and holding systems.
Removing environmentally unfriendly practices such as the use of plastic bait box straps and managing responsible disposal and recycling of marine wastes – oil, plastics and cardboard.
Documented maintenance and cleaning schedules to meet hygiene and sanitation requirements.
Meeting Australian Quarantine and Inspection Service certification requirements for boats handling live crustaceans for exports to all markets, thus reducing duplication and costs across the industry.
Monitoring the sustainability of each jurisdiction fishery to ensure compliance with the Environment Protection and Biodiversity Conservation Act 1999 (EPBC Act) to maintain export approval.
Creating an awareness of, and managing potential interactions with, protected species such as seals, whales and sea lions.
---
FRDC Research Code: 2012-765
More information
Ross Hodge, 0423 533 133,
rosshodge@southernrocklobster.com