Safety planning and practices can help fishers identify and address risks
By Australian Maritime Safety Authority
---
Risks for solo operations
Every operation has unique risks. For those operating in an environment where fishers or other staff may be working on their own, it is important to identify and address possible risks to safety including things such as:
adequate safety communication such as between a mothership and a dory vessel;
fatigue management (people do not perform at their best at night or when they are tired);
vessel design (is your vessel suitable for the operations and have there been any modifications that may affect its stability?); and
personal protective equipment (if you are alone and you fall overboard, how will you stay afloat and alive until help arrives?).
---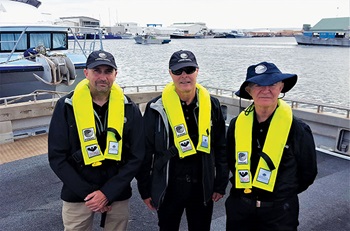 Putting safety first: FRDC staff wear safety vests when working on the water. (From left) Crispian Ashby, Patrick Hone and John Wilson.
Photo: FRDC
In June 2013, a 39-year-old fisher was found floating facedown in the water near his overturned dory off the north Queensland coast. The man was a skilled dory operator with more than 10 years' experience.
He was one of four dory operators fishing for coral trout about nine kilometres from their mothership, a 13-metre vessel, and a fellow operator raised the alarm after coming across the man's capsized dory on a journey back to the mothership.
The master of the mothership immediately directed the other dory operators to return to the area to conduct a search for the missing man. Tragically, when they arrived back to the location of the capsized dory, they found the missing man floating facedown and motionless in the water.
As part of the coronial investigation, several potential safety issues were identified as contributing to the accident.
One finding identified that the capsized dory had been modified, with the fitting of a fish tank and associated equipment, which may have changed the stability characteristics and contributed to the vessel capsizing. And although the dory had adequate safety equipment, the man who fell in the water was not wearing a life jacket when he was found.
Head of operational safety at the Australian Maritime Safety Authority Michelle Grech says there are several lessons to be learnt from the accident.
"Any operation in which there is a solo operator should be considered high risk," she says. "This is especially the case when working at sea because there is no-one there to watch your back, rescue is far away and environmental conditions can change quickly."
Michelle Grech says it is important that fishers identify and address the unique risks of their operation and include these in their safety management system. For a sole operator, this might include mandating the wearing of life jackets at all times and having additional communications equipment and procedures.
"For an operation involving multiple vessels, a regular communications schedule can improve safety by potentially raising the alarm sooner should a sole operator be unable to call for help.
"The use of safety and rescue equipment in general increases the likelihood of surviving a fall-overboard accident, especially when you're alone," she says.
Safety management systems
National laws require all vessels to have a safety management system – a systematic approach to managing safety.
The process of creating a safety management system specific to an operation involves identifying the hazards, assessing the risks associated with each hazard, selecting appropriate control measures to reduce or eliminate those risks, then implementing and reviewing the effectiveness of these control measures. The goal is to prevent accidents from happening.
FRDC Research Code: 2015-401
More information
Australian Marine Safety Authority
Speak to an AMSA Connect officer: 02 6279 5000