Port Phillip Bay
Photo: FRDC
By Annabel Boyer
Queensland's Joel Feeney has been diving commercially for 20 years, and his life has twice been touched directly by the tragedy of losing people he loves to workplace accidents at sea. It has made him determined to improve safety for those who face the dangers of the ocean every time they go to work.
In October last year the FV Dianne went down in rough weather off the coast of central Queensland, taking most of its crew with it, including Joel Feeney's brother, Zac Feeney, who was a also a diver.
Three years ago, in 2015, Joel Feeney also lost a close friend when the FV Returner sank off the coast of the Pilbara, in Western Australia.
It is a story that is all too common in Australia's small commercial fishing sector. In the past five years 21 people have died, making fishing the most dangerous job in the country.
For Joel Feeney and his sister Jackie Perry, the loss of their brother has provided a call to action to help make sense of his death, and to drive change in the sector and prevent further deaths.
While fishing is a dangerous occupation, that risk is compounded by the poor culture of safety within the commercial fishing sector. 
Joel Feeney recognises that the sector still regards safety as a cost rather than an investment, but says the challenge is two pronged.
Fishers are unlikely to adopt anything that adds to their costs. There is also a fundamental lack of trust between the fishers and the authorities touting safety regulations.
He believes his story, coupled with his experience in the commercial fishing sector, gives him credibility with fishers, which he hopes will help to overcome distrust and to effect substantive change.
Improved alerts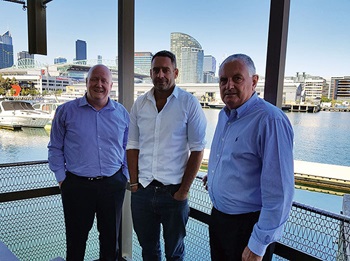 Discussing new safety measures, Joel Feeney (centre) with Australian Maritime Safety Authority CEO Mick Kinley (left) and chair Stuart Richie (right).
Photo: Seafood Industry Australia
Joel Feeney is in talks with the Bureau of Meteorology (BoM) to develop an alert system for dangerous weather conditions. He says while BoM produces forecasts, what is lacking is an alert system to deliver information when and where it is needed.
"What I'm trying to do is bring in changes that have little to no cost associated, because if there is any cost then most fishers are not going to make the change."
He says one reason for the lack of trust between fishers and authorities relates to the use of vessel monitoring system (VMS) data, which tracks the whereabouts of fishing vessels as part of fishing compliance monitoring. The authorities that hold this data do not actively use it as an alert system for fisher safety. Instead it is used retrospectively; for example, to find a capsized vessel once an accident has already occurred. In the case of the FV Dianne, the rescue effort was set in train only once the sole surviving crew member was rescued by a passing yacht. The VMS signal had stopped transmitting many hours before.
Joel Feeney is advocating for the development of alert systems that can put relevant data into the hands of those who will take action quickly, such as fishers and their families.
The lack of workplace statistics that look specifically at the commercial fishing sector compounds the difficulty of making safety a priority. Safe Work Australia, for example, combines data from commercial fishing with land-based agriculture and forestry sectors. The combined fatality rate is 14 deaths per 100,000 workers, with 418 workplace fatalities recorded from 2007 to 2016. But it is difficult to know how many of these fatalities came from the fishing sector.
National initiative
Putting marine safety front and centre, the FRDC is set to launch its new National Research, Development and Extension Marine Safety and Welfare Initiative, working with industry partners such as Austral Fisheries and the Western Australian Fishing Industry Council.
FRDC's executive director Patrick Hone says the new initiative will be ambitious, with a goal of zero deaths, an 80 per cent reduction in injuries and 100 per cent compliance with safety regulations.
"I ask our stakeholders to hold the FRDC to account. If you see or hear anything that FRDC produces that is not promoting a safe workplace, please let us know."
Over the past year the FRDC's internal policies have made wearing life jackets or personal flotation devices (PFDs) mandatory for all FRDC staff and all those working on FRDC projects while onboard vessels. 
Advances in PFDs mean that they are less bulky, so can be more easily worn. Many PFDs are now fitted with personal location beacons (PLBs), which operate similarly to emergency position-indicating radio beacons (EPIRBs) used on vessels.
The FRDC's national research initiative will build on and broaden previous FRDC investment in this area, committing research funding around the following four key areas.
Education: the development of electronic learning tools to facilitate the uptake of knowledge required for an improved culture of safety awareness, including general workplace safety requirements under workplace health and safety legislation and Australian Maritime Safety Authority legislation (FRDC Research Code: 2017-194, see SeSAFE project below).
Adoption of a new 'safety focused' culture within the industry: for example, through the promotion of 'marine safety champions' or the development of capabilities to ensure that safety regulations are adopted.
Behaviour, understanding and influencing: for example, to understand the inhibitors and motivators for behaviour change in relation to industry safety (FRDC Research Code: 2017-046).
Coordination and communication: the initiative will establish a coordination and communication hub to ensure all FRDC marine safety projects are linked and collaborate effectively, and will establish a process for collecting and reporting statistics on marine safety and welfare.
As part of the national initiative the FRDC is in discussion with further industry partners and organisations who share a vision to make commercial fishing a safe workplace and an attractive one for young people to work in.
Details of the projects attached to this initiative are available on the FRDC's website.
---
2013–17* Commercial fishing workplace fatalities
2013
1 Matthew Shrimpton (dory) Queensland
1 Glen Wilson (dory) Queensland
1 Ryan Donoghue (trawler) Queensland/
Northern Territory
2015
1 John Rogers (trawler) South Australia
1 Joe Russell (abalone vessel) Tasmania
3 FV Returner (trawler) Western Australia
2016
2 FV Cassandra (trawler) Queensland
1 FV Seabring (trawler) Queensland
3 FV Night Raider (trawler) Queensland
FV Cygnet Lass (line fishing vessel) Queensland
2017
6 FV Dianne (dive vessel) Queensland
*July 2013 to February 2017 inclusive
Source: Australian Maritime Safety Authority
---
SeSAFE – safety training delivered online
"It is difficult to comprehend that working a kilometre underground is safer than working on the water," says Steve Eayrs, principal investigator on SeSAFE, an FRDC-funded project aiming to improve sea safety performance in the fishing and aquaculture industry.
SeSafe is addressing these issues using education and training. It is developing a learning management system (LMS) comprising multiple simple training modules to deliver essential safety training to fishers and aquaculture workers prior to going to sea.
"These modules can be completed using a computer, tablet or smartphone and are specifically developed for this industry," Steve Eayrs says.
The LMS integrates and complements vessel safety-management systems to provide a more holistic, user-friendly approach to basic sea safety training. Significantly, it also operates as a verification to ensure that crew haved been provided training and demonstrated proficiency in sea safety.
The LMS is designed to overcome barriers including cost, timeliness, relevance and accessibility. The system is being tested with skippers and crew from Austral Fisheries.
FRDC Research Code: 2017-194
More information:
---
If you work in the fishing industry – be it out on the water or on the wharf, working on your own or for a fishing business – the FRDC is asking you to have your say and fill out the 'What's stopping you from keeping you and your mates safe?' survey, which is available online.
FRDC Research Codes: 2017-046, 2017-194
More information