Local fishers gain a new perspective on market opportunities by viewing Australia from European shores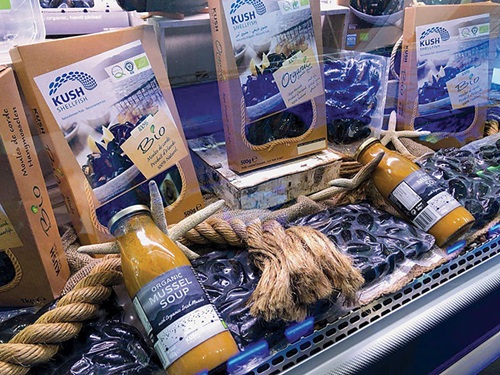 An Australian seafood industry delegation checked out international market trends at the Seafood Expo Global in Brussels (above) and at major supermarkets in London.
Story and photos by Peter Horvat
It can be difficult to grasp the global experience that is seafood from the deck of an individual vessel struggling to make headway in domestic regulatory squalls and fluctuating market currents.
But two fishers from Queensland and one from Western Australia took up FRDC-sponsored bursaries this year to attend a trade tour to the UK followed by the Seafood Expo Global in Belgium in April, which has given them new insight and direction for their own businesses.
Tom and Kath Long, from TomKat Line Fish in Queensland, and Morgan Hand from Chaceon in WA, joined an eight-day tour that included retailers, markets, fishers, restaurants, a side trip to the Belgian port of Ostend, and finally Seafood Expo Global in Brussels.
In London's supermarkets they found fresh display cases were almost entirely absent, with the exception of the high-end Selfridges and Harrods, where beautifully curated fresh selections could be found. Other supermarkets stacked their shelves with all kinds of pre-packaged seafood items – fish pies packed in wooden trays for baking, prawn linguine, fish patties – all designed for quick and easy preparation.
Tapping into history
A visit to Borough Market next to London Bridge was an experience in British and international boutique food production at its finest. The market has operated in one form or another on the southern side of the River Thames for almost 1000 years.
This excursion was followed by another venture into England's longstanding traditions with a visit to the Worshipful Company of Fishmongers (Fishmongers' Company). This is one of the earliest of the Twelve Great Livery Companies (City Guilds) in England, dating back 700 years, and is home to a significant amount of history for the fishing industry.
Coincidently, it was a fellow Australian, Eleanor Adamson, originally from Wagga Wagga in rural NSW, who led the group's tour explaining the role of the Fishmongers' Company, which works strategically to address key issues in the fisheries supply chain. Its modern incarnation includes partnerships with other agencies, such as Seafish and BluePlanet, working together to promote the health, prosperity and sustainability of the fish and fisheries sector for the long-term benefit of the UK.
Many of the issues Eleanor Adamson spoke about during the tour are ones Tom and Kath Long are keen to work on and learn more about for the Australian sector; issues such as product traceability, empowering small-scale fishers and developing professional standards for fishmongers.
After three days in London the group took a detour to the port of Ostend in Belgium. Like many small fishing towns, Ostend is steeped in history and tradition. Small seafood vendors line the street up to the local fish market. In speaking with one of the stallholders, the group discovered that the boat tied up at the side of the market – a small side-beam trawler – was part of a family operation, and had landed its catch for the day as part of the market offering.
Seafood expo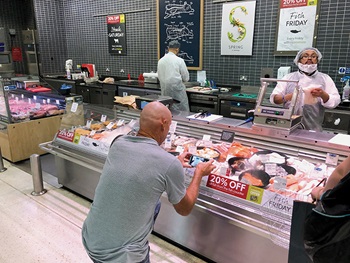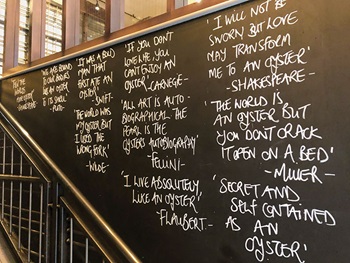 Following Ostend, the group made its way to Brussels for Seafood Expo Global and Seafood Processing Global, the world's largest seafood trade fair. This year the expo featured more than 1850 exhibiting companies from about 80 countries. During its three-day run in April, it hosted 26,000 trade visitors from 140 countries.
Seven massive halls house the event, which consists of hundreds of exhibits offering connections with buyers or sellers, new machinery, products and other industry services. Preplanning helped the Australian delegates to home in on what fitted their own interests and needs. Tom and Kath Long and Morgan Hand spent the three days meeting suppliers and other international contacts to gain insight into ways they might improve and expand their business.
The Australian delegates also sat in on presentation and panel discussions for the Global Sustainable Seafood Initiative and the Marine Stewardship Council during the expo.
New horizons
The FRDC's trade tour program aims to help companies and individuals better understand the seafood market globally. It is designed to give participants an opportunity to expand their horizons in whichever market they operate.
For Tom and Kath Long the trip helped them understand how the seafood industry operates internationally, and its relationship to Australia's domestic industry. With a new perspective, they are keen to get more directly involved in the supply chain and develop their own skills. They are keen to focus on developing direct-market sales and the supply of premium product to fetch higher prices.
Morgan Hand says that while it could be easy to fixate on Asia's relevance to the Australian sector, the Brussels expo definitely has lessons for most sections of the Australian seafood industry and was a great opportunity to view seafood production on a scale not seen in Australia.
"The kind of machines and technology on display were amazing and very interesting," he says. "I plan to circulate information from the tour through some of the networks I am involved in, such as the Southern Seafood Producers Association."
China and US bursaries
The FRDC will offer trade bursaries to other events as part of a two-year program, providing up to $7000 for travel and accommodation costs and some meals. The bursaries operate in the same way as those for researchers pursuing or sharing scientific knowledge.
Future trade events will include:
China Fisheries and Seafood Expo, Qingdao, China, 7 to 9 November 2018;
Seafood Expo North America, Boston, USA, 17 to 19 March 2019; and
Seafood Expo Global, Brussels, Belgium, 7 to 9 May 2019.
Contact the FRDC to express interest in attending and to apply for a bursary, or visit the Australian Seafood Trade and Market Access page at the FRDC's website.
---
2018 Brussels delegates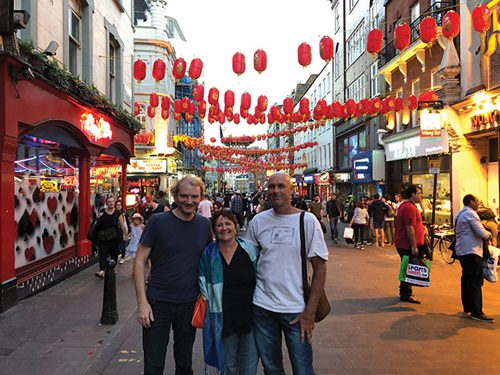 (From left) Morgan Hand, Kath Long and Tom Long in London's Chinatown, searching for seafood opportunities.
Trade bursaries provide an opportunity to gain an international perspective on Australian fisheries through travel to major events. In 2018, participants included Morgan Hand and Tom and Kath Long.
Morgan Hand
Morgan Hand is involved in many facets of the fishing, wholesale and seafood export industry. His father is a fisher and he grew up helping him out.
His family's company, Chaceon, operates vessels in multiple crab and rock lobster fisheries, spanning thousands of kilometres of the Western Australian coast.
On a day-to-day basis, he generally manages the operations of the processing factory and packing, while also being heavily involved in marketing Chaceon's product domestically and internationally. He also deals with fishers – some employed directly by Chaceon and some independent. Morgan Hand is also a member of the WA Research Advisory Committee for the FRDC.
Kath and Tom Long
The Longs are first-generation fishers operating out of picturesque Kurrimine Beach, far north Queensland.
They line fish in the pristine waters of the outer Great Barrier Reef (GBR) for premium quality species such as Red Emperor, Rosy Snapper and Goldband Snapper. They are passionate about increasing consumer awareness of the provenance of the region's seafood and fishing sustainably to maintain the health and resilience of the GBR.
---
FRDC Research Code: 2011-412
More information