Fast, simple and accessible training will anchor the new SeSAFE program to prevent injuries and deaths at sea
By Catherine Norwood
Watch a short video, answer some multiple-choice questions. The five minutes it takes hardly seems like much, but it could be enough to prevent injury or save a life – a mate's, or maybe your own.
The video and quiz session represents a single module in the SeSAFE program, a voluntary learning system being developed as part of the FRDC's Seafood Industry Safety and Welfare Initiative launched in March this year.
The SeSAFE program is being funded by the commercial seafood sector, the FRDC and the Australian Maritime Safety Authority, with a budget of $650,000 for the first two years. This will go towards the development of basic training modules for fisheries and aquaculture workers new to the sector, before they begin working on the water. It will also offer a refresher for experienced hands. Further funding is being sought from different industry bodies to develop sector-specific modules.
SeSAFE's project leader Steve Eayrs says the program targets foundational safety training for crew.
"Modules are designed to be online and user-friendly, rather than the traditional book-learning approach. The crew can complete the modules at any convenient time before going to sea; all at once or spread out over multiple days.
"For skippers and production managers, these modules offer a simple, low-cost way to meet their 'duty of care' requirements to ensure crew have appropriate training for their workplace, and they complement any at-sea training they provide to their crew."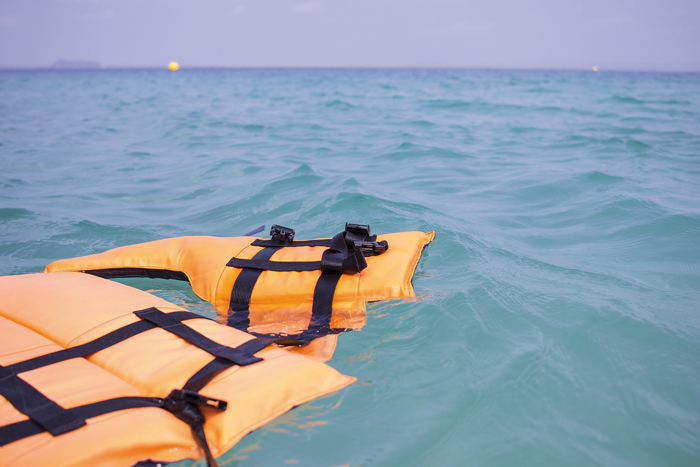 National safety targets
At a national level, the FRDC is seeking to halve the number of fatalities and accidents in the sector by 2023.
Workplace fatalities have averaged five a year for the past five years, making the fishing and aquaculture workplaces the most dangerous in Australia – 25 times more dangerous than mining or construction (based on fatalities per thousand workers). The most 'at risk' group are male workers aged 20 to 24 years, followed by those aged 45 to 54 years.
The figures are less certain for workplace injuries. Steve Eayrs says many minor injuries and 'near miss' events are not reported at all, and in some instances it is likely that more major injuries are also not reported. 
He says safety has traditionally been shaped by a slew of national, state and territory maritime safety laws, including vessel surveys. However, a vessel may be deemed safe to operate without being operated safely.
Bridging that gap between equipment and behaviour is an important part of the SeSAFE program's aims. Several modules are being developed based on a training package created by Austral Fisheries for its staff, who work in the Northern Prawn Fishery and in the Southern Ocean longline fleet. "Module topics are wide-ranging, from hand safety to fatigue, and from man overboard to abandon ship and use of personal protective equipment," Steve Eayrs says.
Austral also has an enforceable undertaking with the Northern Territory Government following the electrocution of a crew member in the Gulf of Carpentaria in 2013. This includes $250,000 funding towards a national safety program, and benefits accruing to the workplace, broader industry and NT community of almost $1 million.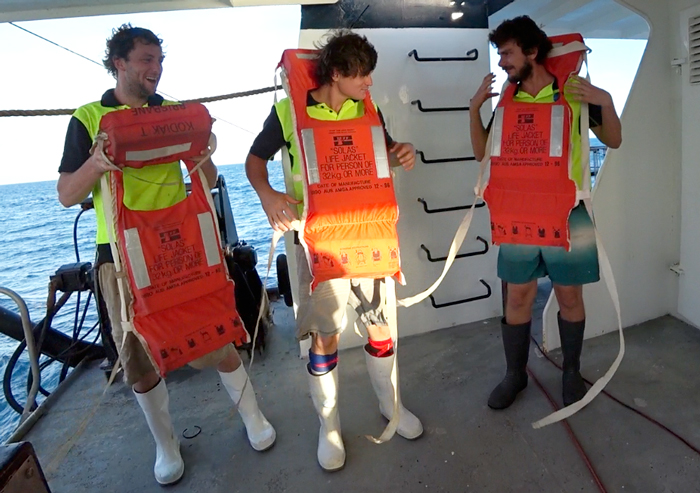 Austral crew practise an emergency
response drill using high-buoyancy life vests designed for severe weather conditions.
Photo: Austral Fisheries 
Expanded program
 SeSafe training modules
being developed
 Abandon ship/Collision/Grounding
 Berthing and docking safety
 Chemical spill and control
 Chemical substances & safety data sheets (SDS)
 Confined spaces
 Electrical safety
 Fire
 Fundamentals of Workplace Safety Law
 Hand safety
 Heat-related illness
 Hierarchy of controls
 Job safety analysis (JSA)
 Managing noise hazards
 Man overboard
 Manual handling
 Medical emergency, including allergies
 Personal flotation devices
 Personal hygiene
 Personal protective equipment (PPE)
 Refuelling
 Risk matrix
 Rope handling
 Severe weather/cyclones
 Slips, trips, general housekeeping
 Standard policies for drugs, sexual harassment and racism
 Sun protection
 Using knives
 Working at heights
Oliver Krcoski joined Austral in 2016 as health, safety and environment adviser, and says developing safety training was his priority. "I spent over a month actually on the prawn trawlers working as a deckhand and collecting video and images and taking notes on what they do, to help develop the training."
SeSAFE has now taken Austral's initial training program and begun to refine each module to ensure broader applicability and to expand the number of modules to include additional fishing practices. Operators in different fisheries should be able to identify relevant modules for their own crew.
Oliver Krcoski says Austral is happy to have its training create a basis for the broader SeSAFE program. "If we find we still need something specific aligned to our own policies, we can add to it then. But this will provide a way to offer efficient and effective training, with a standardised approach across the fisheries sector."
The SeSAFE program will make use of the Adobe Captivate Prime learning management system, which could cost as little as $6 per user per month, plus the cost of administering modules to participants.
Once the program has been finalised, modules can be made available to individuals via email, then completed online or offline on a computer or tablet and uploaded to the module administrator.
"We're still putting the modules together and working out the nuts and bolts of module delivery and administration," Steve Eayrs says. "In the next few months, we will make modules available for a trial run focusing on the Western Rock Lobster Fishery and the Northern Prawn Fishery."
SeSAFE is expected to complement onboard workplace safety management systems and help provide a holistic approach to safety management, training and compliance, particularly when combined with at-sea training and other requirements.
The Western Australian Fishing Industry Council (WAFIC) is coordinating funding and administration for the program. WAFIC CEO John Harrison says three WA trawler crew perished in one recent incident and he has also been personally involved in a marine workplace fatality during his time in eastern Australia.
As chair of the SeSAFE steering committee, he says a major commitment to safety is well overdue. "We need to do whatever we can to make sure the crew on our fishing vessels come home," John Harrison says.
"This new approach with electronic delivery will allow people to learn at their own pace."
He says it will also make it easy for crew to do a refresher as needed; for example, in response to specific incidents, such as the recent news of a man-overboard drowning in the US, which highlights the importance of personal protection devices and knowing procedures to bring someone overboard back on deck.
John Harrison says the committee wants to see the program continue beyond the initial two-year timeframe, as it becomes integrated into standard industry practice.
In conjunction with the SeSAFE training, the video series 'What if they don't come home?' is also being developed, which features one or more individuals and their families affected by an accident or tragedy at sea and the impact on loved ones left behind.
FRDC Research Code: 2017-194
More information
Steve Eayrs, 0472 784 530, seayrs@sesafe.com.au, SeSAFE