Initiatives around the country are kick-starting conversations around mental health in Australia's seafood sector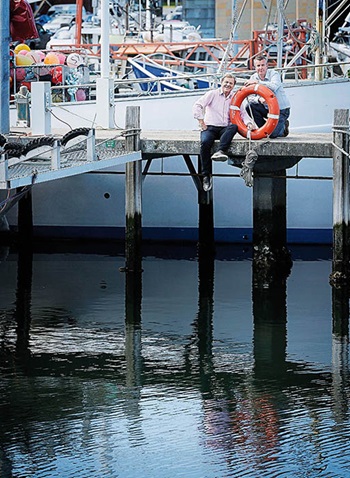 Journalist Ray Martin, left, and Tasmanian Seafood Industry Council chief executive Julian Harrington attended the Stay Afloat event, a fundraiser for metal health in the seafood industry.
Photo: Mathew Farrell
By Annabel Boyer
"If a boat's going down, even if it's your worst enemy, you are going to save them," says Julian Harrington, CEO of the Tasmanian Seafood Industry Council (TSIC). "It should be the same if a mate is going under, in terms of their mental health; we need to help each other."
To better position the seafood sector to do this, TSIC is leading an industry initiative to address mental health issues, launching its 'Stay Afloat' campaign in October 2018, which is Mental Health Month.
The launch event – a fundraising cocktail party – was held in Hobart on Saturday 13 October, with 170 people attending. MC for the launch event was television personality Ray Martin, who has agreed to act as official ambassador for mental health in Tasmania's seafood industry.
Funds raised on the night, with sponsorship, have provided $50,000 to kick off the Stay Afloat campaign. Planned activities include a peer initiative to encourage those in the Tasmanian seafood sector to look after one another.
One of the main aims of the campaign will be to #drownthestigma around mental health issues, to ensure that people in the seafood sector feel able to seek help when they need it.
Julian Harrington says TSIC is keen to see people use the #drownthestigma hashtag to spread the word on social media, and to emblazon it on vehicle bumper bars and the wheelhouses of their vessels.
TSIC is running the Stay Afloat campaign in partnership with Rural Alive and Well Tasmania, a non-profit organisation that helps individuals, families and the community to manage mental health issues, with a focus on suicide prevention.
Julian Harrington says the partnership means TSIC is able to tap into the Rural Alive and Well network of outreach officers in regional areas.
Identified need
He says the need for an initiative such as Stay Afloat became apparent on several fronts, among these the results of the first national survey on the health, safety and wellbeing of Australia's commercial fishing industry, conducted in 2017. Preliminary results indicate an alarming rate of psychological distress within Australia's fishing industry. The survey was funded by the FRDC as part of a broader, three-year Sustainable Fishing Families project to provide better evidence of the extent of mental health issues in the sector.
Mental wellbeing has long been a hidden and neglected issue in the sector. Almost a decade ago in 2009 a report released jointly by the Australian Department of Agriculture Fisheries and Forestry and the country's research development corporations, including the FRDC, identified fisher mental health as in need of attention.
Since then several programs have addressed mental health wellbeing in farming communities, but fishing communities continued to miss out.
With TSIC's Stay Afloat campaign and a new mental health initiative called Project Regard launched by Women in Seafood Australasia (see story on page 28 to 29), the issue seems to be finally gaining momentum. 
Workshop
In September 2018, the FRDC's Human Dimensions research subprogram hosted a workshop in Adelaide, in preparation for the development of a mental health strategy for the seafood sector.
Attendees heard from speakers representing other industries and mental health organisations, who described how they approached this issue. Seafood sector representatives also attended to give their perspectives.
At the workshop, Beyond Blue's Catherine Doherty noted that the cost to Australian businesses of not addressing mental health issues was about $11 billion a year. She commended the fisheries sector for considering an industry approach and encouraged people and businesses to take action regarding workplace mental health by using the free, evidence-based resources available at the Heads Up website.
"It is good to consider an integrated approach to workplace mental health, which includes promoting positive mental health, taking preventative measures to manage workplace risks and of course supporting people who are managing a mental health condition, regardless of the cause," she said.
Gail Jamieson, from the Drought Wellbeing Service run by the Royal Flying Doctor Service (RFDS) in Queensland, spoke about providing services for rural communities and the importance of making contact with those potentially in need of services. 
"There is no difference in the prevalence of mental health issues between metropolitan and rural areas; there is a difference in access to services," she said.
Dealing with remote and often isolated populations has required the program to be creative in order to connect with people, by attending a wide variety of community events.
The Drought Wellbeing Service also trains all frontline staff to recognise and deal with signs of mental illness. "We use a 'mental health as part of total health' model, which introduces the topic of mental health in a non-intrusive way," Gail Jamieson said.Leader of the FRDC's Human Dimensions subprogram Emily Ogier says that in order to progress, the fishing and aquaculture sector will need to adopt what others have done well and make improvements where approaches are lacking, particularly to take into account the unique aspects of the fishing and aquaculture industry.
"The next actions are to actively support industry mental health champions with recognition and training so we can give support to those in the industry who need it.  We need to build more partnerships to make sure support services are available to people in fisheries and aquaculture, and that these services can 'talk fish'," she says
---
Insights fuel fisher wellbeing program
By Brad Roberts
Fishing operators and their families experience some unique challenges and high levels of psychological distress.
These are the findings in the preliminary analysis of the first national survey of the health, safety and wellbeing of the Australian commercial fishing industry, led by Deakin University researcher Tanya King.
Anonymous responses to the survey identified traditional stressors such as fluctuating markets, severe weather and the physical dangers of fishing, as well as  'modern uncertainties' including red tape, livelihood insecurity and regulatory change. 
While fishers are good at dealing with traditional risks, they are less able to deal with modern uncertainties because they can not control or anticipate these decisions. 
The survey identified common symptoms of mental distress, which include difficulty sleeping, stress, trouble concentrating and remembering. These are symptoms with the potential to increase the existing risks of fishing, reduce productivity, and affect family relationships.
The survey is part of the FRDC's Sustainable Fishing Families project, hosted by Deakin University in partnership with the National Centre for Farmer Health in Hamilton, which also aims to provide practical ways to deal with the stress caused by these factors.
As part of the same project, a pilot program of health literacy workshops for fishing families has been developed based on the model of the successful Sustainable Farming Families program, which has been running for 10 years in Australia and adopted in other countries.
The aim is to build resilience and positive wellbeing so that fishing operators and their families can better 'ride the bumps' of a challenging profession while enjoying happy and fulfilling lives.
The program consists of three workshops (one  two-day workshop and two one-day workshops), which have been delivered in Victoria's Bellarine Peninsula region over 12 months. Families learned from health professionals about issues, dangers and risks specific to the fishing industry and what individuals can do to maximise their productivity and improve their quality of life. With the help of health professionals, participants tracked their own health and developed pathways to improve their health and wellbeing.
A key feature of the program has been the personalised action plans identifying personal goals and strategies that the participant can track over time. The workshops covered a range of important topics relating to health and wellbeing — from men and women's health, to discussion about depression and suicide. Individual health testing, one-on-one health checks and specialist referrals were also included in the program.
Tanya King says the workshops have had extremely positive results and the Victorian Government had funded more.
"I'll never forget one participant saying: 'If it wasn't for this program, I'd have been dead on the side of the road by now, for sure. But here I am, working harder than I have in years … and feeling fantastic!' That's a gratifying process to be a part of," she says.
"Seeing the health and productivity of participants improve in ways even they didn't think was possible has been amazing.
I'd love to see this program rolled out to as many fishing communities as possible across the country."
(Updated from an article originally published in Australian Maritime Safety Association's Working Boats magazine.)
---
Check on your mates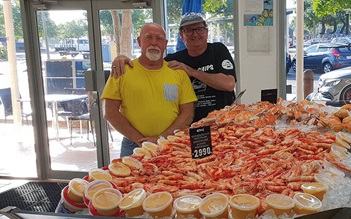 Mates Dave Withers and Bruce Davey.
Photo: Bruce Davey
By Sarah Cameron
Fisher and business owner Bruce Davey says it is important to proactively manage your employees' wellbeing at sea.
"In an operation like ours, which runs seven days a week, 30 days a month, 180 days a year, we need to be perceptive to the moods of those on board," Bruce Davey says.
"If there's any hint of depression or other mental health issues with staff, I need to make sure they have the opportunity to talk
to someone.
"Many family operations like ours are literally working 14 and 15-hour days, then doing their own accounting, log books and their steering watches.
"The first thing that happens with fatigue is that people get angry. In the past there was no compassion for that, it was about hardening up but that's changed today.
"We make sure they're not working 31 hours straight, and pretty much just look after them and work as a team.
"We also have a highly articulated job description of what's expected, so young kids coming into the job know what they're getting themselves into. They're encouraged to develop self-confidence, to come to the captain with any issues, to take part in meetings about everything that's happening and to log everything. This is a part of our safety management system.
"There are other pressures on a local, state and national level that can cause additional stress. But I concentrate on things I can do something about to improve the quality of life for myself and my crew."
(Originally published in Australian Marine Safety Association's Working Boats magazine.)
---
FRDC Research Code: 2016-400
More information
Emily Ogier, emily.ogier@utas.edu.au
Julian Harrington, tsic@tsic.org.au
Stay Afloat
Rural Alive and Well