Value-added products provide pockets of growth for fish and seafood, tapping into retail produce convenience trends
By Melanie Norris, senior manager, Fresh Analytics team, Nielsen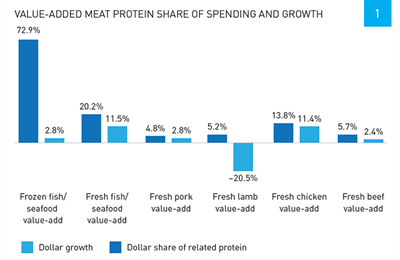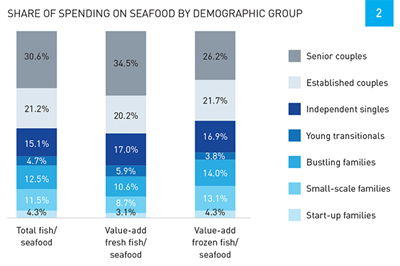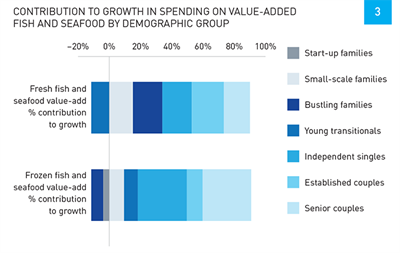 Source: Nielsen Homescan 52 weeks to 15/06/19
Consumers are increasingly demanding easy-to-use food options that can quickly create a healthy meal. This trend has translated into the availability of more convenience or value-added fresh and frozen food products.
In the produce department, for example, there has been a rise in the number of salad bowls and kits, and pre-prepared fruit and vegetables such as zucchini spirals and cauliflower rice. In the meat department, shoppers can choose between kebabs, crumbed or marinated, slow-cooked or pre-cooked protein options. Ready-made meals in the freezer enable shoppers to have a meal on the table
in minutes.
So how does seafood compare in the area of convenience and is there an opportunity for seafood producers to tap into this growth trend further?
Nielsen Homescan defines value-added or convenience food options as any products that are marinated, crumbed, cooked, ready-to-cook or come with a sauce. Data is collected for both the fresh and frozen value-added or convenience categories. 
Nielsen Homescan indicates that these 'convenience' categories are consistent pockets of growth pointing to a positive outlook for seafood producers looking to take advantage of this space.
Over the past year (to 15 June 2019), a third of Australian households have purchased value-added fresh fish and seafood and this number has increased by three per cent compared to a year ago. Value-added products in fresh fish and seafood (excluding smoked) such as Almare Garlic Prawns or John West Lemon and Herb Salmon make up 20 per cent of the fresh fish and seafood category.
Like other fresh categories, value-added seafood is a key pocket of growth within the fish and seafood category with increased spending of 11.5 per cent over the past year. Fish and seafood also have more value-added products than other protein options. Only 14 per cent of fresh chicken is considered value-add compared to 20 per cent of fresh fish. (See Figure 1.)
While convenience options are a burgeoning category in the fresh department, frozen fish and seafood products have long had an association with ready-to-cook options. Fish fingers have been on the market for a long time – they were and still are considered a convenient, go-to option for a child's meal. In frozen fish and seafood, more than two thirds of the products are value-add. Frozen value-added fish and seafood is a relatively mature category and as such, growth is modest. The value of sales remained relatively stable, with 2.8 per cent growth.
So where do the opportunities lie for Australian seafood producers and which areas are ripe for innovation and resources?
Key convenience consumers
When we break down the data into different demographic groups a number of key consumer groups emerge. Senior couples, for example, are key consumers of quick and easy value-added fresh fish and seafood options, accounting for more than a third of spending and 21 per cent of the growth.
Seafood marketers and product developers should also take note of independent singles – households that consist of one adult 35 years old or more and no children. This group may prefer not to cook from scratch for one person and are attracted to pre-prepared, convenient options. While this group represents only 17 per cent of buyers, they contributed 24 per cent of increased spending on value-added fresh seafood during the past year.
Value-added frozen products continue to resonate with families looking for easy dinner options. Families purchase nearly a third of all frozen value-added fish and seafood. However, independent singles and senior couples are driving the dollar growth in this category. (See Figures 2 and 3.)
US trends
Many of the food trends we see in Australia follow those of the US, which suggests there is potential for more growth in value-added fresh seafood in the Australian marketplace.
In the US, this category represents nearly a third of total seafood and the value is growing at a rate of 4.8 per cent (52 weeks ending February 2019). For the past four years Atlantic Salmon, prawn and crab consistently held the top three positions in the US fish and seafood category. Value-added products make up a significant proportion of both dollar sales and growth for all three species. For fresh Atlantic Salmon, value-added products make up a third of spending, driving more than half of the growth seen in the past year. Cedar-planked salmon is trending and has potential for the Australian market where barbecues are a summer staple. For fresh prawns, value-added products make up half of all purchases and accounted for nearly a third of growth in dollars spent.
The strong performance of the value-added seafood category in the US highlights that Australia has room to grow in this area and is a clear opportunity for local producers to increase the value of their products here.
Supermarkets dominate
Supermarkets make up 80 per cent of food purchases in Australia. As shoppers continue their quest for maximum convenience, major supermarkets have also become the dominant place for purchasing value-added and convenience seafood products.
Major supermarkets make up 78 per cent of fresh value-added fish and seafood sales and 88 per cent of frozen value-added seafood sales. (See Figure 4.)
Online frontier
Online food shopping is making life easier for many shoppers in Australia and is an area where fresh channels are lagging behind packaged goods.
However, China, one of our largest export markets, demonstrates that growth is also possible in this space. In the past year, 54 per cent of online grocery shoppers in China bought fresh foods, compared with 20 per cent in Australia.
Fish and seafood are less likely to be purchased online than other products. In the past year, only seven per cent of Australian households purchased fish and seafood online, and 40 per cent of this was frozen value-added fish or seafood. These products are given an edge in the online space with the use of protective packaging and portioned amounts that help guide shoppers' selections.
Increasing fresh fish and seafood sales online requires building confidence and trust in the online purchasing process. Enablers such as money-back guarantees or free delivery, as well as innovation in the protective packaging space to safeguard fresh produce, may all help.
Giving shoppers the confidence to purchase value-added fish and seafood products from any channel could help drive sales and consolidate fish and seafood in consumers' minds as a quick, healthy and convenient meal.
---
Nielsen Homescan household categories
Start-up families:
Households with oldest child < 6 years
Small-scale families:
Households with oldest child 6–11 years
Bustling families:
Households with oldest child 12–17 years
Young transitionals:
Adult households (no children < 17 years), head of household < 35 years
Independent singles:
1-person adult household (no children < 17 years), head of household > 35 years
Established couples:
2 or more adults (no children < 17 years), head of household 35–59 years
Senior couples:
2 or more adults (no children < 17 years), head of household > 60 years
---
More information
Melanie Norris
melanie.norris@nielsen.com
The Nielsen Company