Travel bursaries have provided the opportunity for young seafood leaders to bring home new ideas and inspiration to address local industry issues
Story Annabel Boyer and Catherine Norwood  Photos Peter Horvat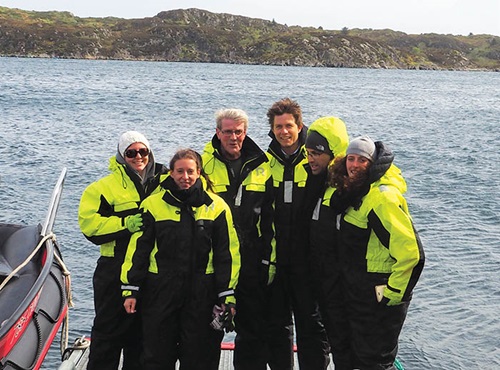 Tour group with Magner Ottensen at the Skjaergardsfisk Visningssenter (Salmon Discovery Centre) at Marøy, Norway.
It's hard to grasp the sheer volume of seafood traded at international ports when you're accustomed to localised operations in Australia, says Toni Clark, who is operations manager for Petuna Sealord Deepwater Fishing based in Launceston.
As an FRDC bursary recipient, she joined a delegation to Europe and the Seafood Expo Global in Brussels May of this year, but her observation comes from the group's pre-expo visit to the fish markets in Bergen, Norway.
"In Norway, they are dealing with trawlers that could be unloading our entire year's catch all in one day. The logistics of unloading and selling those volumes of seafood is mind-boggling to me," she says.
Others joining the eight-day trip were Prue Spence Davies, a commercial fisher from northern Australia; Thomas Moyle, business development manager for Mainstream Aquaculture Group; and Daniela Schwarz, the supply and national wholesale manager for Blue Harvest. The four bursary recipients were selected as young leaders taking part in the 2018 National Seafood Industry Leadership Program (NSILP).
They were accompanied by the FRDC's general manager of communications, trade and marketing, Peter Horvat, and Allen Haroutonian from X-Lab Ventures, which runs the FRDC's Fish-X innovation program.
Norway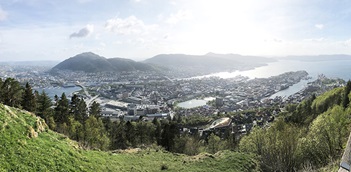 The view from Mount Fløyen, overlooking the city of Bergen, Norway.
The tour kicked off with four days in Norway, including a wander through the Bergen fish market before the group headed to the Institute of Marine Research to meet with Geir Huse, the research director for marine ecosystems and resources. He provided an overview of reform in Norway following overfishing in the early 1990s. The Norwegian industry is now focused on maintaining sustainability credentials through innovation and research.
Centralised auctions
Liv Holmefjord, the Norwegian Directorate of Fisheries, outlined the long history of the Norges Sildesalgslag or Norwegian Fishermen's Sales Organization. It provides a centralised auction point that is owned and operated by fishers to sell fish on a first-hand basis to wholesale buyers.
Information about the vessels' landing catch, where it was caught, species, port location and quantities are included in the auction information. Silent bids are collated and the highest bid for any given listing wins on the day. The sales system also makes it possible for Norwegian Fisheries to harness an incredible amount of data about what is being caught, where and by whom, as well as market data, giving it an almost real-time perspective on catches and sales.
The group met with Hallvard Møgster, an elder statesman of the Norwegian fishing industry who helped to build one of the first purse seine vessels targeting Southern Bluefin Tuna in Australia, the Maria Luisa. Hallvard Møgster provided a fisher's perspective on the changes in the Norwegian industry and the operation of the Norges Sildesalgslag centralised auction system.
Toni Clark says she can see the benefits of the auction system for Australia, with greater transparency on the catch and clearer pricing information. But she says Australian fishers may not want to share the same level of data. "The Norwegian system started almost 100 years ago and has been refined over that time, so the fishers there are comfortable with it," she says.
Innovation centre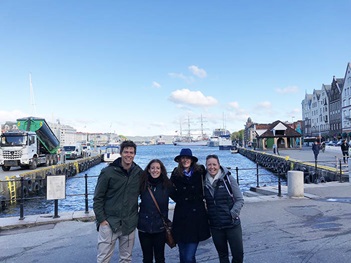 The tour group in Bergen harbour, Norway.
Innovation was the theme for day three. Norway has 13 Norwegian Innovation Clusters covering a range of topic areas, including seafood, that are designed to accelerate innovation in that space.
At the Norwegian Centre of Expertise (NCE) Seafood Innovation Cluster, the group heard pitches as part of the centre's aquaculture accelerator program, Hatch. Start-up company Jet Seafood presented on its market data insights platform Seafoodportal (see story page 20), which uses blockchain technology. Another company, Sea Smart, presented its sea drone technologies, which have the capability to monitor aquaculture pens for damage and record conditions such as temperature, and oxygen and nutrient levels.
During a visit to Leroy Seafood Group headquarters in Bergen, Krister Hoaas gave an extensive overview of the diversity and size of the company and its activities. It is one of the world's largest seafood companies and purveyor of both farmed salmonids and wild-caught seafood.
On show were Leroy's plans to implement a fully automated processing facility where salmon would be untouched by human hands throughout the process.
The Australians were impressed by the amount of work Leroy does to maintain community support. "It just shows how important social licence and acceptance of the community of the farming operations are, even in Norway, where fishing dates back many centuries," Daniela Schwarz says.
View to tomorrow
The final part of the industry tour in Norway provided an in-depth perspective on Atlantic Salmon farming with a visit to the Skjaergardsfisk Visningssenter (Salmon Discovery Centre) at Marøy. With boundless enthusiasm for salmon and salmon farming, Magner Ottensen, a long-term staff member of the centre, shared his extensive knowledge of the industry, which was officially established in 1963 by Reidar Marøy. At the time, the fish farming concept was met with scepticism.
While at the discovery centre the group was lucky enough to meet Arthur Marøy, the son of Reidar, who explained that his father's story was all about innovation and perseverance – from catching the local Pollock to grind up to make wet food for the fish, to building a framework and net enclosure, and pioneering steel cages. One of Norway's first steel fish enclosures was welded together at Marøy.
Daniela Schwarz says it was a humbling experience to speak directly with Arthur Marøy, who helped to pioneer salmon farming with his father. "He spoke with so much wisdom and passion about their learning process, from the need to initially invent farming to the challenges and mistakes they faced in the day."
The visit to the discovery centre included a trip out to the salmon pens, which provided a view of operations from the feed barge. Technology and cameras are used within the pens to monitor the salmon and their companion Lumpfish, which make fascinating viewing in their role as 'cleaner fish', helping to remove sea lice from salmon as an alternative to chemical treatments.
As host for the day, Magner Ottensen also invited the Australians to view his private treasure trove of fishing memorabilia dating back hundreds of years. His collection shows the ingenuity and skill of the industry in developing and making fishing equipment; for example, the hand-twisted longline with individually knotted hooks, or an early fish (cod) trap including its 'codend'– a term still used hundreds of years later.
Brussels expo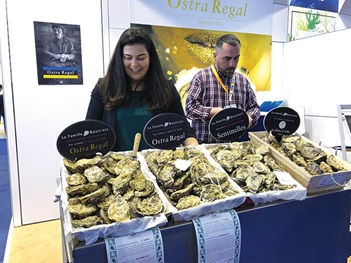 Oysters and their regionality at the Seafood Expo Global, Brussels.
The second phase of the tour took the group to the annual Seafood Expo Global in Brussels. This year's event brought together 29,288 buyers and suppliers from around the world and all parts of industry supply chain. The 2019 expo broke records, with 2020 exhibiting companies coming from 89 countries to present their newest seafood products, services, and processing and packaging equipment.
This included innovations such as the Keep-it® indicator, a device on packaging that monitors the temperature of a product over time and indicates the remaining shelf life. Daniela Schwarz says it was a great opportunity to get insight into how other countries use technology to package their products and get them to market. Technology aside, she says she would have liked to see more new approaches in marketing products to customers and end users.
Toni Clark says she has brought home some packaging from the expo, which could provide some inspiration for Petuna Sealord to process more of its catch. "It was also good to see five or six different companies who had processing equipment on show. It gives us more options when we're getting quotes for equipment, rather than just dealing with the single supplier we already know."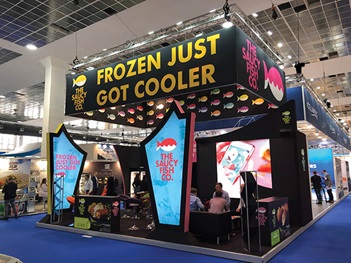 Product development The Saucy Fish Company trying new frozen products.
In addition to the trade show, the group attended presentations from a range of organisations including the Global Sustainable Seafood Initiative and Marine Stewardship Council. During a breakfast at the famous Atomium venue (a giant replica of an iron unit cell of nine iron atoms constructed for the World Expo 1958), World Wildlife Fund leaders spoke about collaborative partnerships in its Transparency and Traceability presentation. Australian company Austral Fisheries has partnered with WWF on a project to apply blockchain to the seafood supply chain. The Australian delegation also attended the first global seafood leaders meeting with 20 leaders from the United States, Canada and the United Kingdom. The meeting was supported by the US National Fisheries Institute, Seafish UK and Fisheries Council of Canada, and provided fantastic networking opportunities for the group. Other connections made during expo events included Australian seafood companies and industry members, such as Austral Fisheries' David Carter and Lesley Leyland, Clean Seas CEO David Head and his team including Jamie Angus, John Susman and Miles Toomey.
"It was certainly an experience of a lifetime," Toni Clark says. "I am grateful for the opportunity to have attended the tour and expo. Our group included people who had different perspectives and that was also a valuable part of the trip."
Travelling to learn
The Global Seafood Expo, held in Brussels in May each year, is one of several events for which the FRDC provides travel bursaries, based on expressions of interest from seafood industry members or nominated candidates, such as those who have taken part in NSILP.
Peter Horvat says the aim of the bursaries is to provide opportunities for members of the Australian seafood sector to see how other parts of the world do things and to bring home new insights to tackle issues that also beset Australia.
The bursaries are usually based on attending a major international event, with other related industry visits or meetings organised around this. Other major events include the Seafood Expo North America in Boston in March and the China Fisheries and Seafood Expo in Qingdao, China, in November.
 
---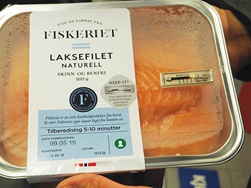 The Keep-it®
The Keep-it® indicator is put on the product when the food is packaged. It constantly monitors temperature over time and shows the actual remaining shelf life of a product.
The durability indicator consists of two small chambers with different ingredients that respond to time and temperature. The indicator starts when the chambers are opened so that the chemicals react with each other. This activation occurs when the food is packaged by the processor.
 
---
FRDC RESEARCH CODE: 2015-209