Innovation in the seafood sector is turning fish waste into a (literal) dog's breakfast
By Catherine Norwood
Selena Murray preparing pet treat orders for distribution.
Photo: Susan Kelly
Getting the most value from every fish caught, and from every bit of that fish, is the philosophy that underpins Glen and Selena Murray's premium pet treat business, All Fish For Dogs.
Glen Murray has been a commercial fisher for 16 years, based at Mission Beach in Queensland, and he is all too familiar with the challenges of the sector. Among these are large catches of fish that the market doesn't want and the relatively small proportion of each fish used for human consumption – often only about 30 per cent.
This waste of ocean resources has always troubled him and when the Queensland Government offered fishing licence buybacks in 2014, Glen decided to sell his licence and do something about it.
And thus was born All Fish For Dogs, a venture which won the wholehearted support of the Murrays' three canine family members, Kosmo, Rosie and Minty.
The business takes offcuts from fish landed, such as the tails of Spanish or Grey Mackerel, along with further trimmings from seafood processors, and turns them into nutritious dog treats. The pet treats market is worth an estimated $185 million in Australia.
The Murrays also buy fish that are landed despite their low value, which often happens when markets are already flooded with the same species.
"Sometimes when you're fishing for Barramundi, all you get is Queenfish," says Glen Murray, "and so does everyone else. So the fish we use is not being diverted from human food; it is fish that would otherwise end up in liquid fertiliser. We're actually reclaiming it from that and giving it greater value."
He says when fishers can get a bit more for their catch it means they don't have to go back out and keep fishing for low-value product just to survive financially. They can actually fish less often and leave more fish in the sea for next time.
"Anything we don't use is still sent to make organic fertiliser. In that way, we're getting 100 per cent use of the fish, but we're trying to add the greatest amount of value by using as much as we can for the treats."
Product development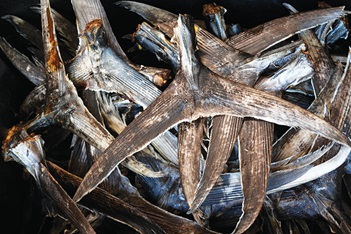 Mackerel tail fish treats.
Photo: Susan Kelly
Most of their raw material is sourced from Queensland, although shark cartilage and pilchards come from fisheries in southern Australia.
All Fish For Dogs takes these unwanted fish and offcuts and slowly dehydrates them, rather than cooking them. The low temperature preserves the nutritional value of the fish, although it takes four kilograms of fish to produce one kilogram of treats. The treats are aimed at the premium end of the dog treat market, promoted and priced as a wild-caught, organic product.
Fish treats often mirror products that customers are already familiar with, for example, sharkskins are cut into sizes and shapes similar to pigs' ears, and rolled mackerel or sharkskins are an alternative to rawhide rolls.
So far the Murrays have 25 products, from training treats to large chews. Their range is sold wholesale, in bulk, and they have two buyers who supply a national pet shop chain, with possible expansion into a major supermarket chain.
They also now have their own retail brand, Fishtastic Dog Treats, available wholesale or retail, with pre-portioned retail packs available online.
Glen Murray says developing their own brand was the result of strategic planning advice through the Fish-X program, an FRDC-sponsored innovation initiative they took part in. "Creating our own brand helps to develop the value of the business as a 'saleable' venture," he says.
The Murrays were introduced to the Fish-X program through a two-day workshop with other fisheries innovators, to evaluate their business direction and practise their 'pitch'.
Glen Murray says it encouraged them to dream big. "We thought we could use maybe 150 tonnes of waste and produce $1 million worth of dog treats. But we were challenged: why not use 500 tonnes of waste and turn over $10 million? And then they showed us how that could happen, ways to upscale production and also what a joint venture might look like."
Fish-X also encouraged the Murrays to get exposure for their business by entering events such as the Tropical North Queensland Innovation Awards, which they did, winning both the Eco Innovation and the Proven Innovation awards in 2018. They were one of 15 businesses taking part in the Startup Alley as part of the EvokeAg Conference in Melbourne in March, and were also part of a Far North Queensland delegation to the 2019 Queensland innovation conference, called QODE, in Brisbane in May.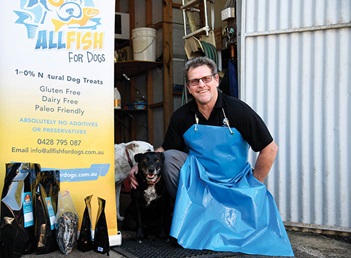 Glen Murray with one of his canine taste testers, Kosmo.
Photo: Susan Kelly
These events have brought valuable contacts in government and business, and the ongoing mentoring through the Fish-X program has helped them to "work on the business" as they grow, sidestepping likely dead ends.
Assistance with their business plan has also put them in a sound position to seek finance for their planned expansion later this year. They have recently purchased a fourth dehydrator, which brings their production capacity to two tonnes of raw material a week, producing 500 kilograms of premium dog treats.
"At the rate we are growing, we will need to add a new dryer every four to six months," Glen Murray says. The business is also investigating other forms of product development, such as extruded products that could be formed into different shapes, with further research needed into appropriate formulations, or 'recipes' and equipment.
"In Australia, fish is associated with cats, not dogs. It can be a hard sell on the domestic markets, although we are seeing more people providing specific diets for their pets to address health issues such as allergies, skin and joint conditions."
Health benefits
The Murrays have attributed a seafood diet to improvements in the health of their dog Kosmo, who was diagnosed at an early age with arthritis, but five years later remains relatively active and mobile, despite the condition.
"But in other countries where people eat more seafood, such as Singapore, it's a more natural transition for them to feed fish to their dogs, too. That's a market we're hoping to break into this year." Liaison with potential buyers in Singapore has led to trials with a new product designed specifically for this market.
"This is only year four of All Fish For Dogs, but we have some big plans in terms of where the company can go and what the ocean can offer pets. At the same time, it's really important to us knowing we are helping fishers and conserving resources by making the most of every fish caught."
* Article contributed by the FRDC's Fish-X innovation program.
---
FRDC Research Code: 2017-058
More information
Glen and Selena Murray
info@allfishfordogs.com.au
All Fish For Dogs
Fish-X