Value-added products provide pockets of growth for fish and seafood, tapping into retail produce convenience trends
By Brad Collis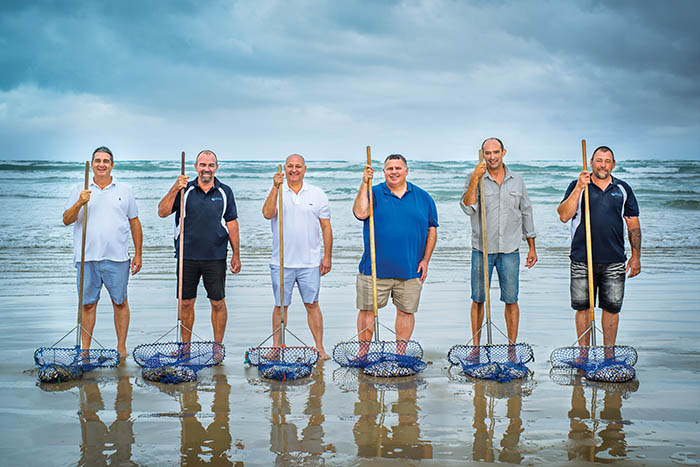 Goolwa PipiCo directors, developing community partnerships to develop their fishery, from left,
Tom Robinson, Darren Hoad, Roger Edwards, Derek Walker, John Reeves and Matt Hoad.
Photo: Jacqui Way
The Goolwa PipiCo harvests its catch from the pristine beaches off the Coorong near the mouth of the Murray River, much the same area where the Ngarrindjeri people have harvested pipis for millennia.
Now a partnership between Goolwa PipiCo and that same Ngarrindjeri community will ensure that ancient story is told. Hopes are high that this will provide diverse gains for both the Indigenous and non-Indigenous communities involved.
Ngarrindjeri Elder Derek Walker says there is potential for social, cultural and economic benefits for his community. "It is enabling our people to get back 'on country' and also provides a pathway to learning about business and investment," he says.
Derek Walker says it was a fortuitous conversation with Goolwa PipiCo chairman Roger Edwards in 2016 that led to the partnership. The Ngarrindjeri community and the Goolwa pipi fishers were both keen to raise the status of pipis to that of a premium food and agreed to work under a single brand, through the Goolwa PipiCo.
"Pipis, or Kuti, have always only been food to us, never bait. So when Goolwa PipiCo reached out to us and we saw they were already a fair way down this track, we were keen to be involved with a group of fishers who shared our own beliefs," Derek Walker says.
"It was a chance to develop a business and employment opportunity from a fishery we have been involved with for many thousands of years. We bought a small quota, just one per cent of the state catch, but with a business plan to grow this we now have six per cent and our goal is to reach 25 per cent."
The Goolwa PipiCo itself was an initiative of four local fishing families, some of which have been fishing in the area for three generations.
Tom Robinson, Goolwa PipiCo's managing director, says the fishers first combined their operations as an association, before incorporating as a company in 2014.
This move provided the necessary operational scale, investment and risk management to move forward. It has allowed them to embrace the bigger picture – which now includes the Ngarrindjeri people – to leverage greater opportunities by working together.
Collaboration
The formal partnership between the Goolwa PipiCo and the Ngarrindjeri community was established in 2016. More recently, funding from the South Australian Government through a Regional Development grant has been awarded to help expand the Port Elliot processing facility to accommodate the extra volume brought to the business by the partnership, as well as new product developments.
In December 2017 the Ngarrindjeri Native Title claim was resolved by a 'consent determination' by the Federal Court; the claim includes the beaches from which Goolwa PipiCo fishers harvest, to low water mark.
Tom Robinson says the good relationship with the Ngarrindjeri people has been developed over many years. And while discussions about Native Title determination are pending, he says the company, its fishers and the Ngarrindjeri people are already working together with a spirit of cooperation and teamwork.
Niche marketing
Tom Robinson says a new strategic plan is being developed to look at markets and branding, with a particular emphasis on pipis used as an Indigenous food over many thousands of years, capitalising on the rising interest in 'bush tucker'.
This approach is strengthened by the relationship that the Ngarrindjeri group has built with celebrated South Australian chef Jock Zonfrillo, who runs the Orana Foundation. The foundation was set up to assist Indigenous enterprises research and promote native Australian foods. Its philosophy is to provide social and economic opportunities for Indigenous communities by preserving their cultural heritage, particularly their food culture.
Complementing this will be a marketing strategy to position the cold-water pipis as one of Australia's premium seafood products.
"We compete in some markets where clams are sold for under $2 per kilogram, which is less than what it costs us just to harvest," says Tom Robinson. "As a low-volume fishery, competing in a domestic market that is incredibly price sensitive to volume and an export market with significantly lower labour costs, we have to establish a premium market."
He believes this premium approach is possible because it is not a large fishery. The company only processes about 400 tonnes a year and this represents about 65 per cent of the allowable catch in SA, including quota held by the Ngarrindjeri community.
"But we will need to leverage everything we can – our 'clean, green' credentials and the Indigenous influence, including ancient recipes and cooking methods such as using hot stones as a cooking medium, are all exciting new concepts to be explored. There are restaurants keen to explore this and it will help us keep the product fresh in the eyes of chefs and consumers. We don't necessarily want it to become mainstream. Our challenge, really, is for pipis to stay an exciting discovery for consumers."
The venture is even looking at introducing the Ngarrindjeri name for pipis, Kuti, which Tom Robinson says might help overcome the upset that many South Australians feel about not being able to label them cockles, which is the common name for the species in SA and also Western Australia.
He says many markets, particularly overseas markets such as China, place a premium on strong brands with an interesting story and this will be the focus of the strategic plan. He points out that Goolwa PipiCo pipis are harvested from the same waters as Southern Rock Lobster, which enjoys an ultra-premium status in Asia, not to mention the equally renowned Southern Bluefin Tuna, abalone, prawns, Pacific Oysters, Yellowtail Kingfish and Yelloweye Mullet.
A clear vision could help to take these South Australian Southern Ocean pipis to the finest restaurants in Australia and the world, with a 'Kuti' branding helping to drive a new seafood narrative that embraces both modern communities and ancient traditions.
More information
Tom Robinson
tom@goolwapipico.com
Goolwa PipiCo