Capacity has been built to protect NSW consumers of Spanish Mackerel from the southward migration of ciguatera fish poisoning
By Gio Braidotti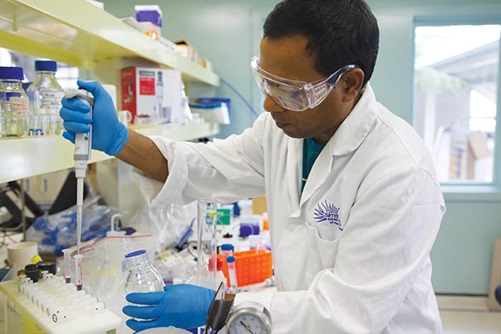 Chowdhury Sarowar runs the Biotoxin facility at the Sydney Institute of Marine Science.
Photo: SIMS
Ciguatoxins (CTXs), which are generated by certain species of marine micro-algae, are responsible for what is the most frequently reported fish-borne illness across the world's tropical regions – ciguatera fish poisoning (CFP).
But in Australia, an increasing number of people in subtropical regions have also started to be confirmed as suffering from CFP. Twenty years ago CFP was unheard of in New South Wales, but the past two decades have seen at least 30 confirmed reports, with many more cases likely to be unreported. CFP symptoms include a combination of gastrointestinal and neurological symptoms, typically a reversal of hot and cold sensation, which can last from days to several months.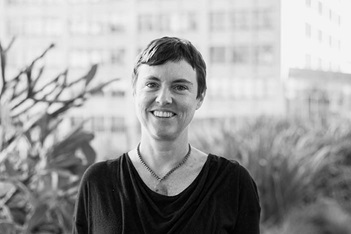 Shauna Murray
Marine toxin specialist, University of Technology Sydney
CTXs are produced by single-celled Gambierdiscus micro-algae, a warm water-loving species, and work their way up the food chain to accumulate in predatory, apex reef fish species. Confirmed cases of CFP in northern NSW relate mainly to the consumption of Spanish Mackerel, with some reports related to Redthroat Emperor and Purple Rockcod in 2015.
Marine toxin specialist at the University of Technology Sydney Shauna Murray says the southern movement of CFP cases may appear slight, but it marks deeper underlying ecological shifts that are not well understood. She is leading two new research projects that she hopes will help identify what is causing those shifts and what can be done to update fisheries management practices to protect seafood consumers.
An earlier project funded by the FRDC and the Sydney Fish Market helped establish a new marine biotoxin facility at the Sydney Institute of Marine Science (SIMS), along with sophisticated ciguatoxin testing capabilities.
The SIMS facility is crucial to the new research projects that aim to identify and map the biological and ecological factors causing CTXs in Spanish Mackerel in NSW.
Fish sampling
Erik Poole
Supply and business development manager,
Sydney Fish Market
Shauna Murray says it is difficult to know which species of Gambierdiscus micro-algae in Australia are producing the toxins, or where and how these toxins are entering fish. Working this out will be the focus of an Australian Research Council Linkage project, which will begin sampling of Gambierdiscus in Australian waters in September 2019.
Concurrently, Shauna Murray is also part of a team developing a proposal to map the distribution of CTX-affected Spanish Mackerel caught in NSW. This project will involve assistance from the Sydney Fish Market and recreational fishing clubs.
"By combining the Gambierdiscus and the Spanish Mackerel CTX information we are trying to understand the ciguatoxins' movement in the food chain: how much toxin is making its way into fish and where the toxin is being ingested," she says.
Supply and business development manager at the Sydney Fish Market Erik Poole says the market is ideally placed to sample Spanish Mackerel catches in ways that provide relevant coverage of NSW coastal waters. As a former skipper and marine scientist, he is also co-investigator with Shauna Murray for the Spanish Mackerel research.
"Our key interest is to determine whether we need to update guidelines used to exclude potentially CTX-affected fish from sale," he says. Current guidelines restrict catches from known CTX-affected sites and also prohibit the catch of certain fish species over 10 kilograms, to reduce the likelihood that fishers or consumers will eat fish that have a bioaccumulation of the toxins.
FRDC RESEARCH CODE: 2014-035
More information
Shauna Murray
Shauna.Murray@uts.edu.au
Erik Poole
erikp@sydneyfishmarket.com.au
NSW Government Food Authority CFP risk management and current catch guidelines