New information about the proportion of Western Rock Lobsters joining the annual migration – and where they go to – has potential implications for management of this high-value fishery
By Catherine Norwood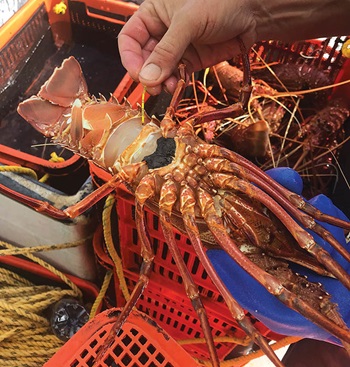 A tagged Western Rock Lobster.
Photo: DPIRD
About half of the Western Rock Lobster (Panulirus cygnus) population undertakes an annual migration from shallow reefs off Western Australia's coast into deeper waters. Researchers estimate almost 80 per cent of those on the move also undertake a second migration to the north.
The findings are part of a new research project to improve the assessment of rock lobster biomass following significant changes in fishing patterns since the introduction of quotas to the fishery in 2010.
These changes include year-round fishing and greater access to rock lobsters during their migration, says fisheries scientist Jason How from the Western Australian Department of Primary Industries and Regional Development (DPIRD).
Understanding the migration is essential to improving the total biomass assessment, as well as determining the movement of animals between the state's three fishing zones, which may have implications for the management of the fisheries.
"This new research is allowing us to benchmark where we are now, in terms of stock levels under a lower harvest rate, different fishing practices and with a different management strategy," says Jason How.
The project has been funded by the FRDC and included a major tagging effort with a focus on the resident and migratory lobsters. 
The migration
Come late November or early December each year, roughly half of the juvenile Western Rock Lobsters in shallow inshore reefs moult their red shells, create new white shells and move en masse. They travel 10 to 20 kilometres to much deeper waters offshore, where they remain and become part of the breeding stock.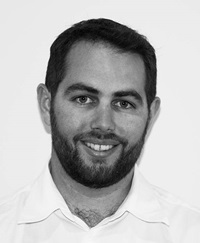 Jason How
Fisheries scientist, DPIRD
"There appears to be a discrete trigger for the 'whites migration' as it's called, although we are not sure exactly what that is," says Jason How. "It can be triggered in different areas at different times. It usually lasts for about a month, but in some areas it goes on for longer. The most likely triggers appear to be a combination of the lunar cycle (either full or new moon), increasing water temperatures and small to medium ocean swells." 
Many rock lobsters settle on reefs 40 to 50 metres deep. Others venture much further, to the edge of the continental shelf, up to 150 metres deep, and travel north along the edge before returning to shallower water.
While data from the project is still being analysed, Jason How says migrating animals are young lobsters, not yet sexually mature. Some travel just a few kilometres north, but others have been known to travel more than 400 kilometres, moving at an average speed of about five kilometres per day.
For example, two females released off Fremantle were recaptured three months later – one near Dongara and the other west of the Abrolhos Islands.
Industry involvement
The project has been supported by the Western Rock Lobster Council and by many commercial fishers, who have allowed the research team onboard during fishing trips to tag rock lobsters, and who also return data about any tagged lobsters they catch.
Between 2015 and 2017 researchers tagged 41,877 rock lobsters. By July 2018, fishers had returned information regarding more than 3000 tagged lobsters to the researchers, with the majority of those doing so using a smartphone app or including information with their electronic catch records.
Data analysis and the project's final report will be completed by the end of the year.
FRDC RESEARCH CODE: 2014-023
More information
Jason How
Jason.How@dpird.wa.gov.au