In planning for the future of fisheries, the FRDC's Managing Director Patrick Hone says asking the right questions and embracing change will be crucial
By Patrick Hone, Managing Director, FRDC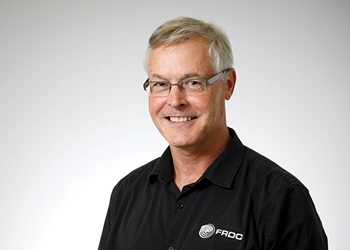 Patrick Hone, Managing Director, FRDC
Is Australia the 'lucky country'? Or do we make our luck?
As a scientist, my answer is there is no such thing as luck. There is planning, data and preparation, followed by good implementation. So, to succeed and make Australia 'lucky', we need answers. Therefore the questions become the critical piece.
The FRDC has started finding out what the key questions are. We have been out listening to stakeholders across the country. We have been undertaking research to identify what we need to focus on.
These questions will not only help inform the new Research, Development and Extension (RD&E) Plan, but also all of our stakeholders.
For 28 years the FRDC has been investing in RD&E to answer questions, solve problems and work to ensure a vibrant fishing and aquaculture community. Over this time there has been considerable change.
Aquaculture production technology has progressed so not only is it reliable, but it can also produce healthy, cost-effective seafood. At the forefront of fish farming has been the Atlantic Salmon sector.
This sector is closing in on a farm-gate gross value of production of $1 billion annually, and more growth looks extremely likely. This positive future lies not only with Atlantic Salmon, but also with many other farmed species.
Australia's First People have made great strides in ensuring they receive recognition for their stewardship of and cultural connection to aquatic resources. But there is still more to be done to improve outcomes and create better futures.
Angling as a pastime continues to grow, creating new opportunities for those who enjoy recreational fishing. This sector is embracing technology from complex artificial reef constructions, using anglers as citizen scientists who connect by digital platforms to rehabilitate aquatic habitats. But, like other stakeholders, the recreational fishing sector must continue to take on more of a stewardship role, listening to and addressing community concerns.
Increasing capacity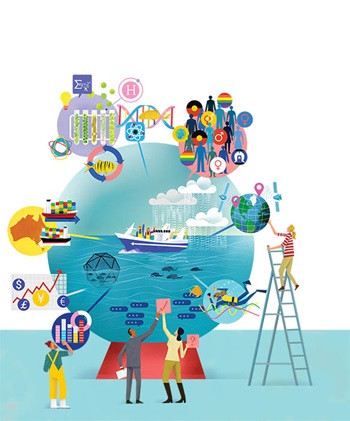 Illustration: Gregory Baldwin
Commercial fishers have also responded to ensure that their practices continue to evolve to meet community values. This has not been easy. Increased community pressure has resulted in a decline in commercial fisher participation and catch. The paradox is that despite changes in community views, consumers' desire and need for wild-caught seafood has not diminished.
We need to encourage people of other ages and genders to take part in all sectors of fishing and aquaculture. This is already happening: for example, more women are taking on leadership roles, and Victorian and NSW fisheries agencies are working to increase the number of women and people from non-English speaking backgrounds participating in recreational fishing.
Building the capability in an ageing and declining workforce is also important to growing the sector, but this presents a range of issues. However, with the right investment and incentives to increase skills and capability, we can fast track and facilitate the adoption of new technology and develop a broader skillset within the industry. This will help to provide capacity within the industry to deal with increasingly diverse and complex issues, from managing regulatory burdens to developing new markets.
Pooling our resources
One question that has remained constant is 'whose fish is it?' This continues to be a major issue, with a common mindset being that the growth of one sector means taking something from another. The challenge is to grow together and to share the benefits without creating 'winners' and 'losers'. This will require cooperation.
We also need to consider how we respond collectively to the other big issues facing us all. For example, how can we address climate change so that aquatic ecosystems are conserved? Issues such as this are not solely the remit of fisheries and aquaculture.
There is clearly a need for cross-industry and whole of agriculture investments to be more strategic. Currently, Research and Development Corporations (RDCs) collaborate on a project-by-project basis and while this is often quite effective, there is an opportunity for RDCs to deliver greater returns to stakeholders through investments aligned to the big issues we all face.
My assessment is that the fishing and aquaculture sectors are not satisfied. They do not want to sit back and become forgotten. They want to embrace the changes that this century is bringing.
The challenges and opportunities for fishing and aquaculture are enormous.
As outlined in the AgriFutures report, Agriculture – a $100 billion sector by 2030?, progress toward this target requires aligning and executing strategies that contribute to and improve enduring profitability for the whole industry.
Business as usual will not get us there and any strategy needs to be flexible to adapt across sectors and over time as circumstances dictate. For commercial seafood, we will have to increase value by 36 per cent to take the current GVP ($3.0 billion) to $4.24 billion by 2030 – just to stay on trend.
Change is a given. At the recent 2019 FISH 2.0 Global Innovators Forum, the program founder Monica Jain highlighted 10 changes she sees facing industry and consumers. These were:
Aquaculture is becoming everywhere and will continue to grow, being everywhere.
Data is the most valuable seafood product.
We increasingly find treasure in trash.
Winning strategies are going to be more Scrabble than Monopoly.
Algae is going to be both our friend and enemy.
Designer fish and shellfish babies are going to be normal.
Fish have lost their rights to privacy.
There are fewer mysteries to solve at our table.
Middlemen who trade in seafood (commodity) are a dying breed.
The sun is the friend, instead of the enemy, of seafood.
The question for the FRDC and its partners is, what are we going to do to ensure these changes serve all fishing and aquaculture sectors? We can hope for luck or serendipity.
Or, we can take on a leadership role to chart a course in the direction we collectively want to go.
Business as usual will also not solve the other wicked problems facing fishing and aquaculture. We require new ways to solve complex problems together.
Evolving perspectives
We can only speculate, based on data, what 2030 looks like for the fishing and aquaculture sectors.
I hope that it continues to be an integral part of Australia's life from all perspectives: Indigenous, recreational and commercial. 
This issue of FISH explores what we have heard as part of the consultation for the next FRDC RD&E Plan, due to be released mid-2020 (see story "Scenarios help focus on future strategies"). What I can say is that the conversations have all been very positive, but they are only the beginning.
As for the FRDC, it will need to evolve, by continuing to deliver long-term strategic investment in RD&E, but also by growing and delivering agile services that meet the needs of our customers.
We will become ambidextrous in delivering these services. On one hand, we need to maintain our research capacity, both for short-term tactical and long-term strategic issues, while on the other, we need to embrace new ways to partner and innovate. The FRDC also sees incredible value and need to work more collaboratively with all RDCs to address the complex challenges that are faced by all sectors nationally.
Front and centre of these challenges is ensuring healthy environments that support all the agriculture, fisheries and forestry sectors. Pooling the RDCs' resources is the logical way for all sectors to meet these challenges and make them opportunities.
Ultimately, we will all have to work smarter, connecting with stakeholders from both within and outside of fishing and aquaculture, to gather information that helps us all win.