AI technology offers the potential to help producers improve animal welfare and analyse data for better decision-making.
By Catherine Norwood
A project to develop a high-tech, 'hands-off' way to count and measure Abalone in aquaculture grow-out tanks won Queensland's Phoebe Arbon a $22,000 grant through the Science and Innovation Awards for Young People back in February 2020.
The national award, which is sponsored by the FRDC, was announced as one of 11 made to young people in agriculture, fisheries and forestry as part of the Australian Bureau of Agricultural and Resource Economics and Sciences (ABARES) Outlook conference.
Phoebe Arbon will use artificial intelligence (AI) processes to undertake the Abalone assessment process – turning images of Abalone in grow-out slab tanks into useful information about the number, size, weight and growth rates of Abalone in production.
She developed the research proposal after listening to Abalone producers at an Australian Abalone Growers Association (AAGA) meeting in Tasmania last year. She attended the meeting as part of her honours research into Abalone genetics for her Bachelor of Science (Honours) in the aquaculture department at James Cook University (JCU).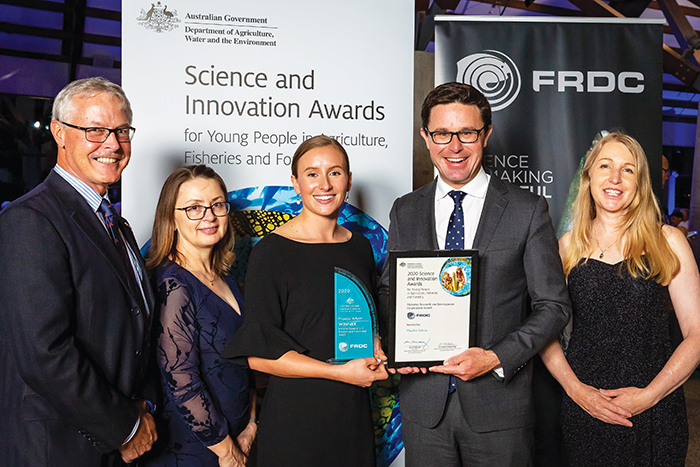 From left, FRDC managing director Patrick Hone, Department of Agriculture, Water and Environment assistant secretary Gabrielle Vivian-Smith, award winner Phoebe Arbon, Minister for Agriculture, Drought and Emergency Management David Littleproud and FRDC program manager Carolyn Stewardson.
Photo: Steve Keough Photography.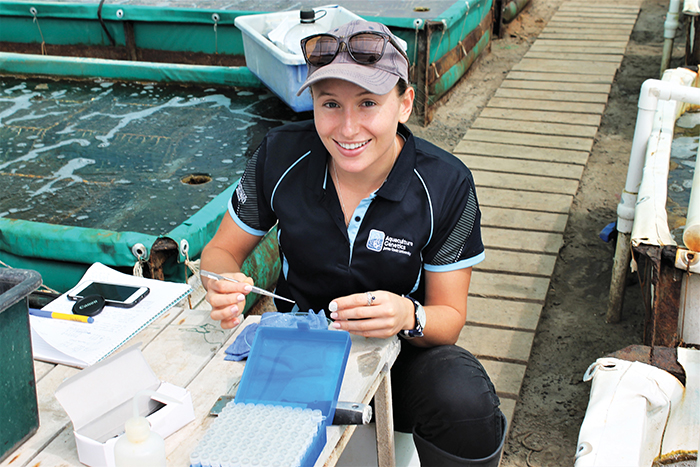 Phoebe Arbon sampling Abalone post-larvae.
Photo: Jan Strugnell.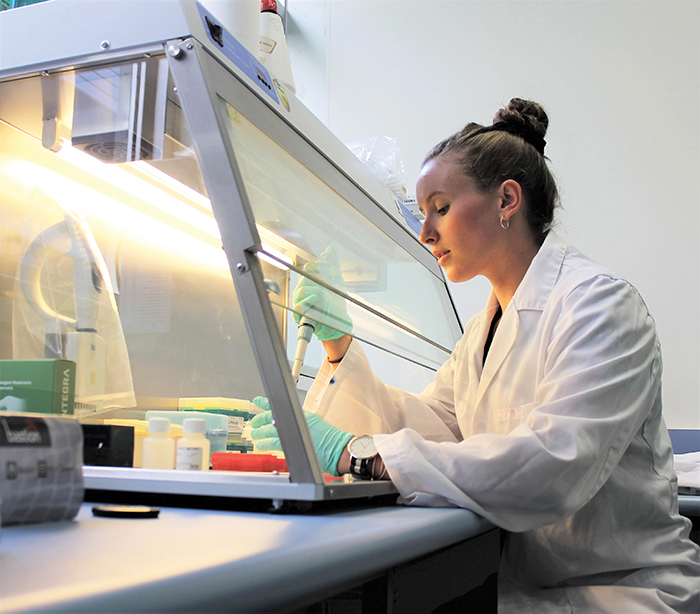 In the lab at James Cook University.
Photo: Phoebe Arbon.
After finishing her studies in 2019, she now works at JCU providing biosecurity testing for prawn producers, but is looking forward to beginning her own research project.
Phoebe Arbon says while biological studies in aquaculture were the focus of her science degree, she also took several maths units that will help with the skills needed to develop algorithms for the AI system.
She is partnering with Southern Ocean Mariculture, which will provide images of its Abalone in tanks.
"The images provided will need to be consistent, taken from the same position. So developing a set-up that is easy for the producer to use and that provides the information we need will be important," she says. The set-up is likely to include a scale reference for the bottom of the tank, to enable automated measuring.
Abalone range from 30 to 50 millimetres in size when they are stocked into the aquaculture grow-out tanks. While it is possible to count and measure them manually, the handling of stock is labour-intensive and can stress the animals, reducing growth and potentially increasing mortality rates.
Monitoring growth manually also involves removing the Abalone from the bottom of the tank to assess them – a laborious process that can also damage stock. A vision-based AI system that reduces handling would improve animal welfare while giving producers better ongoing information about stock in production.
In developing, training and validating an AI model to do the work automatically, Phoebe Arbon expects to create a scalable application to address what is an industry-wide problem.
She says the project has been on hold for several months as a result of COVID-19 restrictions, but she is looking forward to getting started once these are lifted.
---
FRDC Research Code: 2008-339
More information
Phoebe Arbon, phoebe.arbon@jcu.edu.au, www.agriculture.gov.au/abares/conferences-events/scienceawards