Lessons in biosecurity and diversification have paid off for a leading Australian Abalone producer, providing valuable business resilience in the face of market disruptions.
By Brad Collis
Australia's largest Abalone producer and processor, Yumbah Aquaculture, has become an instructive case study for the expanding aquaculture sector's use of technology and investment to build operational scale and sustainability.
In the two decades since its startup at Narrawong, near Portland in Victoria, it has grown by developing farms at Port Lincoln and Kangaroo Island in South Australia and Bicheno in Tasmania.
Much of this expansion has been driven by critical lessons in biosecurity, risk management, product development and marketing, and has been backed by long-term investor commitment.
It is also a powerful illustration of the value of industry-building science. Yumbah's early development was able to make use of extensive FRDC-supported research into breeding technologies for farmed Abalone. This scientific rigour gave early investors the confidence to back the development of new processes to support nurseries, grow-out stages, and new processing technologies for canned and frozen product.
The diversity of Yumbah's operations, product offerings and markets has provided further value this year, helping maintain operations in the midst of the COVID-19 upheavals.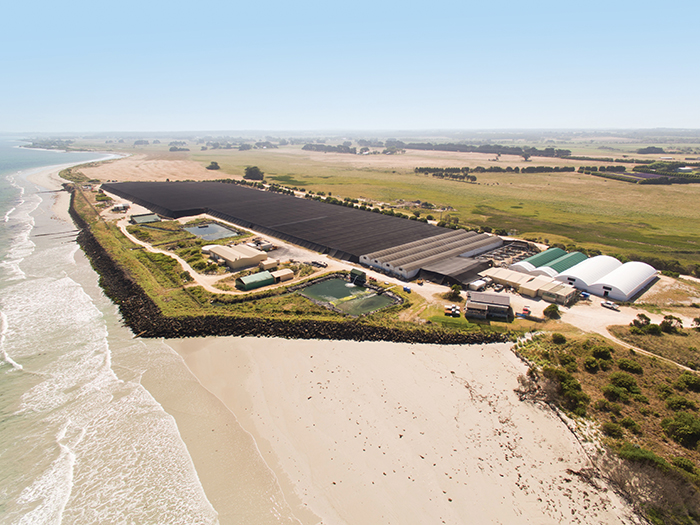 Aerial photo of the Narrawong facility in Victoria. Photo: Yumbah Aquaculture.

Anthony Hall at the Yumbah facility on Kangaroo Island. Photo: Yumbah Aquaculture.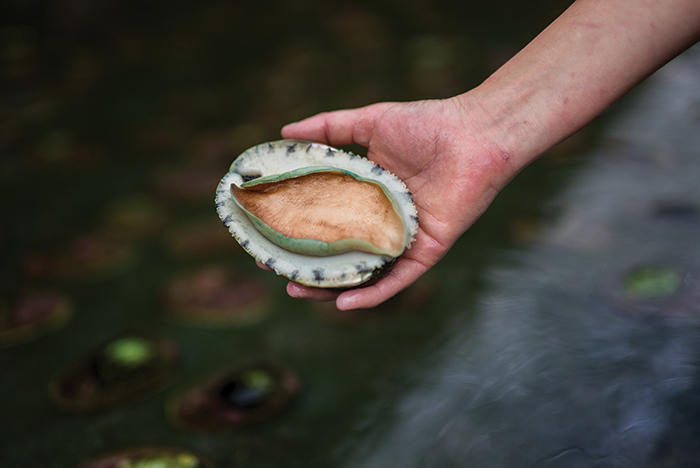 Yumbah Greenlip Abalone. Photo: Yumbah Aquaculture.
Success shaped by calamity
The Yumbah story began in 1999 and, in many ways, owes its success to a disaster. The business had boomed from the start, as had similar ventures in southern and western Australia, powered by investors from a wide mix of backgrounds including grains, livestock, information technology and Abalone diving. There was no shortage of entrepreneurial drive, but there was a shortage of biosecurity knowledge.
Yumbah founding director Anthony Hall says when the company was hit by Abalone Viral Ganglioneuritis (AVG) in 2006, it was devastating. "It caused a lot of pain for the whole Abalone industry at the time, but we were made better for the experience."
The Victorian operation was forced to destock and Anthony Hall says it showed clearly the risks of having all their eggs in one basket.
"We needed to diversify geographically and that led to a merger with a group of investors who owned assets in South Australia. This created quite a large aquaculture enterprise, but which still operated as separate farms, all with different names and brands."
More farms were purchased in Kangaroo Island, SA, and Tasmania, and finally, after an 18-month search, a new name emerged to embrace all of the operations and to facilitate a common brand strategy. "Basic marketing, but very important," Anthony Hall notes.
New identity
In researching possible names, Anthony Hall came across records from the 1830s that included an Aboriginal name, Yumbah, describing a "rough, edible shellfish the size of a man's hand that clings to rocks and is similar to an oyster": Abalone.
It took several more months to locate the traditional custodians for the extinct language, the Yaegl Local Aboriginal Land Council on the New South Wales north coast, who granted permission for Yumbah to be the Abalone company's new name.
"We love the name … makes you smile when you say it," says Anthony Hall. But more importantly, the single name binding all of the operations also created a sense of belonging across the merged group. "Every achievement started being able to be shared by everyone, and we now had a single brand to market and be proud of."
The company grows two Abalone species, Greenlip and Tiger. Greenlip Abalone (Haliotis laevigata) is farmed in South Australia and Victoria. The hybrid Tiger Abalone (Haliotis laevigata x Haliotis rubra) is farmed in Victoria and Tasmania from crossbred spat the company produces itself.
Its products include canned, frozen, live and partially cooked Abalone, with a focus on retail. It has markets in Japan, Singapore, Hong Kong, China, the US, Canada, the EU and Australia. The company's achievements as an industry pioneer have been recognised with the 2017 national Agribusiness Exporter of the Year Award from Austrade and the Australian Chamber of Commerce and Industry. In 2019 it was named Primary Producer of the Year at the National Seafood Industry Awards.
COVID-19 impacts
While viruses care nothing for accolades or awards, many of the factors recognised by those awards have allowed the company to maintain sales momentum through the COVID-19 pandemic. Product and market diversity have "absolutely" helped, says Anthony Hall.
"Yumbah's farms and its central processing facility (in the former Aqa Oysters processing factory in Adelaide) work pretty much to a 'just in time' principle – so Abalone destined for sales in one market or country can quickly be diverted to another customer if the first market closes on you.
"Likewise, if demand shrinks for one product format, we can switch resources to another format, such as frozen or canned," he says.
Operationally, the company's already rigorous biosecurity measures were stepped up at its facilities, with extra cleaning, staff distancing and team segregation in response to COVID-19 safety requirements.
Staff at the Adelaide processing facility were split into two shifts, with additional time taken for extra cleaning between shifts. Throughout the pandemic, the company has continued to export, but freight has been a significant challenge. Yumbah uses ocean freight as often as possible and is not heavily reliant on daily airfreight to reach its markets. However, it has made use of the Australian Government's International Freight Assistance Mechanism (IFAM) to access available flights.
"All freight rates have increased well above pre-COVID levels, but the IFAM has significantly helped us to minimise our freight costs during the pandemic," says Anthony Hall.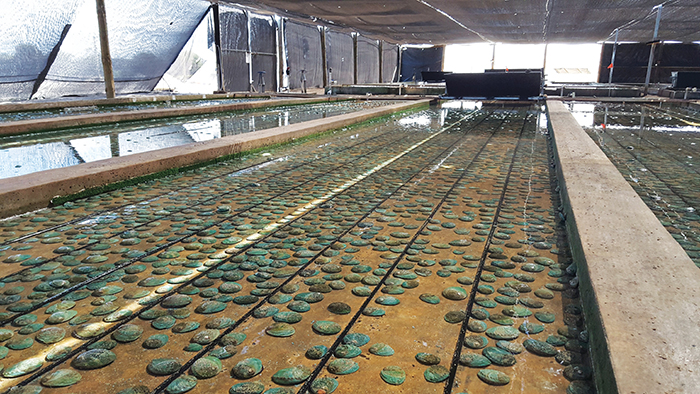 Inside the facility at Yumbah Narrawong near Portand, Victoria. Photo: Yumbah Aquaculture.
Technology and innovation
The Adelaide processing facility uses state-of-the-art sorting and packaging technology that automatically selects from the different-sized Abalone to accurately reach the required weight.
"This has increased cost-efficiencies considerably," says Anthony Hall. "Previously, when putting together orders manually, you would always be adding extra as a safeguard against being underweight.
"Now we can accurately match the weight of meat to the order. For example, the machine will pick out exactly the Abalone it needs for, say, a one kilogram order with no or minimal surplus."
Production technologies are also poised for a major update, with plans for a $60 to $70 million expansion at Portland in Victoria being finalised.
Anthony Hall says because aquaculture is so capital-intensive, technology developments tend to wait for new farms to integrate advances, which will happen with the new Portland Abalone nursery and grow-out facility.
It will have a 1000-tonne production capacity based on new technologies that have patents pending. To put this into perspective, this is roughly the same size as the largest wild-catch fishery off Tasmania.
It will add to the existing output from Yumbah farms in South Australia and Victoria, which totals 600 to 700 tonnes. Anthony Hall says that once fully operational, the new Victorian farm will employ more than 100 people.
The increased production capacity is to meet growing demand for frozen and canned products from both national and international markets.
The Portland facility will comprise four 250-tonne modules and it will introduce a whole new approach to Abalone aquaculture, the details of which are commercial in confidence.
Broadly speaking, though, Anthony Hall says that one of the key focuses of Abalone aquaculture development is simulating, as realistically as possible, sea conditions on land.
"What we are doing, basically, is bringing the sea onto land and endeavouring to maintain its condition … clean, plenty of oxygen, cool, free-flowing. It needs to mimic the sea: a mix of crashing, rushing and slow-flowing water movement.
"Because Abalone are marine snails and vegetarian, we also have to have a plant-based protein feed that convinces them they are eating seaweed. The trick is to keep the sea water natural and for the Abalone to enjoy eating the feed we also produce."
This element has been achieved through another R&D investment underpinning a vertically integrated business, Yumbah Aquafeed. A pasta-like feed gives the company full control over nutrition and provenance so it can guarantee the process is free of contaminants such as antibiotics, pesticides, artificial colouring or pigments and growth hormones.
Further diversification has also occurred in Port Lincoln, where Yumbah and Cameron of Tasmania have produced oyster spat for South Australian farmers hit hard after the Tasmania supply was quarantined to prevent the spread of Pacific Oyster Mortality Syndrome in 2016.
Industry outlook
Looking to the future of mollusc aquaculture, Anthony Hall sees a strong future for the sector and one that also works alongside the wild-catch fisheries. In fact, he believes the breeding capacity of aquaculture nurseries could be used to help wild fisheries whose stocks have been declining.
"A single Abalone can produce 10 million eggs. Only a tiny fraction survive in the wild but many more survive in a nursery, so the aquaculture sector has the ability to produce a large quantity of Abalone to put back into the wild. Of course, we first need to establish the science that supports this."
Anthony Hall says in the longer term, and in a post-COVID-19 world, the bigger challenge for the Australian Abalone industry as a whole will be protecting itself against the production capacity of Abalone farming in Asia, which he says is a hundred times greater.
"That means protecting our brands and our provenance against a more mass-produced, lower-cost product. So we have a challenge and an opportunity to promote the sustainability, cleanliness and ethics of our production to justify a premium price for a premium product."
Overlaying all of this is product quality. "Our quality standards were set by our customers, particularly our Japanese buyers who still visit twice a year to make sure we are adhering to their standards.
"The three main pillars of the business are product quality, risk management and, it has to be said, a great enthusiasm for the industry and for the coastal culture in which we live and work."
---
More information
Yumhah Aquaculture