A central web portal being developed will provide a one-stop shop for those in the fishing and aquaculture sectors looking for information about workplace health and safety.
By Catherine Norwood
From ready-to-use safety management system templates to news about the latest safety gear, the new FishSafe Australia website brings together industry relevant information with easy to access and use resources.
The website, launching in October 2020, will join industry podcasts and social media messaging as part of the seafood industry health and safety toolkit project. It was developed through the National RD&E Seafood Industry Safety Initiative (SISI), which comprises industry leaders, the Australian Maritime Safety Authority (AMSA) and the FRDC.
The initiative aims to create a collaborative, national strategy to improve the safety of all individuals working in Australian fishing and aquaculture.
Principal investigator for the toolkit project is Tanya Adams, from workplace safety consultancy Taylored Health and Safety. She is also a member of the steering committee for the national initiative.
She says in the first year of the project a gap analysis identified that while some "pockets" and specific sectors were meeting health and safety requirements and supporting their members, this was not consistent across the industry as a whole.
The analysis also found many industry leaders have few resources on hand to drive safety and training programs. For some, safety only comes into focus when regulators step in and prevent fishing until a specific issue is addressed, or there is an accident.
The FishSafe Australia website and resources are designed to help make safety compliance easier for those who are time and resource poor, particularly smaller operators.
For instance, safety management system templates being developed will meet the requirements of the regulator, AMSA, as well as relevant state and territory work health and safety authorities. They will also be tailored to specific fishing gear and methods.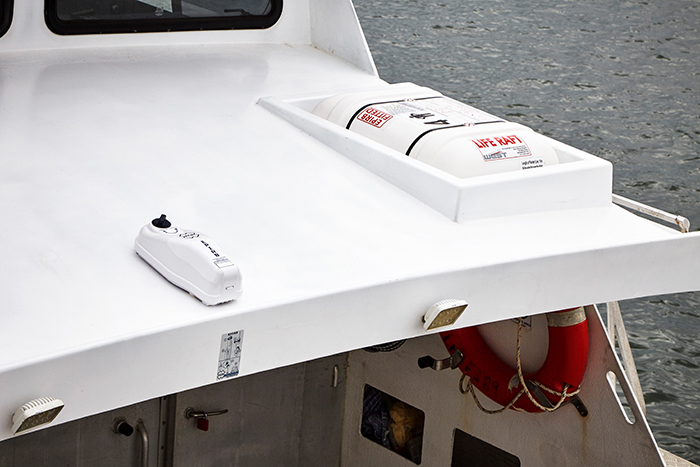 Creating safer fishing workplaces requires the right gear fitted to vessels, along with attitudes and practices that make the crew safety a priority.
Photo: Peter Whyte.
Tanya Adams says ensuring the documents can meet the needs of different agencies will help streamline safety planning and record keeping for fisheries and aquaculture businesses. Templates are already available for Abalone diving, and pot and trap and trawl fisheries. She is also working with smartphone app developers on an app that will allow operators to use digital reporting formats.
The FishSafe Australia website will provide links to safety training programs such as the SeSafe online learning program.
A critical part of the website will be a collection of incident report summaries providing an overview of workplace incidents, contributing events and recommendations to address any issues identified.
This information will be compiled from various government agency reports, coroners' reports and other sources to provide practical lessons for industry about what can go wrong and how to prevent it.
Researchers at Edith Cowan University in Western Australia are gathering the data for these summaries from diverse reports on industry fatality, incident and injury data across 30 years. These will include:
deaths or injuries associated with the operation or navigation of a vessel;
the loss or presumed loss of a vessel;
collisions between vessels, or between a vessel and an object;
the grounding, sinking, flooding or capsizing of a vessel;
fire onboard a vessel;
loss of stability of a vessel that affects its safety;
the structural failure of a vessel;
a close-quarters situation; and
a dangerous occurrence, which could have caused the death of, or serious personal injury to, any person on the vessel.
Commercial fishing has been identified as one of the most dangerous occupations in Australia, following a number of vessels and crew being lost at sea in the past decade. However, Tanya Adams says it is difficult to accurately assess the safety performance of the sector because information about actual and near-miss incidents is held in disparate locations.
She says a low percentage of incidents are believed to be accounted for in state-based workplace safety agency reports. In reports to AMSA, commercial fishers are over-represented in marine fatalities but under-represented in overall number of reports.
The new research project will attempt both to collate and provide a more accurate picture of industry safety practices and issues, to help prevent future incidents. It will also recommend metrics to measure past and future safety performance. The project's final report is expected to be completed by the end of 2020.
As part of SISI, a network of industry advocates is being created to promote safety messages to industry. The network will include Michael O'Brien, general manager of Australia Bay Seafoods, and Clayton Nelson, general manager of policy and external relations with Austral Fisheries, both of whom have featured on the FishSafe Australia podcast. Eric Perez, who hosts the podcast in a project separate to his role as CEO of the Queensland Seafood Industry Association (QSIA), says the podcasts help to take the safety message to fishers, who are often on the move and at sea, where it is easier to listen to a recording than to sit down and read.
"It's another avenue to reach an industry audience, along with social media, where we know many fishers are active," he says. He is helping to produce the third series of podcasts, most of which are about 12 minutes long. They are available through the PodBean app, or online.
---
National RD&E Seafood Industry Safety Initiative Strategic Plan
Mission: To achieve a positive change in workplace safety culture to ensure that the Australian seafood industry "keeps its people safe".
Objective 1: Move towards zero fatalities and a reduction in workplace health and safety incidences within industry.
Objective 2: Continuously improve the safety culture and use of workplace health and safety management systems.
Objective 3: Increase industry uptake of workplace health and safety training programs and education tools.
More information
/workplace-health-and-safety-fisheries-and-aquaculture 
---
Safety gear update
Life Cell: A float-free device that holds essential safety gear including flares, torches and so on, as well as drinking water or personal items. An emergency position indicating radio beacon (EPIRB) can be mounted on the side of the case and the Life Cell can provide buoyancy to multiple users. It includes lanyards to prevent users from being separated.
More information
Emergency Escape Lights (EEL): These lights activate when a vessel rolls over or capsizes to provide light for an escape, and they are also water-activated in case of flooding. They have been installed on all Australia Bay Seafoods vessels, along with reflective tape to help crew escape in an emergency evacuation.
More information
Personal Flotation Device (PFD) waist belt: The waist belt is a manually inflatable personal flotation device (PFD) that is rated to Australian Standards 4758.1:2015 Lifejackets, part 1: general requirements. Different models and sizes are available, and they can be purchased at many marine safety equipment suppliers. Ideal for an operator working on deck in heavy weather, the uninflated PFD can be strapped around the lower back to optimise movement while reducing the risk of entanglement or accidental inflation. 
---
FRDC Research Code: 2017-231
More information
Tanya Adams, tayloredhealth@iinet.net.au
/workplace-health-and-safety-fisheries-and-aquaculture; www.amsa.gov.au