The COVID-19 crisis has given many Australians a new-found appreciation for the simple things in life. For many there is also a welcome and new sense of confidence in the processes and people who provide us with our food, including fishers and farmers.
A large part of the FRDC's business over the past few months has been to understand what is happening around the country. As the COVID-19 crisis deepened, we examined the purpose of FISH magazine, did an about-turn, and dedicated two editions to recording the impacts of the COVID-19 crisis on the sector around the country, speaking to retailers, fishers, researchers and others in the process.
While this edition continues to reflect the unavoidable circumstances affecting different parts of the country, and fishing and aquaculture along with it, we have returned to our more usual coverage exploring some of the research funded by the FRDC.The core business of the FRDC continues and, for many of us, there has been a return to more normal circumstances.
The rolling impacts of COVID-19 have transfixed Australia and the world for the past six months, and it is a relief to return to a semblance of normality, providing an insight into research underway in this edition of FISH.
But neither have we returned to where we began at the start of the year. As we found with our two COVID-19 editions of the magazine, it's a tough ask to get an accurate picture of what is going on around the country, especially with the diversity of players within Australian fishing and aquaculture.
This time we have opted for a simple snapshot in time, speaking to the owners of fish and chips shops around the country as a kind of litmus test of how things are going in each state and territory, bar the ACT. Their stories add to the tapestry we are weaving to better understand how to deal with crises such as COVID-19 in the future.
While Victoria is starting to come out of its deep freeze, border closures and restricted travel make the country seem more fragmented than before. But wherever they live, people are still eating fish and chips and the people who make that possible continue to work hard, often in trying circumstances. A serve of grilled or fried fish and chips enjoyed by the waterside was an unremarkable outing just six months ago. Now it is a simple pleasure to be grateful for.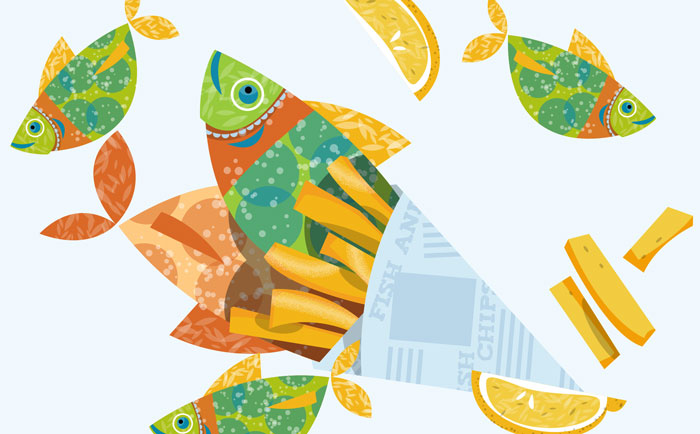 ---
Around the country in fish and chips shops
Albany, Western Australia – Ocean and Paddock, Trenton Brennan
"Sales are up by half on July last year, although there was a significant financial loss from shutting the business for six weeks earlier in the year.
"We are also actively looking to recruit staff in preparation for summer and increased numbers of tourists. But if we had to close again, we would be broke. I love our business, our family, our location. This all keeps me going.
"We are fortunate that we are in the country in Albany, and people are already mindful about supporting local suppliers. COVID has generally created a sharper focus on where our food is coming from, where everything is coming from, and there is a growing anti-import sentiment."
Darwin, Northern Territory – Frying Nemo, Eddie Willoughby-Smith
"About half our business during the dry season, from May to September, is from tourists (and 40 per cent come from Melbourne). So our trade is down compared to last year, although it's not down a lot. We have a strong local following, including takeaway, which has really helped.
"We have had no supply issues. Because other hospitality businesses have closed, there is plenty of local seafood at the moment."
Henley Beach, South Australia – The Stunned Mullet, Amanda Papadopoulos
"Once restrictions in South Australia lifted, business pretty much returned to normal. I hear that many takeaway businesses are actually doing really well.
"Our customers are really appreciative of the fact that we are still open and operating, as a lot of other businesses decided to close. It's actually a real privilege that we can continue to provide a service to our customers and most people are so thankful."
South Coast, NSW – Pelican Rocks Seafood Restaurant and Café, Sam Cardow
"It's been a rough year. First the bushfires, and then we've had two floods since Christmas-time, and then COVID hit.
"We had eight really goods weeks, where, with everyone not allowed overseas and some amazing weather here, lots of Sydney people came down the coast for day trips. Now it's slowing down a little bit.
"We've had to employ someone to be a safety marshal, we had to reduce our seating from 130 to 70 people because we've got to keep a distance. The challenges are sticking with the guidelines and keeping everybody happy at the same time. As long as we don't go into another lockdown, I think we'll be OK. Or if a meteor hits or aliens invade."
Capalaba, Queensland – Costa's Seafood, Jason Tapinos
"It's been a bit strange. I can never pick whether it's going to be busy or quiet, day to day.
"We did see a decline in sales at the start. But once we adapted to online ordering, home delivery and contactless delivery, we found the demand was there. We just had to work out how to meet it."
Launceston, Tasmania – Fraggles Fish and Chips, Chris Fragoulis
"Business is good. In Tasmania we're lucky. We got off fairly lightly. Obviously, there's no tourism, so that has slowed things down a little bit. But we're pretty much back to how it was before.
"We shut for five or six weeks. We just thought, 'we're going to do the right thing for everyone'. We started up about three months ago with modified hours, and built up from there. When we reopened, we noticed that people had changed their habits a bit, were more aware of distancing. The community had changed the way they went about their everyday life.
"We were doing online orders and deliveries before. We noticed that side of things picked up, probably doubled. It's stayed higher too, because I think people have changed their habits. Especially in winter, they think getting a delivery is a good idea."
Queenscliff, Victoria – Trident Fish Bar, Fonda Tzaninis
"We're struggling. We rely on tourism, on people staying in the caravan parks and taking the ferry to Sorrento. Queenscliff is tiny, only 1200 people. We rely a lot on people from Melbourne and surrounding suburbs and they're all stuck at home [under stage 4 lockdown].
"We can't survive on only feeding the locals. They're doing their bit but there's just not enough of them. Queenscliff is so small, and there are three fish and chip shops here. The prices are going through the roof and I've had to pass that on; customers aren't happy.
"These are challenging times. We can't do much when our hands are tied. Even if we have got the best view in Queenscliff."