Retail sales of fresh and frozen seafood experienced double-digit growth over the past year, driven by the COVID-19-related consumer trend of households swapping restaurant meals for home cooking.
By Barbara Adam
Key points
Retail seafood sales were dominated by the major supermarket chains, with an 83.4 per cent share.
Victoria (while in lockdown) recorded the biggest leap in retail fish and seafood sales in the four weeks from 11 July to 8 August, with an increase of 34.2 per cent compared to the same time last year.
Sales of fresh fish and seafood accounted for 70.4 per cent of the overall sales, while frozen represented 29.6 per cent by value compared to same period last year. 
In the past year, prawns were a key driver of growth, with a 14 per cent increase, with a combination of 'other species' recording a 25 per cent increase in the value of sales.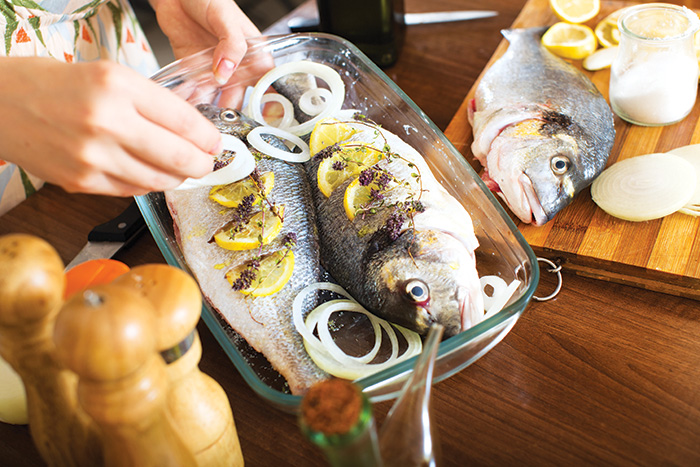 Photo: Shutterstock
The latest FRDC Seafood Industry Trends Report, prepared by data analytics company Nielsen, shows total retail sales of fresh and frozen seafood was up 12.7 per cent in the year to 8 August, compared to the same time a year ago.
Breaking down the results, retail sales of fresh seafood were up 11.8 per cent compared to a year ago, and frozen up by 14.7 per cent over the same period.
The report is based on data from the Nielsen Homescan Australia panel that looks at in-home consumption of products bought in the Australian retail market. It focuses on sales from the start of the year to 8 August, compared to the same period a year earlier.
Nielsen's associate director of retail client services, Neil Moody, says the report showed strong retail sales of seafood were going some way to making up for the downturn in the sector's wholesale and export sales.
"Some seafood producers have pivoted. Some have moved to making sure they have an online presence," Neil Moody says.
"The pandemic has really pushed online and direct-to-home sales, with products such as meal kits seeing very strong growth in the market at present.
"Online is not necessarily a natural fit for food buying, but it is picking up strongly in recent times as shoppers look for convenience and value."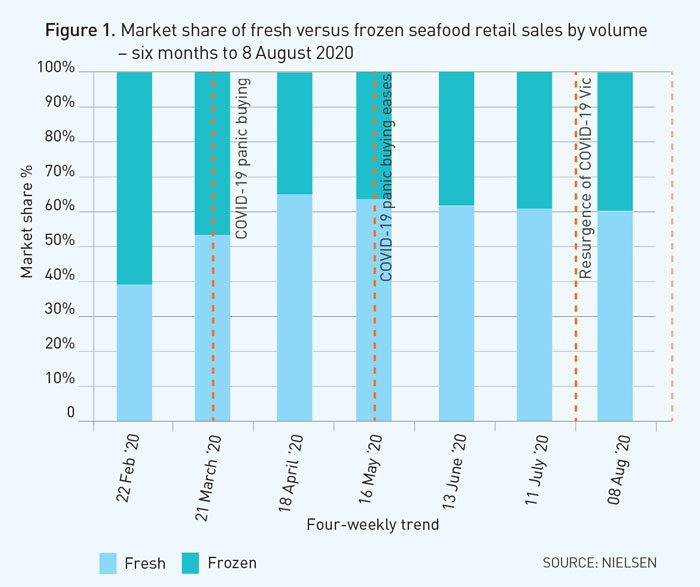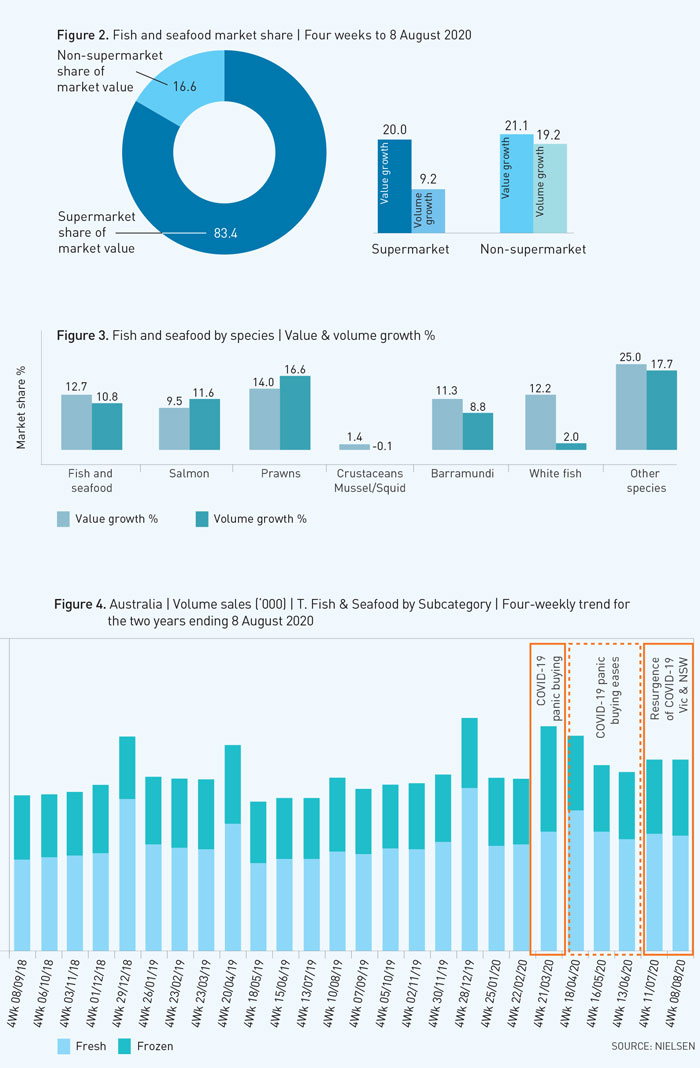 Overall, the report's findings suggest Australian households were buying and consuming more seafood at home over time.
Neil Moody says the report also showed households were buying a broader range of seafood species, possibly as they experimented at home and expanded their culinary repertoire. "I think that's a really positive sign for the industry."
The challenge will be to maintain retail sales as food service and exports return to more 'normal' levels, post COVID-19. With research suggesting it takes 66 days to form a new habit, increased consumption of seafood at home may well be a lasting trend.
According to the report, the value of prawns sold rose 14 per cent this year, white fish by 12.2 per cent, Barramundi by 11.3 per cent and other species by 25 per cent (see Figure 3).
In the four weeks to 8 August 2020, as COVID-19-related restrictions were reintroduced in New South Wales and Victoria, the total market share of retail frozen seafood sales increased to 39.9 per cent, continuing a trend seen over a four-month period (see Figure 1).
Retail seafood sales were dominated by the major supermarket chains, which had an 83.4 per cent share by value of sales in the four weeks to 8 August, compared to a 16.6 per cent share held by non-supermarket outlets (see Figure 2. The value of sales within the supermarket channel increased by 20 per cent in the same period, while the non-supermarket channel posted 21.1 per cent growth.
"This shows there are some benefits being experienced by seafood suppliers who are not supplying supermarkets; however, these may not fully make up lost volumes through food service channels," Neil Moody says.   
Apart from the Northern Territory and South Australia, all states posted strong growth in supermarket sales of seafood in the four weeks to 8 August. Victoria, which remained in a stage four lockdown during the period, recorded the strongest growth, with a 38.8 per cent increase in the value of sales in the period, ahead of NSW with a 21 per cent increase and Western Australia with a 10 per cent rise.
Across Australia, there was a 20 per cent increase in the value of supermarket seafood sales during this time. Neil Moody says it is encouraging to see an increase in supermarket seafood sales in states that had not experienced a second wave of COVID-19 infections, and where cafes and restaurants had remained open.
"We've seen a healthy double-digit growth in supermarket seafood sales across Australia, suggesting the behaviour of increased in-home consumption is becoming ingrained. It's a very healthy story in this regard."
Neil Moody and Melanie Norris from Nielsen presented the findings of the market research in 'Fishing for Insights & Opportunities in COVID Infested Waters', part of the Sundown Series webinars (see story page 18), which can be viewed at the Queensland Seafood Marketers Association website.
The FRDC Seafood Industry Trends Report is part of a larger program of activity to map and quantify the impacts of COVID-19 on the fishing and aquaculture industry. A full report on this will be covered in the March edition of FISH.
More information
Neil Moody, neil.moody@nielsen.com