For more than three decades Stephan Schnierer has been advocating for the rights of Indigenous people to access Australia's fisheries, in a role that has not always come easily for the fisheries scientist.
Words Larissa Dubecki | Photo Paul Harris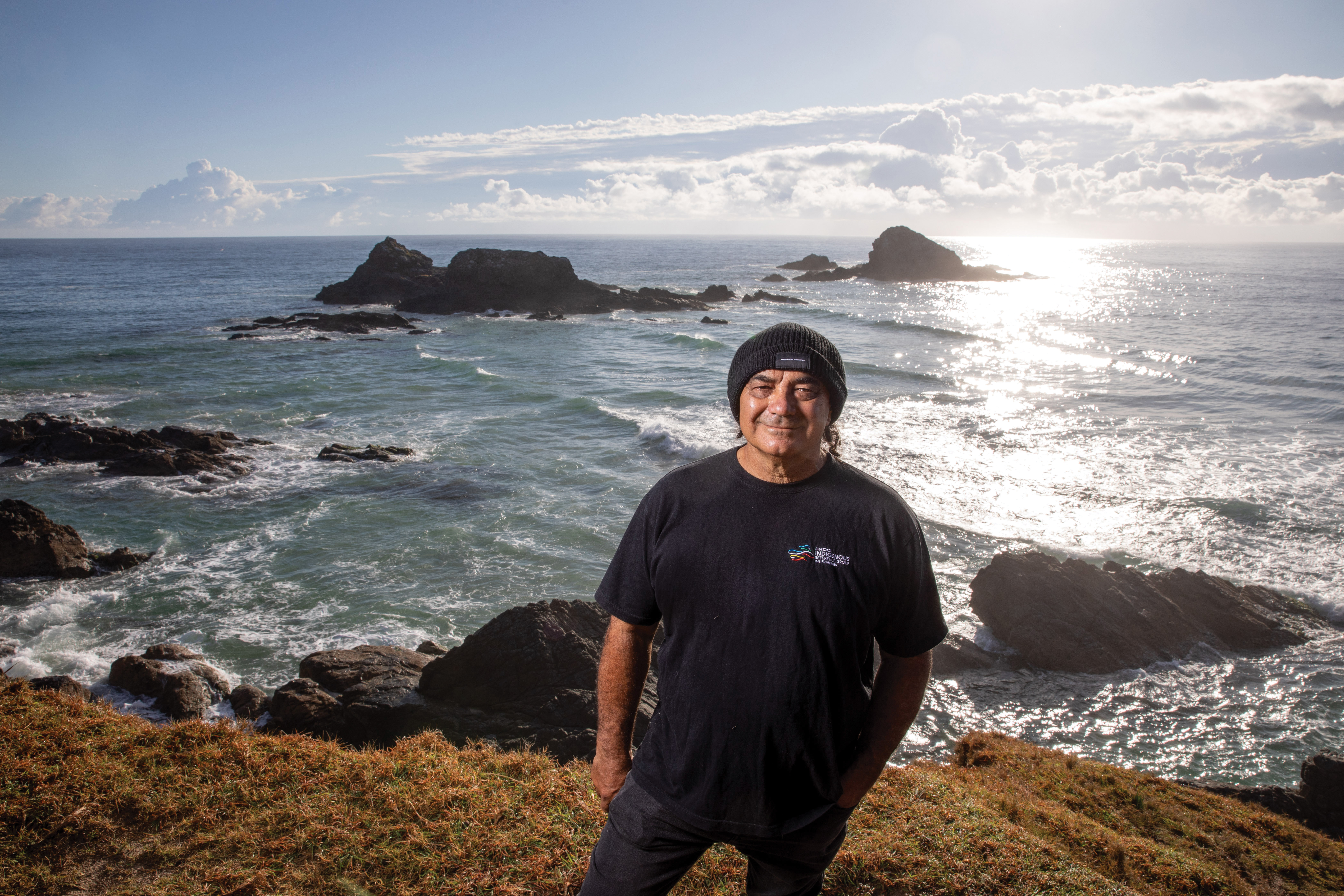 Stephan Schnierer at one of his favourite fishing and surfing spots, Broken Head, south of Byron Bay, NSW.
"I was a mad bass fisherman back in the '70s, so I combined that love with my research project on the biology of the Australian Bass. This basically involved getting in a canoe and fishing for bass from the Richmond River, as well as doing all the scientific stuff," he says of his postgraduate studies at the University of Queensland.
He developed and taught a course on fisheries biology at Southern Cross University (SCU) while studying for a PhD on freshwater fish community ecology. But fate intervened and it remained unfinished when the local Bundjalung Elders encouraged him to help them set up an Indigenous education program at SCU.
"At one point I was talking to Elders about traditional fishing knowledge. And they said, 'You're a smart fella. You know all the science. You should get out and help us to get our rights to catch fish'. So that planted a seed."
In the early 1990s Stephan Schnierer was an adviser to the Australian Government Coastal Zone Inquiry, which aimed to develop coordinated guidelines to protect the nation's coastline and coastal communities, addressing the potential impacts of climate change, in particular. Following the inquiry, he helped the New South Wales Department of Primary Industries to secure Commonwealth funds to develop an Aboriginal Fisheries Strategy, in which he also played an advisory role.
Initially a classic 'pure' scientist, he found himself refocusing his energies "on the much more human area" of Indigenous fisheries and the protection of Indigenous rights to biological resources, which ultimately led him to participate in various United Nations forums.
Then in the late 1990s and early 2000s, when marine parks were being established around Australia, Stephan Schnierer shifted his focus from the international policy arena to Australia and became immersed in the fight for Indigenous fishing rights, especially in NSW.
"I came back fired up to make sure someone was on the advisory committees set up to establish a representative system of marine protected areas. I was there to ensure Aboriginal people's fishing rights weren't going to be hindered in any way, because one of the first targets in marine protected areas is fishing and Indigenous people's rights at that time were being ignored."
A leader in closing the knowledge gap and codifying Indigenous fishing practices, Stephan Schnierer realised that decision-makers lacked any real knowledge or understanding of those practices. He set about encouraging funding bodies to support research into Indigenous fisheries.
"Sitting on various government advisory committees as a blackfella trying to say what we should be doing and hearing the policymakers and managers reply they didn't have the data to support my assertions was very, very hard to take," he says.
In working to address those data gaps, he has become a wearer of many hats. Stephan Schnierer is an adjunct associate professor at both SCU and the University of Canberra. He is a member of fisheries-related advisory committees that include the NSW Ministerial Fisheries Advisory Council, the NSW Aboriginal Fishing Advisory Council, the NSW Aboriginal Land Council Fishing Fund Advisory Committee, the Indigenous Reference Group to the FRDC and the Commonwealth Government's independent expert panel on the Great Barrier Reef Marine Park 2050 plan.
One of his first pieces of Indigenous fisheries research was conducted in 2009 with FRDC backing, focusing on the NSW Tweed area.
For this work he made sure the research involved a two-way exchange of knowledge with the local community to inform policy developments.
"It's important to build capacity in a community at the same time as you are seeking information from them. The research I tried to promote was research where you engage with the community. They become partners in the study. The research is for them, to help them with information and knowledge about their own fishery, so they can negotiate with governments around how the fisheries might be managed."
Stephan Schnierer points to the NSW Pipi and Abalone harvest as an ongoing example of the understanding gap. Aboriginal people potentially face prosecution for ignoring recreational fishing quotas on their catch. But this ignores Aboriginal and Torres Strait Islander rights to fish on their own country and fails to acknowledge and protect the unique role that fishing plays in the daily life and culture of Indigenous communities, he says.
"The cultural fishing practices associated with the maintenance of traditional fishing knowledge systems must be protected, and the impacts of non-Indigenous fisheries identified and addressed," he says. "This is so that Indigenous fisheries are sustained along with the associated traditional fishing knowledge that people have in their aquatic biological resources."
In the research space, Stephan Schnierer believes there is some cause for optimism. The Indigenous Reference Group the FRDC established in 2012 to advise on research was an important step in enshrining Indigenous voices in the space – not tokenistically or on an ad hoc basis, but as a matter of course.
"It was a very positive and strong initiative by a Commonwealth Government agency, recognising the fact that Aboriginal and Torres Strait Islander fisheries were distinct from commercial and recreational, and recognising the importance of Indigenous fishing. It also sent a loud message to other agencies," he says.
He hopes one of the positive spin-offs to come from this will be more Indigenous researchers undertaking research with Indigenous communities. (While he has an Indigenous heritage, Stephan Schnierer does not represent any one particular Indigenous community; his mother is Australian and his father is Hungarian.)
The fateful switch from scientist to social scientist – a translator between communities and scientists, researchers and policymakers – has not always been easy for a man happiest fishing for bass.
"But I made that shift not just because we needed to get some research into it started, but to show other researchers that this can be done and should be done," he says.
"Whenever there are potential Indigenous fishing rights in play, Indigenous opinions and voices should be consulted as a matter of course. Even one step before that. Researchers should think: 'Is there going to be an Indigenous element in my work and how might that impact on rights?'"