The future of Australia's fishing and aquaculture sector, right along the seafood supply chain, has been firmly embedded and linked to the future prosperity of Australia's whole primary production sector through the formation of a major new research collaboration and investment vehicle – Agricultural Innovation Australia (AIA).
By Brad Collis
Fast facts
Agricultural Innovation Australia Ltd will be managed by an independent, skills-based board, and invest in strategies that address shared challenges and opportunities to deliver transformative outcomes for the agriculture sector.
RDCs are responsible for investing more than $800 million each year in agricultural innovation. Almost $300 million of this is Australian Government funding from taxpayers, and around $500 million comes from industry levies.
The Australian Government has committed $1.3 million to support the development of AIA.
Fifteen rural research and development corporations are supporting the development of AIA.
The FRDC has been a key partner in the establishment of AIA, which is supported by the Australian Government and the 15 rural research and development corporations (RDCs).
A central objective is to leverage the combined research intelligence and needs of all RDCs to drive the R&D necessary to make agriculture and fisheries a $100 billion sector by 2030. This is the goal set by the National Farmers' Federation and the Australian Government.
AIA has been set up to drive cross-industry research and to attract private sector investment to target 'transformational' innovation in Australia's primary sector.
FRDC managing director Patrick Hone has been championing the company's creation and sees it as 'future-proofing' fishing and aquaculture's many value chains. Australian agriculture, including fisheries and forestry, needs an exponential lift in its innovation effort, and this means attracting more private sector investment, he says.
For example, at present agriculture attracts just 0.2 per cent of its investment from Australian superannuation funds.
Patrick Hone says the new company, AIA, will give the sector a much stronger investment profile.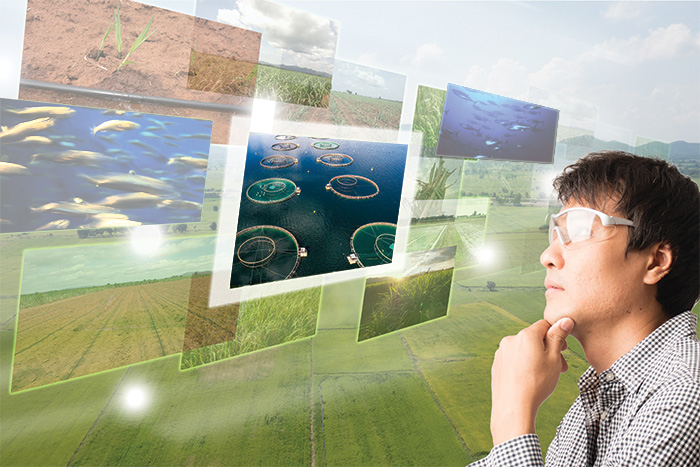 Photo: 123rf
Be prepared
"People ask why the FRDC is involved with a company called agriculture. It is because we need to be future-ready, and many of the major issues we face or will face are the same as those in other production sectors," he says. "Likewise, the technology we will require and will use. Twenty years ago, the iPhone didn't exist. Now look at the innovations and industries that have developed around it.
"So, if you project 10 or 20 years ahead, many of our clients don't exist today. There will be new companies, new innovations, new ways of fishing, new opportunities for Indigenous fisheries, and more. So, AIA is about looking to, and shaping, the future."
The FRDC, like other RDCs, is committed to the $100 billion national production target, but Patrick Hone points out that reaching this target cannot be achieved via 'business as usual'. It will require more industry partnering, as well as the foresight and decision-making agility that a commercially focused innovation company can bring to investment opportunities.
"AIA will capitalise on cross-industry opportunities to drive productivity, sustainability and profitability in agriculture by leveraging the power of collaboration. AIA will work with the private sector to attract investment, bringing new perspectives and players to agricultural innovation." – David Littleproud, Minister for Agriculture
He says the FRDC joined the initiative because of five particular principles that have been established:
the ability to operate across or even outside our current industry focus – it will expand our horizons;
the RDCs are supporting AIA's startup by funding its administration for three years, but for its R&D dollars it has to go out to the market (the Australian Government is injecting $1.3 million to kickstart research investments);
the company has to demonstrate its value to investors and attract non-traditional investors to the sector;
it has been given the authority to be agile and adaptable without having to go back to all the RDCs to make decisions; and
it will be enduring because of its ability to take a long-term approach to strategy.
Patrick Hone says the bottom line is that if agriculture, including fisheries, does not embrace change and try different things, they are in trouble.
"Our industries will not be able to compete. They will senesce," he says.
Collective power
"Alternatively, look at the potential to be unlocked by a structure such as AIA with all 15 RDCs behind it. This creates an $800 million to $900 million engine room working collectively for the benefit of Australia."
The formation of AIA, along with the government's recent announcement on the development of regional Adoption and Innovation Hubs, is also a chance to upskill regional communities and remove their reliance on capital cities.
"We have to build satellite cities in regional areas that have depth of character – science, innovation, engineering and other elements that build critical mass," Patrick Hone says.
In unveiling the creation of AIA in early October, the Minister for Agriculture David Littleproud described the initiative as "a game changer" in driving collaboration and coordination of investment in agricultural innovation.
"AIA will capitalise on cross-industry opportunities to drive productivity, sustainability and profitability in agriculture by leveraging the power of collaboration," he said.
"AIA will work with the private sector to attract investment, bringing new perspectives and players to agricultural innovation."
Minister David Littleproud said AIA was a key element of the government's National Agricultural Innovation Agenda to modernise Australia's agricultural innovation system.
He cited climate resilience, natural resource management and supply chain traceability as the type of big, national challenges needing advanced research-driven responses.
"Now more than ever we need to demonstrate the greatest returns from our investments, improve transparency of outcomes and drive efficiencies and greater uptake of our R&D efforts," he said.
Chair of the Council of RDCs and the Grains Research and Development Corporation, John Woods, said AIA represented an exciting new era for Australia's primary industries.
"AIA will transform investment in Australian agriculture. Having a single entity to lead cross-industry strategies will make it easier for investors from around the world to navigate and partner with our agricultural system.
"Activities undertaken by AIA will focus on areas with greatest impact across multiple agricultural industries. To avoid duplication of effort, when prioritising opportunities for investment, consideration will be given to existing RDC and industry strategies."
An interim board has been appointed to recruit a CEO and directors for a permanent board by the end of 2020.
More information
contact@aginnovationaustralia.com.au or visit the Agricultural Innovation Australia website