New fishery management options emerge from a better understanding of the boom-and-bust Pipi life cycle in South Australia
Words Melissa Marino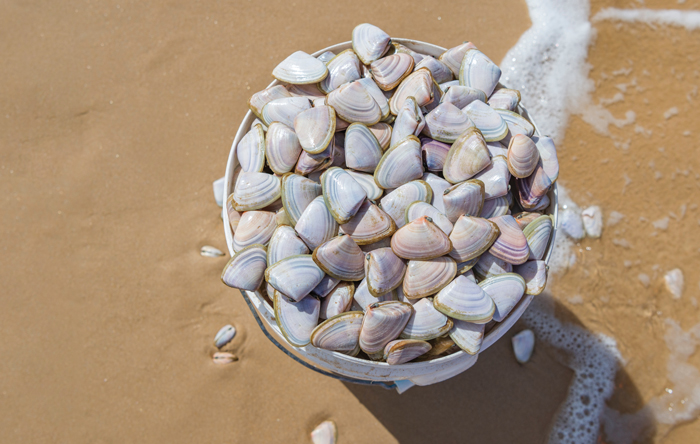 Pipis harvested in South Australia. Photo: Goolwa PipiCo
New analysis around Pipi (Donax deltoides) populations in South Australia has provided insights into the natural processes that cause fluctuations in harvestable populations.
The research pulled together 10 years of recruitment and biomass work in that state's commercial Pipi fishery to inform a current review of the fishery's harvest strategy.
The data dates back to 2008 and an FRDC-funded project initiated in 2009 after a period of decline in SA's Pipi population. That project also evaluated performance indicators in the fishery and their potential for inclusion in a harvest strategy that was being developed, and which was finalised in 2012.
"Past research told us how the overall stock changes from year to year and across the entire fishing ground," says Greg Ferguson, a long-time Pipi researcher at the South Australian Research and Development Institute (SARDI) and lead author of the paper* detailing the latest analysis.
"This recent research looks at changes in biomass and sizes across time and space at smaller scales and helps us understand why it changes."
He says the decade's worth of data analysed also reveals the recovery of the fishery under the careful management of fishers and South Australia's Department of Primary Industries and Regions (PIRSA).
It provides a better understanding of how natural mechanisms affect levels of harvestable Pipi stocks and that Pipis can be their own worst enemy.
Population dynamics
The analysis compares populations between two periods: 2008–12, when biomass was low to moderate and 2013–17, when biomass was higher.
Greg Ferguson says results suggest that where Pipi biomass is high, growth rates are slower. This means Pipis, which have an average life span of 4.8 years, could mature at a smaller size than expected, if age is the determining factor in maturity.
Or they could mature at an older age, if size is the determining factor. This has implications for lifetime egg production and, therefore, management.
The analysis also found that when there was a lot of older mature Pipis, the number of young recruits was lower. 
"We now know that when the biomass is really high, there's a cost and the cost is that growth is suppressed and the recruitment is suppressed," Greg Ferguson says. "This is something that fishers have long suspected."
Left to their own devices, Pipis repeat a boom-and-bust cycle as young pipis are crowded out by mature stock. "Understanding the mechanisms underlying this cycle helps build confidence in our understanding of the resource and supports the continued growth of the fishery," Greg Ferguson says.
Management tools
It also raises the potential for management interventions and fishing effort to stabilise populations, promote growth and increase the abundance of smaller Pipis. 
"You've got the potential to use, for instance, refuges for reproduction, or to rotate the harvest between different times and areas to optimise sizes for the markets. Or potentially to even relocate the smaller pre-recruits to the edge of the high biomass areas to get established."
The report shows that in years of high biomass, Pipi populations spread across the 60-kilometre beachfront fishery. But that spread contracts with lower numbers, as Pipis cluster in the central part of the fishing ground.
In parallel with this finding, a real-time Pipi harvesting project involving the FRDC, PIRSA, SARDI and industry partner Goolwa PipiCo is looking, in part, at how smaller Pipis develop if relocated from the high-density fishery centre to the less-crowded periphery.
Results from the recently published study were used during the recent PIRSA review of the fishery's harvest strategy. With clarity around biomass fluctuations, there will be more confidence around assigning annual total allowable commercial catches (TACCs) to different levels of the biological indicators, Greg Ferguson says. Insights into distribution could be used to inform finer spatial management.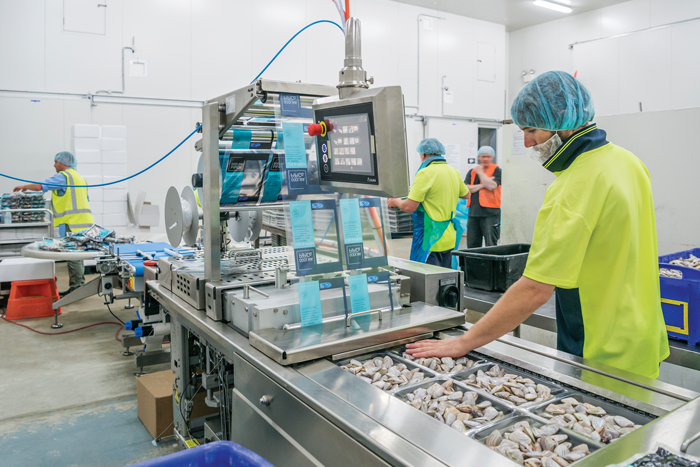 Pipis are graded after harvest at Goolwa PipiCo. Photo: Goolwa PipiCo
Value-adding
SA's Pipi fishery stretches south-east from the mouth of the River Murray towards the Victorian border and has been certified as sustainable by the Marine Stewardship Council since 2008, as part of the multi-species Lakes and Coorong Fishery. The analysis shows biomass in the fishery doubled between 2008 to 2017.
At the same time, Pipis have increased in value as fishers transitioned from the traditional bait market to an emerging human consumption market. This, says Greg Ferguson, is a result of industry working closely with PIRSA and researchers over time to ensure biological and economic factors are carefully considered in management. 
Harvest strategies, for example, use biological data to determine upper TACC, alongside economic information to indicate whether the market will cope with that amount.
These economic indicators have seen the emphasis in the fishery shift from maximising catches to maximising value. TACCs based on biomass and recruitment, for example, can be adjusted downwards if industry does not believe there is an adequate market for the product, minimising pressure on the stock.
When the initial 2009 FRDC project (2008-008) got underway, the Pipi resource had declined steeply over the previous decade as a result of subsequent years of 1200-tonne hauls.
After a conservative 300-tonne TACC was implemented, stocks began to climb.
"That increase in value was achieved by expanding the human consumption market, which is now about 65 per cent of the catch, rather than being sold as bait," Greg Ferguson says.
"And that's another reason our recruitment and biomass work is useful, because fishers will be targeting certain sizes and we'll start to understand how that affects the stock."
The new Pipi harvesting project underway, based on real-time biological and economic data, is expected to provide important fine-scale information on where catches are coming from. It is part of the long-term and ongoing research in the fishery with the FRDC and other partners that shows how industry, government and scientists can work together to achieve outcomes that meet economic and biological objectives.
"The really nice thing about the project and the way we do these surveys is really close collaboration between the SARDI researchers and PIRSA and industry," Greg Ferguson says. "And what that means is that we all trust the data. Industry has helped collect the data, so they own it – they believe in it." 
* 'Temporal and spatial variability in the life-history of the surf clam Donax deltoides: Influences of density dependent processes' was published in Estuarine, Coastal and Shelf Science 249(5).
Indigenous heritage
South Australia's Pipi fishery is part of the Lakes and Coorong Fishery and the lands of the Ngarrindjeri people.
More information
Greg Ferguson, Greg.Ferguson@sa.gov.au