From surgery on fish to biosecurity plans, aquaculture is expanding, and there is increasing demand for the skills of aquatic animal health experts
By Melissa Marino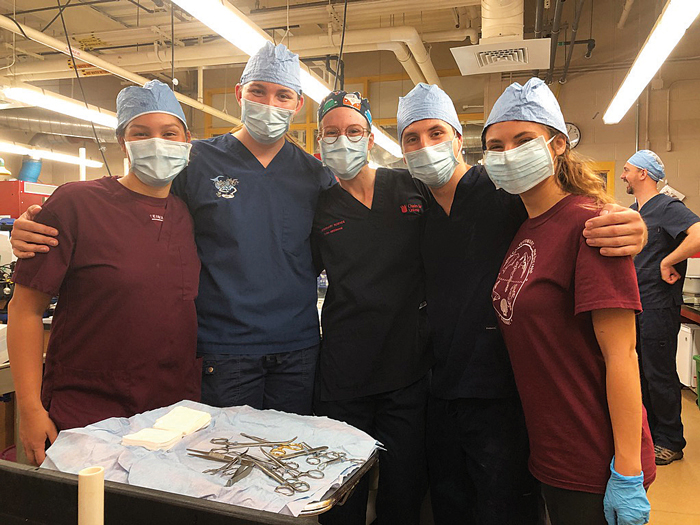 Veterinarian Tara Needham travelled to the US to learn new skills in aquatic animal health treatment and management. Meeting specialists in the field and building her network was
a valuable part of the experience. Photo: Supplied
by Tara Needham
Being an aquatic vet involves more than just diagnosing and treating disease. It is also about maximising animal welfare by preventing health problems and minimising the introduction of disease into enterprises in the first place.
Happy, healthy animals that do not encounter stress in their lives grow better and taste better, and this ultimately makes aquaculture more profitable, says Tara Needham. One of Australia's few aquatic vets, she honed her skills through an FRDC-funded placement in the 2019 AQUAVET program in the US.
The role of aquatic medicine in maintaining herd health and combating biosecurity risks is increasingly important as antibiotic resistance in farm animals and humans grows, says Tara Needham.
"The prevention of disease not only takes into account biosecurity with disease entering a property, but also includes the health of the animals in the enterprise, because animals with good nutrition have better immune systems so they're less likely to get sick," she says. 
Aquatic veterinarians bring a unique skillset to aquaculture enterprises, she says. On one hand, they diagnose and treat disease. But they are also trained, from a herd health perspective, to see the big picture.
"In terms of a healthy herd, it's about the unit as a whole. You're not considering just one animal in a unit," she says. "You've got a 'whole-farm' perspective, and you're also thinking about the external environment so you can identify possible areas where disease could come in, and look at how to manage that."
Australia's Atlantic Salmon producers have long appreciated this, employing their own in-house veterinarians, she says. Emerging aquaculture industries are increasingly also seeking insights from those trained in aquatic animal health. 
But veterinary science university degrees offer limited aquatic training and this is why a course such as AQUAVET is important.
The four-week intensive "experience of a lifetime" at Cornell University, New York, provides hands-on training in diagnostics and surgery. It also addresses biosecurity risk management and public health issues in aquatic mammals, crustaceans, shellfish and finfish. Three weeks of the course is dedicated to aquaculture.
Tara Needham applied these lessons to her work at aquaculture consultancy Panaquatic, where she worked with Abalone, Barramundi and Murray Cod, and in reviewing white spot disease in prawns for the Queensland Government.
From the development of biosecurity plans to the management of fish health and honing basic skills in diagnosing disease, including in autopsies, the training has proved very valuable, she says.
"I learnt how to do a full general anaesthetic for fish at AQUAVET (using anesthetised water flowing over their gills) and I've now done a number of surgeries removing lumps and bumps, as well as an ovariectomy – removing fish ovaries," she says.
While she is now using her skills as a veterinarian with the Bird and Exotic Animal Clinic in Melbourne, in ornamental fish such as koi and goldfish, she expects to return to aquaculture in the longer term.
The AQUAVET course gave her the grounding to deliver an anatomy workshop as part of an annual lecture series for University of Melbourne veterinarian students run by Panaquatic managing director Paul Hardy-Smith.
It has helped her to build connections with world leaders in fish health who are driving advances in the field.
"The value of AQUAVET is not just about the knowledge and practical skills gained, it is very much the meeting of people and the creation of ties and working relationships that will go on for years," says Tara Needham.
The networks she has developed through the program will help her keep up to date with the new viruses and bacteria that are continually being discovered, as well as the the latest disease control and prevention techniques.
More information
Tara Needham, drtara@beacvet.com
FRDC RESEARCH CODE: 2018-192