New reef design amplifies habitat for northern marine species and opportunities for recreational fishers
By Barbara Adam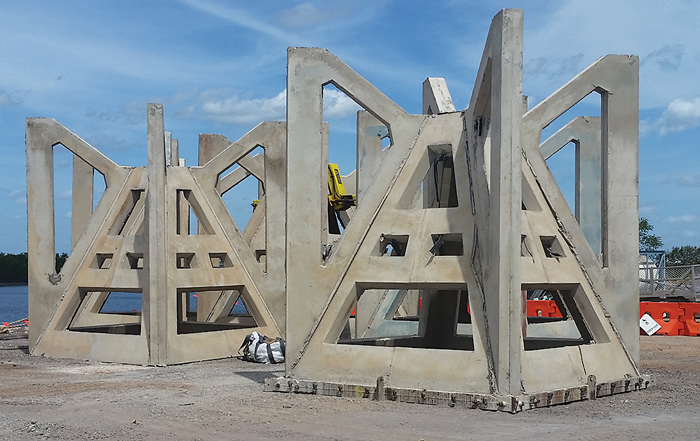 The custom-made Reef Pyramids are designed to enhance the underwater habitat for a broad range of fish. Photo: Northern Territory Fisheries
After little more than a year in the water, the largest single artificial reef deployment in the Southern Hemisphere is already teeming with marine life.
Fishing tourism draws many Australians north to cast a line and the four new purpose-built reefs, located off Darwin, are part of a $50-million Northern Territory Government project to improve recreational fishing opportunities for locals and visitors alike.
The reefs are part of a 'fishing trail' experience, a connected journey of the new and existing fishing spots. However, the reefs will also play an important role in aiding the recovery of fish species whose populations are at risk of overfishing, such as Golden Snapper (Lutjanus johnii) and Black Jewfish (Protonibea diacanthus).
Evan Needham, aquatic resource manager at NT Fisheries, says the artificial reefs were deployed in November 2019 as part of a broader management strategy to help recover at-risk reef fish species.
The aim is to create new habitat on a scale that will increase productivity as opposed to simply attract existing fish stocks and reduce pressure on existing fishing locations. They also provide an opportunity to encourage anglers to become reef guardians and custodians of reef fish in the same way that they have become custodians for the iconic Barramundi.
He says the variety of fish already documented on the new reefs is an exciting result for fisheries managers. "What we are seeing is much higher than our expectations."
Designed for diversity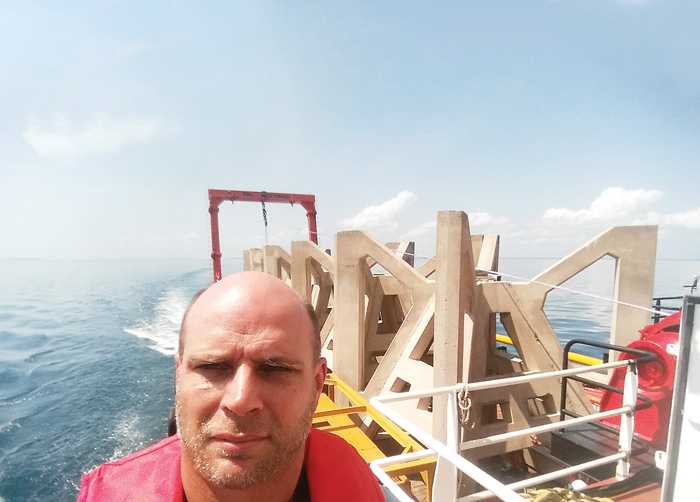 NT Fisheries manager
Evan Needham heads out with the Reef Pyramids to see them deployed into the water Photo: Northern Territory Fisheries
Designing and positioning artificial reefs to optimise their value as fish habitats has been extensively studied and refined in countries such as South Korea and Japan. Much of this international research is not published in English, but research funded by the FRDC in the mid-2000s was instrumental in bringing sophisticated reef designs to Australia.
This knowledge helped to drive a shift from using 'materials of opportunity', such as car bodies, defunct whitegoods, tyres and other miscellaneous objects for reef construction, towards more effective, purpose-built structures.
The NT's new reefs consist of 118 modules, known as Reef Pyramids, each five metres high, which have been designed by Perth-based company Subcon.
The modules are made from high-strength, reinforced, marine-grade concrete and contain internal caves, vertical surfaces and inclined planes that make the water flow upwards, lifting nutrients to attract forage fish.
They are expected to become home to species that prefer close contact with reef structures, such as Black Jewfish, Coral Trout (Plectropomus spp.) and cods (Epinephelus spp.), as well as fish that usually live in habitats adjacent to reefs, including snappers (Lutjanus spp.) and emperors (Lethrinus spp.). The current upwellings in the reef modules that draw baitfish aggregations are also expected to attract pelagic species from the Scombridae and Carangidae families, including multiple mackerel (Scomberomorus spp.) trevally, and tuna species.
"We've tried to take all the qualities of a natural reef and fabricate one to basically make a reef on steroids," Evan Needham explains.
Originally the design specifications called for the artificial reefs to have a life span of 30 years, but modifications to the design mean the structures are expected to last for 100 years, or even longer.
They are expected to be productive habitats within three years and Evan Needham says the early results, after a little more than a year, are very encouraging, with more than 40 species of fish identified.
"We're quite excited about the variety of fish that are now on these and the benthic growth that's actually growing on those modules. We've got barnacles, oysters, algae and sponges and there are at least seven different species of tropical snappers, multiple species of trevally, Black Jewfish, multiple species of mackerel and multiple species of bait fish and sharks."
The development of the reefs is monitored using baited remote underwater video systems (BRUVs), which sink to the ocean floor and record the fish that come to eat the bait. In addition to the six-monthly BRUV recordings, NT Fisheries uses sonar to monitor fish clusters and drifts video cameras through the sites. The FRDC has funded several projects that have been important in developing these innovative techniques and technologies now widely used for monitoring marine species on artificial reefs.
"We've already noticed a few non-target species that anglers wouldn't catch, in terms of little butterflyfish and damselfish, which are already colonising the modules," Evan Needham says. "So, to me, it's a pretty good indication that we've got an artificial reef that is doing its job."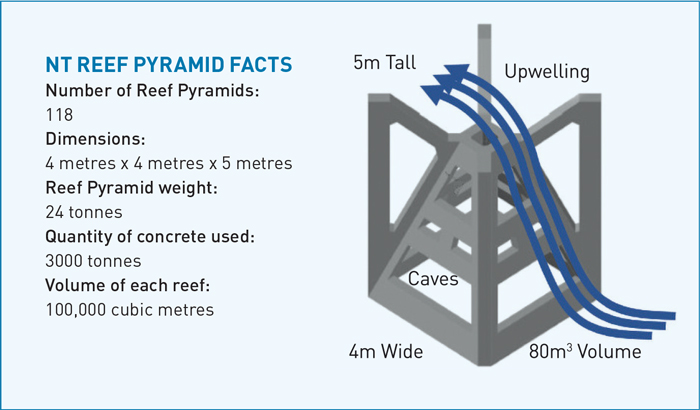 "We're quite excited about the variety of fish that are now on these and the benthic growth that's actually growing on those modules." Evan Needham, NT Fisheries manager
Precision deployment
Placing the Reef Pyramids was a feat of modern engineering. An offshore gas vessel moved the 24-tonne modules to their designated locations, five at a time. A dynamic positioning system, a beefed-up version of the GPS most boaties use, was used to line up a hydraulic claw, which gently lowered the structures into place.
Of the 118 modules, 117 of them are within a metre of their designated GPS location. And that one wayward module? It is a few metres out of place because the GPS system cut out as it was being lowered down, Evan Needham explains.
The artificial reefs are all accessible from the greater Darwin region. The Lee Point Wide and Gutters reefs are accessible from numerous boat ramps in and around Darwin Harbour, the Dundee Wide reef is accessible from Dundee Beach, while the Adelaide River Mouth reef is accessible from the Leaders Creek or Saltwater Arm boat ramps.
It would take a modern boat about half an hour to reach any one of the reefs. But it is not a straight drive out to one of the reefs to fish. The new reefs create a 'fishing journey' that take anglers past multiple fishing destinations, including older artificial reefs.
"We've used FADS, or fish aggregation devices, previously to try and link the reefs together so that people can create a bit of a circuit through known fishing locations," Evan Needham says.
The reefs were fabricated in the Northern Territory by Shorecast NT using nearly 3000 tonnes of local concrete and calling on the capabilities of local cranes, forklifts and labour.
The project, managed by the NT Department of Infrastructure, Planning and Logistics and Harris Kmon Solutions, won two awards at the 2020 Australian Institute of Project Management's (AIPM) Project Management Achievement Awards, including the NT Project of the Year.
More information
Evan Needham, evan.needham@nt.gov.au
FRDC RESEARCH CODES: 2007-248, 2014-005