Research into the contribution of Victorian fisheries to the state's economy and community wellbeing highlights opportunities for stronger supply chains and community links
By Nicole Baxter
Key findings
During 2016-17, the Victorian seafood industry:
injected $323 million into local regions across the state (comprising $112 million from state professional fisheries, $111 million from Commonwealth professional fisheries and $100 million from aquaculture);
generated $186 million in household income;
provided 3101 full-time jobs; and
produced more than 18,000 tonnes of seafood.
Processing of Victorian-produced seafood contributed:
$37 million of added value (the wider economic contribution beyond just landed catch); and
645 full-time jobs.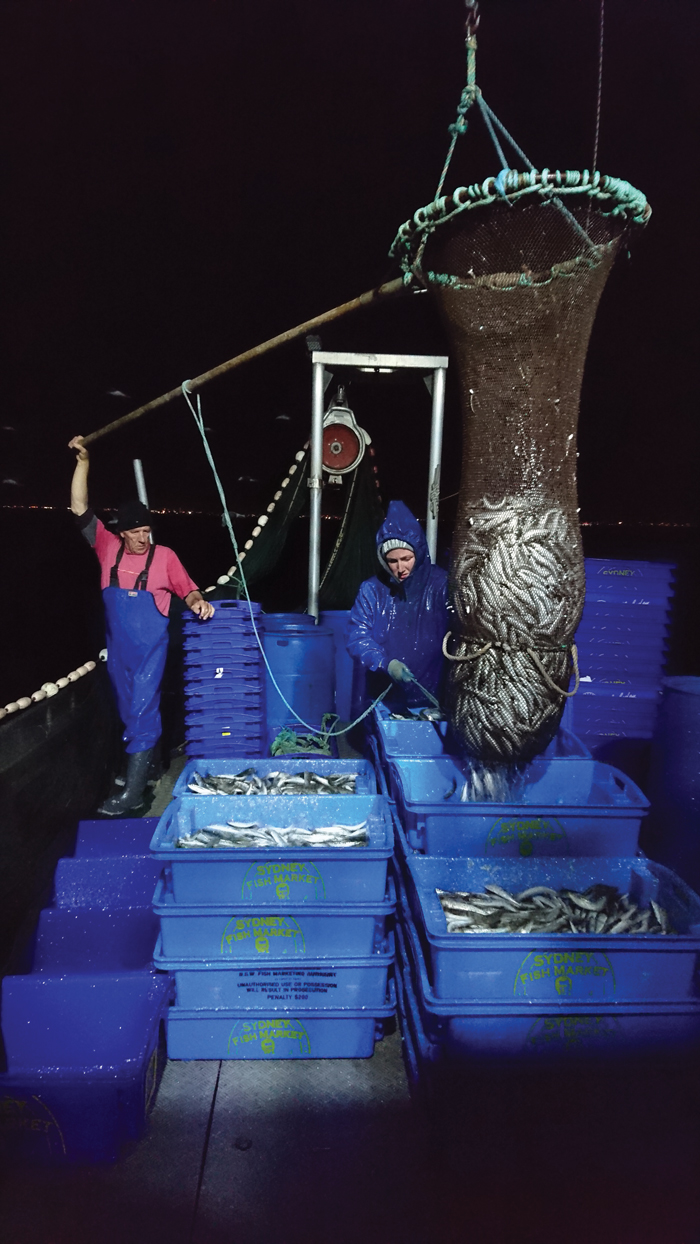 Fishing for sardines in Port Phillip Bay.
 Photo: Kirsten Abernethy
A new study shows the Victorian wild-catch fishing and aquaculture industry injects more than $320 million into local regions across the state.
The report shows the sector supports a range of business and job opportunities, from on-the-boat or farm-based work through to businesses that service the industry, along with tourism and  hospitality operations. These jobs require diverse and often high-level skills, but also provide entry-level jobs.
The three-year study led by social scientist Kate Barclay, at the University of Technology Sydney, is the first of its kind to document the economic and social contributions of the Victorian seafood industry (see Table 1).
The findings of the FRDC-supported study were published in a report entitled Victoria's fisheries and aquaculture: economic and social contributions.
The Victorian seafood industry generates jobs in places where there are few alternatives, and the study found those employed in the sector are active throughout the year, whereas some other economic activities, such as tourism, are seasonal.
In a survey undertaken in May and June 2019 as part of the project, 85 per cent of respondents indicated Victoria's seafood and processing sectors helped to create economic diversity.
However, nearly 70 per cent were 'very or extremely' concerned about job losses that might eventuate with increasing restrictions on, or the closure of, commercial fisheries.
Kate Barclay says in fishing communities affected by the COVID-19 pandemic and the bushfires of early 2020, the report demonstrates commercial fisheries have the potential to contribute to community recovery.
"For the first time, seafood advocates have comprehensive information showing the contributions their sector makes to community wellbeing," she says.
"Victoria has had a professional seafood industry for more than 170 years, yet we found there is often a poor understanding of the fishing and aquaculture industries among Victorians, both in metropolitan areas and in fishing and aquaculture communities themselves.
"Our findings show why it is important to support and grow the sustainable development of seafood production in the state."
Food supply
Kate Barclay says Victoria has a reputation as a 'foodie', state with 90 per cent of those surveyed saying it was important to produce local seafood and reduce the reliance on imports.
"Although Victorians want to eat local seafood, there was a jarring disconnect between this and their lack of understanding about Victorian fishing and aquaculture industries," she says.
Seafood Industry Victoria (SIV) is the state's peak body for commercial fishers, and executive director Jonathon Davey says efforts are underway to increase the supply of local seafood following the closure of some fisheries and subsequent catch reductions.
He says SIV wants to encourage Victorian consumers to value and buy their own locally produced seafood.
"The opportunities for growth of wildcatch fishing and aquaculture are really exciting. We're looking at product placement and how we can encourage consumers to buy Victorian seafood,"
he says.
Tourism and recreation
Another finding from the report was that 81 per cent of Victorians said eating local seafood was an important part of their holiday experience.
International visitors, particularly those from Asia, were identified as the group most interested in eating local seafood.
However, Kate Barclay says it was concerning that 54 per cent of tourism business owners said regional tourism suffers from lack of access to local seafood.
The report also found that 69 per cent of Victorians surveyed enjoy watching commercial fishers at work while on holiday.
Kate Barclay says the data shows the seafood industry has an opportunity to build closer relationships with those in the tourism and hospitality sectors to offer activities and experiences while people are holidaying in regions near fishing and aquaculture businesses.
"People see the seafood industry as an important part of the tourism and hospitality industries and care about where their seafood comes from," she says.
"If the relationships between people working in the seafood, tourism and hospitality industries could develop such that we could see more joint local activities, such as seafood festivals or tourism drives, we may see demand for locally produced seafood increase."
"For the first time, seafood advocates have comprehensive information showing the contributions their sector makes to community wellbeing." Kate Barclay
Jonathon Davey says viewing platforms next to co-operatives and at commercial fishing wharves, allowing the public to see fishing boats unloading, are popular with tourists.
"They give people a sense of local seafood in your belly while you're in a regional area on a holiday, allowing them to relate to the people who have caught their fish," he says. "It's something that is sometimes lost in metropolitan areas when you walk into a restaurant."
This point emerged during the research with 96 per cent of hospitality business owners surveyed stating that customers wanted to know the origin of their seafood.
Kate Barclay says some chefs are willing to work around the issues of fresh and local by stating to customers that supply is weather dependent or seasonal, but others in the hospitality industry found it easier to use prepared and frozen fish that could be put on the menu year-round.
"There is certainly a need to build the capacity of the hospitality industry to be willing and able to cope with fresh local seafood and then have the supply chain to be functional," she says. "Fostering links between aquaculture and wildcatch suppliers may support both diversity and continuity of supply locally."

Supply chain challenge
One of the challenges Kate Barclay identifies is poor connectivity between parts of Victoria's seafood supply chain.
"This was highlighted during the COVID-19 pandemic when businesses previously focused on the export market were left with an oversupply of product during 2020," she says. "These operators needed to start selling to the domestic market but did not have a supply chain set up."
Jonathon Davey says further work is underway to build on the study's findings and support industry growth.
"We're looking to better understand consumer needs in Victoria and determine how the industry can better position itself," he says.
The report is available for download via UTS.
 
More information
Kate Barclay, kate.barclay@uts.edu.au
Seafood Industry Victoria, admin@siv.com.au
FRDC RESEARCH CODE: 2017-092