The story of Andrew and Renae Tobin's romance is a tale that involves science, seafood, sustainability … and a semi-trailer
By Barbara Adam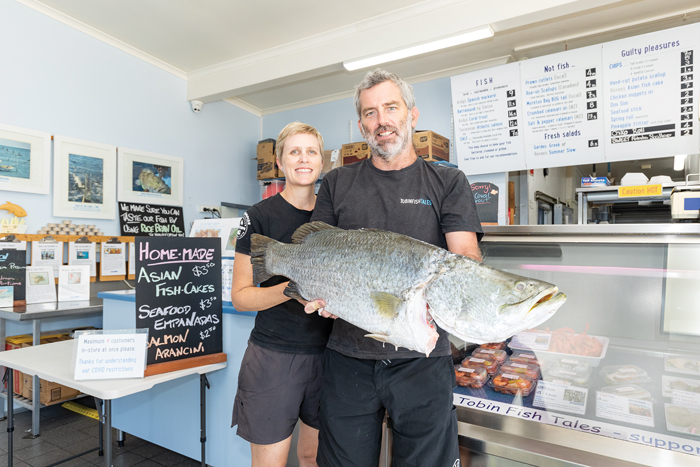 Renae and Andrew Tobin prioritise
fresh local fish, such as wild-caught Baramundi
from the Green Team. Photo: Phill Copp
A muddy estuarine creek in steamy North Queensland is not a typical backdrop for romance, but for Andrew and Renae Tobin it is where their love story began.
The first time Andrew remembers meeting Renae was on a James Cook University field trip in 1996 to Blacksoil Creek, about 40 kilometres south of Townsville. Renae was in her third year of a marine ecology degree, and Andrew was doing his PhD in marine biology.
"She stood out to me because she got involved in the dirty hard work," Andrew Tobin says. Fast-forward 25 years, and both Andrew and Renae Tobin are still involved in "dirty hard work".
Since leaving the world of academia, that work now involves running one of Australia's best fish and chip shops and operating a purpose-built seafood truck that visits 32 townships in central and western Queensland.
Tobin Fish Tales is their Townsville-based fish-and-chippie that took out 2019's Australian Fish and Chips Award, beating more than 2000 other fish and chip shops from around Australia.
The couple, who now have two teenage children, bought a small, sporadically operating fish and chip shop in 2015 as a "blank slate" to create a new business designed to connect the local community with local, sustainably sourced seafood.
Much of this seafood is caught by the fishers they identified during their research as being proactive in providing a high-quality product and championing their industry. 
"We noticed there was a really negative view of commercial fishing," Renae Tobin says. "The public – while they wanted to support local fishing – they didn't know what they could and couldn't buy, what was sustainable and what information to trust, and even where to get information from."
Tobin Fish Tales uses the slogan "every fish has a story", friendly shorthand for the importance of provenance in the seafood sector.
"We find the best seafood we can, reward the fishers for their excellent product and then take it out west to sell it." Andrew Tobin
New directions
While maybe not the most obvious career progression for two researchers, both with PhDs in fisheries science, the fish and chip shop and seafood truck build on the work the Tobins were doing in science.
Andrew Tobin has also fished commercially on and off since 1994. Even while working full-time as a research fellow at James Cook University, he kept his commercial fishing licence.
"If I wasn't full-time fishing, I was part-time fishing in the background," he says.
The Tobins wanted to move away from the increasingly cut-throat world of academia and were on the lookout for other opportunities, transitioning away from research over several years.
"Funding streams were reducing in volume and the environment was becoming more competitive," Andrew Tobin said. "People you used to work with collaboratively before were starting to become competitors for funds. And that was no fun at all.
"More importantly, we were finding the research we were doing, which was supposed to inform better fisheries management for all stakeholders, just wasn't happening because of political hurdles.
The Tobins say they were doing research projects where they were building relationships with stakeholders, including, most importantly, fishers, and selling them a story about what they might achieve and what they might benefit from by being included in the research for the next two or three years.
At the end of those research projects, they basically felt like they had been telling stakeholders a lie, because there was not the political will to pick up the outputs of the research. "It's really disappointing. We felt we were wasting taxpayers' money, wasting our time and wasting fishers' time. That really stung us both."
The couple began brainstorming ways to move out of academia while still supporting their family. They considered a seafood-based business as a "portal" to educate the community about sustainable fishing and connect potential customers with commercial fishers. 
"For [commercial fishers] to do it themselves is extremely difficult, because just doing the fishing and the running the business side of things is hard enough," Andrew Tobin said. "That's the opportunity we saw, though we weren't the first to do it by any stretch."
They put their scientific training and inquisitive minds to work learning about business – and eating their body weights in fish and chips as research. Since stepping into their own business in 2015, Tobin Fish Tales now has a staff of about 20, including three full-time employees.
Andrew and Renae Tobin with their pupose-built seafood truck that takes fresh fish to 32 townships in Queensland.
 Photo: Phill Copp
Out west
The expansion of the business to include the inland 'fish run' also evolved from the Tobins' network in the seafood sector. While Andrew Tobin was fishing full-time, he met Jim and Viv Peady.
"They used to invite me over to their boat at the end of the day of fishing, and we'd have dinner and Jim would crack out his home brews and we'd have a couple of drinks and laughs," Andrew Tobin says. The Peadys had set up a business delivering fresh-caught seafood to inland Queensland with their own semi-trailer.
When the Peadys were ready to sell up three years ago, Andrew Tobin bought their business, All Wild Seafood, and continued their philosophy of distributing high-quality, sustainably caught seafood to regional Queensland towns.
Andrew Tobin now does regular runs of the All Wild Seafood truck, with his longest trips lasting 19 days and a starting stock of 10 tonnes of seafood. "The idea is to carry enough stock so that we still have a full range for the last few days," he says.
The Tobins' teenage children Elliot and Charlotte have both joined the truck's runs out west. Elliot, in particular, loves the busy pre-Christmas runs, where everyone is extra grateful for their local Christmas seafood supply.
"We find the best seafood we can, reward the fishers for their excellent product and then take it out west to sell it," Andrew Tobin says. "Out west a lot of people appreciate quality, and a lot of people appreciate local."
---
Andy's Spanish Mackerel
Tobin Fish Tales sources its Spanish Mackerel from Bramble Cay, at the northernmost end of the Great Barrier Reef, in waters belonging to the Torres Strait Islanders. Egon Stewart leases the fishing rights to the area and fishes in the treacherous waters with his father and grandfather. Andrew Tobin has joined the Egon's fishing expeditions in the past, as a researcher and as a fisher.
Spanish Mackerel is Tobin Fish Tales' signature fish and Renae Tobin says it is popular among the shop's Torres Strait Islander clientele, who call it "their" fish. It's a mild-flavoured and affordable fish that retains its moisture if cut and cooked well. It's also one of the few local fish available in the high volume the Tobins require.
---
Sienna's wild-caught Barramundi
Sienna Green is a 21-year-old commercial fisher who works alongside her partner Dale and parents Neil and Leanne in the salt pans and muddy creeks around Townsville. Calling themselves the Green Team, they fish, fillet, trim, cryovac and pack the Barramundi they catch overnight, and deliver directly to Tobin Fish Tales. Andrew and Renae have known the Greens since 1998, when Leanne was pregnant with Sienna