Excess fuel use and unwanted bycatch are ongoing challenges for trawl fishing in Australia and around the world
By Matt Broadhurst, Steve Kennelly and Ian Knuckey
Around the world, research teams, including fishers, scientists and managers, have strived to improve the process of trawling for fish to reduce unwanted catches and improve fuel efficiency by reducing drag from nets.
A recently completed systematic review of more than 200 scientific reports, encompassing about 40 fisheries and 147 species, has identified lessons Australian fisheries can take advantage of and identified gaps that future local research can help to address.
It is part of a larger project that aims to improve and promote fish-trawl selectivity and efficiency in two important Australian fish-trawl fisheries: the Commonwealth Trawl Sector (CTS) and the Great Australian Bight Trawl Sector (GABTS) of the Southern and Eastern Scalefish and Shark Fishery (SESSF).
Specific modifications for fish trawls used in the CTS and GABTS will be identified and progressed through industry consultation.
The review marks the completion of phase one of the project, which is funded by the FRDC and NSW Department of Primary Industries (DPI). Phase two will involve working with local industry participants to identify research priorities.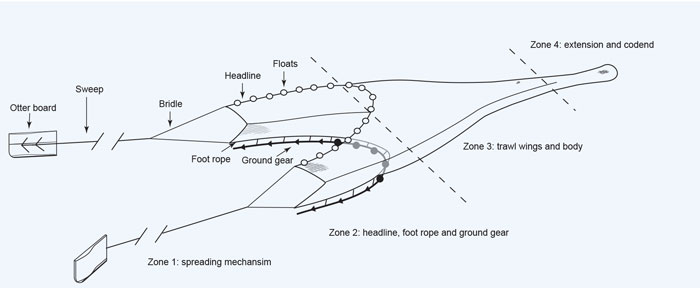 Basic trawl net design. Photo: NSW Department of Primary Industries
Key findings
The international review describes numerous technical modifications to fish trawls and the positive and negative aspects of their testing and adoption.
Much of the research (nearly 75 per cent) has been restricted to European fisheries and especially those targeting cod and haddock, and this has strongly influenced the choice of modifications tested elsewhere.
Most efforts have focused on the back end of trawls, by increasing or varying mesh openings in codends to match the sizes of unwanted catches via larger, diamond-shaped mesh, or turning meshes 45 degrees or 90 degrees, either throughout or as strategically placed windows. In some fisheries, different grids have also been shown to work well at either excluding some undersize fish or large unwanted animals (for example, sharks and rays).
Relatively few studies have modified the front sections of trawls. Some changes to panels and rigging have realised selectivity benefits depending on the species, and this area has the greatest potential for reducing drag and, therefore, fuel and operating costs.
The successful adoption of modifications has required very close industry consultation throughout all stages of development.
The review also found a large amount of repetition between studies, attributed in part to problems with scientific replication and uncontrolled or confounded factors in experimental designs. This suggests rigorous, standardised, scientific assessments combined with close stakeholder liaison are almost as important as the modifications being tested.
Specific modifications for fish trawls used in the CTS and GABTS will be identified and progressed through industry consultation.
The review identifies a framework for resolving key issues in the research and testing process, depending on the options tested or available in a particular fishery, which allows for modifications to address the unique biological, environmental and technical factors of specific fisheries.
A 'toolbox', or suite of possible modifications, that might be applied depending on specific issues in a fishery has been developed from the review.
Available modifications can be assessed with a focus on either simple or more complex options. Simply reconfiguring codend mesh could improve trawl selectivity. A more complex modification might involve changing the front end of the trawls to improve overall efficiencies.
The results of the review have been presented to fishers through the South East Trawl Fishing Industry Association and the Great Australian Bight Industry Association. The review has also been submitted to an international scientific journal for publication.
During the next phase of the project, the research team will work with SESSF trawl fishers to further investigate and support the widescale voluntary adoption of appropriate best practice technologies to reduce bycatch and improve efficiency in Australia's fish-trawl fisheries.
More information
Matt Broadhurst, matt.broadhurst@dpi.nsw.gov.au
FRDC RESEARCH CODE: 2019-027