A joint approach with recreational fishing stakeholders is expected to drive the future of the FRDC's research investment in the sector
By Annabel Boyer
The face of recreational fishing in Australia is changing. Not only is there greater professionalisation in the sector, but recreational fishers have emerged as effective advocates and stewards of the environment, a role that may have seemed incongruous not so long ago.
Image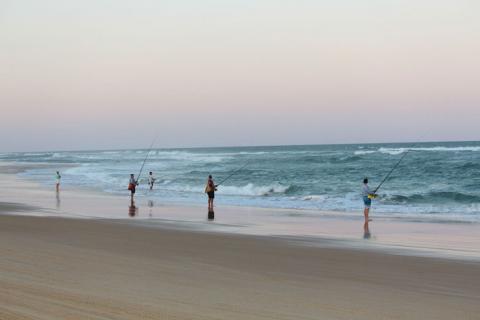 Investing in people and habitat management are priorities for the recreational fishing sector.
Photo: Unsplash/Frankie Dixon
Another change is the widespread uptake of recreational fishing apps and the data streams these subsequently generate. That move is generating better visibility and understanding of a sector that, in the past, has been difficult to get a handle on.
With these changes in play, the FRDC will reset the way it engages with Australia's recreational sector to improve the impact of its research investments. It will close its Recfishing Research subprogram, which has previously provided support for relevant research, and transition to a new research partnership model with sector stakeholders.
Moving forward, there is agreement that a joint approach between the sector and the FRDC is required to most effectively address issues and take advantage of the many emerging opportunities.
Discussions are currently underway with recreational fishing peak bodies and other sector stakeholders about the potential vehicles to encourage investment in joint projects.
Aligned with this, representatives from the sector attended an April meeting with the FRDC's board of directors, providing presentations about what they see as some of the priorities.
Among the speakers was Andrew Rowland from Recfishwest, Cassie Price, national director of habitat programs with OzFish, and Adam Martin, executive officer of the Australian Recreational Fishing Foundation (ARFF). 
Capacity building
Rowland said there was a need to invest in both people and systems.   
"One of the strategies for the rec sector is capacity building in people and the systems that support them. How do we effectively utilise our existing expertise and structures to get better input into policy and resource sharing discussions?"
Telling a new story
OzFish is an organisation that supports rec fishers around the country to undertake activities to repair and care for fish habitat.
Price spoke of the need to build a narrative around the emerging importance of rec fishers as effective and dynamic environmental stewards, using evidence to both build that narrative and understand how best to craft it effectively.
"It is important to understand how the rest of the community views rec fishers, so that we can start to raise the profile by showing the impact rec fishers are having as stewards through citizen science, habitat restoration and spreading that knowledge.
"It's important to gather the data and evidence to tell that story through projects that do things like quantify the positive effects of catch and release and the involvement of rec fishers in habitat restoration," she said.
Greater engagement
Martin said greater collaboration between researchers and engaged, knowledgeable rec fishers could be of great benefit to all.
"We need the resources to more effectively engage the rec sector and citizen science is a critical component of stewardship."
Another item high on the ARFF's agenda is to develop a data policy, so that data streams being generated from the myriad of recfishing apps around the country can be effectively used to drive beneficial policy and commercial outcomes.
"We need to work out how best to use it in order to make informed decisions and develop revenue streams," Martin says.
"If we take the lead in a culture that is inclusive, working together in data collection to determine the problems and necessities we need to address, and by developing products and services for these problems, we can build capacity within the current and future generations of recreational fishers, employing them as forward-thinking world-class stewards of fishes.
---
More information
Christopher Izzo, FRDC,
christopher.izzo@frdc.com.au