Annual awards that recognise efforts to develop and promote sustainability are proving a successful point of engagement in the seafood value chain
By Brad Collis
The fifth annual Australian Sustainable Seafood Awards, announced on 8 March, reveal the extent to which the Australian sector – from producers to processors to retailers – is increasingly committing to the long-term sustainability and quality of marine food resources.
The award categories are fine-tuned each year by the Marine Stewardship Council (MSC) as part of a carefully planned strategy of awareness raising in industry and among consumers. In 2021 this was done in partnership with the Aquaculture Stewardship Council (ASC).
MSC program director for Oceania and Singapore Anne Gabriel explains that the MSC, a voluntary certification scheme, is overtly market-based. "To incentivise more and more fisheries to board the sustainability bandwagon, we must create demand for sustainable fisheries," she says. "So there is a lot of focus on the consumer end of the supply chain."
The blue MSC label or the green ASC label on seafood provide effective point-of-sale guides for consumers. However, Gabriel says the larger objective is to deepen the relationship between consumers and suppliers to drive a fundamental shift in sustainable production and increased consumption.
Consumer trust
Every two years the MSC commissions consumer research in more than 20 key markets around the world to gain insights into consumer trends and attitudes towards issues such as climate change, conservation and sustainable food production. It is the largest seafood consumer survey of its kind.
"In Australia we have been seeing both trust and understanding increasing, which is a much stronger barometer than just awareness," Gabriel says.
"That's why the supermarket awards category is so important. Most consumers buy from supermarkets. In addition, because of COVID-19, we have also seen the increase in online shopping and consequently some really strong movement by independent retailers and fishmongers in sourcing sustainable seafood."
Gabriel says that while everyone in the sector has an interest in ensuring stocks continue to be healthy, the awards, begun in 2015, help to further stimulate "market movement" and product demand.
"It also takes vision and gumption by businesses because it needs to be a lifetime commitment, and the awards recognise the effort that this takes."
This level of commitment is reflected in awards going to companies that have won previously but are continuing to increase their sustainability initiatives. It includes major fishing companies
and supermarkets, along with smaller retailers that have signed up to the MSC program because of their belief in the community benefit.
The awards cover both wildcatch and aquaculture.
Recognising effort
Among the major awards, the Best Sustainable Seafood Product was won for the second year running by Austral Fisheries' Glacier 51 Toothfish. The award was shared with the Fremantle Octopus product range.
The award to Glacier 51 Toothfish follows its recent recognition as the world's first carbon neutral seafood. The fishery is located around Heard Island, 4000 kilometres south-west of Perth. Fremantle Octopus produces a range of raw, cooked and marinated octopus from the Western Australia octopus fishery, which has been MSC certified since 2019.
KB Seafood Co's ASC-certified kingfish won the Best Responsible Seafood Product. The KB Food Company received this award for Yellowtail Kingfish sourced from Clean Seas Seafood Limited in Spencer Gulf, South Australia.
Anne Gabriel says all the major supermarkets are today engaging with the MSC program; however, Coles Supermarkets, through its chain-of-custody certified fresh fish counters, has been the trailblazer.
This was recognised in this year's awards with the company receiving the top award for Best Sustainable Seafood Supermarket, and commendations in the Sustainable Seafood Product category for its WA rock lobster, and in the ASC Responsible Seafood Importer category.
The latter category was won by leading food distributor Bidfood for its commitment to sustainable sources of both domestic and imported seafood.
The Community Champion Award was won by Harley and John's Seafood in Wollongong, New South Wales, for its dedication to serving sustainably sourced seafood to the Illawarra district.
This year's awards were judged by a panel representing the sustainability and environment sectors, including Fairtrade Australia and New Zealand, OceanWatch Australia and the Ocean Future Fund.
Image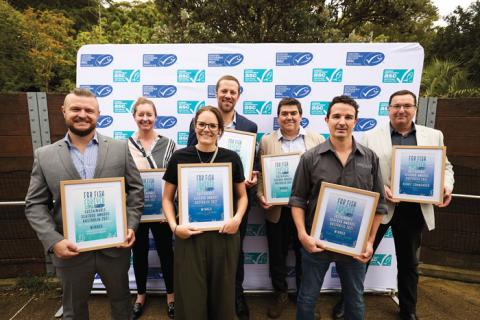 Award winners, from left, Simon Topatig, KB Food Company; Caitlyn Richards, Coles Supermarkets; Devon Long for Austral Fisheries; Bill Wall, Woolworths; Mark Boulter, Bidfood; Grant Logue, Harley and John's Seafood; and Brett Patience, Bidfood. Photo: MSC
---
Award winners Best Sustainable Seafood Product – MSC
Glacier 51 Toothfish –Austral Fisheries
Fremantle Octopus Range – Fremantle Octopus
Highly commended:
Crumbed Australian Prawn Cutlets – Bidfood
Just Caught Crumbed Fish Fillets Multiseed – KB Food Company
Coles Western Australian Rock Lobsters – Coles
OceanRise Pink Salmon 130g – ALDI
Best Responsible Seafood Product – ASC
KB Seafood Co. Kingfish – KB Food Company
Highly commended:
Woolworths Smoked Oysters – Woolworths
Responsible Seafood Importer – ASC
Highly commended:
KB Food Company
Coles Supermarkets
Best Sustainable Seafood Supermarket – MSC
Community Champion Award
Harley and John's Seafood, Wollongong
Lifetime Achievement – MSC and ASC
---
Lifetime achievement
The MSC and ASC Lifetime Achievement Award was presented to Keith Sainsbury, a Tasmanian-based marine ecologist and mathematical modeller and former FRDC director.
Sainsbury was recognised for his significant contributions to advancing sustainable fisheries management through more than 20 years with the CSIRO and, more recently, with the Institute for Marine and Antarctic Studies (IMAS) at the University of Tasmania.
---
Shared vision
The Marine Stewardship Council (MSC) and the Aquaculture Stewardship Council (ASC) share a common heritage and vision that global seafood supplies should be sustainable, responsibly managed and supported by secure supply chains.The MSC is on a mission to end overfishing and protect the last major 'wild' food source.
The ASC's mission is to elevate 'fish farming' in the eyes of consumers through building confidence and trust in aquaculture and its processes.
Both organisations are working towards changing consumer shopping behaviour and preference when buying seafood.
The Sustainable Seafood Awards coincide with Sustainable Seafood Week, an MSC and ASC initiative to raise the profile of their efforts to steer the world's seafood markets towards environmental sustainability and social responsibility.
Seafood carrying the blue MSC label is wild caught by fisheries that have been awarded third party certification based on a range of sustainability criteria. Seafood carrying the green ASC label is farmed to strict standards governing product quality and animal health.
---
More information
Anne Gabriel,
Marine Stewardship Council
anne.gabriel@msc.org