The need for gender equity and to harness the power of women in solving pressing global problems was the focus of a recent event for Australia's women in seafood
By Jennifer Marshall
The aspirations of women in fisheries and fisheries science were highlighted during an International Women's Day event on 8 March 2021, hosted by Women in Seafood Australasia (WISA).
Image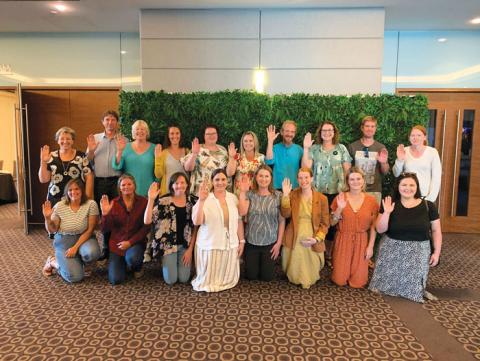 Choosing the challenge of action, members of Women in Seafood Australasia attended a screening of the documentary The Leadership, which provided a focal point for discussion on International Women's Day. Photo: Andrea Broadfoot
The combined in-person and online event included screening of the documentary The Leadership about the flagship voyage of Homeward Bound, a transformational leadership initiative for women in science, technology, engineering and mathematics (STEM) from around the world. It follows leader Fabian Dattner and her team as they dive into gritty issues with a cohort of 76 women in STEM during an intense 22-day oceanic journey into Antarctica. 
The setting of the voyage itself carries deep meaning; Antarctica stands as a powerful symbol of the urgency for change and the high stakes involved in whether humans succeed or fail to engender balance in a complex and complicated world. 
WISA president Karen Holder says there are many women who work in science among WISA members. "The film felt like a great opportunity to highlight key issues which are relevant to our members and create visibility for women in seafood."
The event was held at the Port Lincoln Hotel, with the live viewing of the documentary followed by an online panel allowing the almost 40 participants to compare experiences and share ideas.
Kate Brooks, FRDC director and sociologist, was among the panellists who represented female seafood industry leaders from across Australia.  She was joined by Claire Webber, director on the WISA Board, and Molly Christensen, a senior technical officer at the Institute for Marine and Antarctic Studies (IMAS). 
"It's important to work with people who align with and support your goals," says Brooks. "Women as individuals should strive not to shy away from pushing in to do what they aspire to without constraint."
The panel discussion also highlighted a consensus that the changes needed will require work from all genders, and that no one gender can address these issues alone. 
This means breaking down fears and stigma around differences in our needs and our ways of working and solving problems. 
A critical gap identified as needing persistent attention and diligent effort is the gender disparity in leadership in STEM. 
In Australia, the Department of Industry, Science, Energy and Resources found there is still a strong disparity in the representation of women in STEM and in their pay compared to men. As 
of 2016, only 17 per cent of STEM workers were women, and in science they earned an average of 12.4 per cent less than their male counterparts. 
Vulnerability was also a strong topic of discussion. Panellists and attendees alike emphasised the ongoing need to protect women from assault in every context, and the urgent need to prioritise physical and mental safety. 
All attendees were challenged to consider what they would do to continue momentum for greater equity in both the seafood and STEM sectors. 
Holder says one important step WISA is taking, with the support of the FRDC, is a project to benchmark who the women in seafood are and where they are, and then to find ways to support and promote effective participation in the sector.
The International Women's Day event was a positive reminder of the importance of taking action: our actions make all of us leaders, and when we learn together we lead together. 
FRDC RESEARCH CODE 2018-174
More information
Karen Holder, WISA
president@womeninseafood.org.au