Peter Horvat, general manager communications, trade and marketing, shares some parting thoughts and thanks on leaving the FRDC after 17 years
By Peter Horvat
Last year was a year like no other. It asked much of everyone, and for many it gave them time to consider who they are, where they are and, more importantly, where they want to go. I am one of those who has thought long and hard about this. This is my way of saying that, after 17 years, I am leaving the FRDC.
Looking back over these 17 years, I think some of my more significant contributions have been how the FRDC communicates and engages, as well as driving research to better understand the community's perception of fishing and aquaculture. The role has provided me so many challenges, experiences and friendships.
Image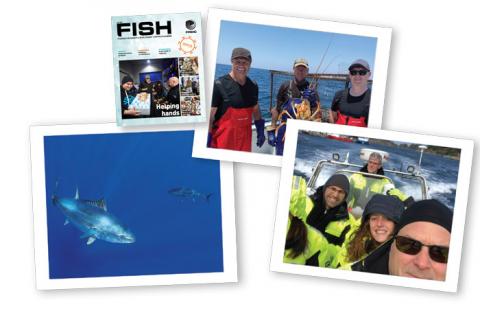 Diverse communication and engagement activities feature among Peter Horvat's career highlights.
Photos: FRDC
FRDC highlights
Before exiting stage left, I would like to share some of the highlights of my journey, including.
working with nine ministers and their staff (Duniam, Colbeck, Littleproud, Ruston, Burke, Ley, Ludwig, Abetz and Macdonald);
writing 17 annual reports and annual operating plans and working on three R&D plans;
editing and producing 69 editions of FISH magazine. Building it up from the R&D News (in memory Mal Maloney and Duckie) to a highly respected magazine with readership that covers the breadth of fishing and aquaculture stakeholders (the goal is for every licence holder to get a copy);
being involved in the production of one documentary (Life on the Line: the story of the Southern Bluefin Tuna), two television series (Escape Fishing with ET and Seafood Escape with ET), and the media created for industry by Matt Blyth at Millstream;
developing a longitudinal community perceptions dataset (thanks, Michael Sparks);
working on the Status of Australian Fish Stocks Reports;
developing the Australian Fish and Chips Awards;
running conferences and trade tours (here and overseas);
undertaking hundreds of media requests and interviews; and
working with many FRDC-funded researchers on almost 2000 projects.
I thank the many people who have been part of that journey.
When starting in a new role anywhere, having technical expertise is good. However, when you work for an organisation such as the FRDC, you also need topic knowledge – something I apparently did not have enough of … just ask Roger Edwards, who told me "yeah, we didn't think you knew much, but a couple of years later I am glad to say you do know things …".
Value in relationships
Knowing the details largely comes from time spent listening to stakeholders across the country. Industry members and associations continue to show a level of resilience and friendship that is hard to find anywhere. There are a few whom I would be remiss not to note. These are Stuart Richey, Annie Jarrett, Tim Hess (as well Peter and Una), Brian Jeffriess, David Carter, Andrew Puglisi, Sam Gordon, Ben Hale, Andrew and Renae Tobin (the researchers who saw the fish and chip sign and haven't looked back) and Kath and Tom Long (who are true innovators). Lastly, there are two who I want to specially thank: John Susman and James Fogarty. Both are incredibly knowledgeable and generous with their time and wisdom.
On the other side of industry are the state and territory fisheries agencies and staff. Again, a remarkable group who have the tough task of trying to keep everything in the green. In particular, thanks go to Ian Curnow, Sean Sloan, Gavin Begg, Nick Rayns and those who have come before them.
In addition, a number of people spread across the globe have helped me on my journey. These include the members of the International Coalition of Fisheries Associations (ICFA), in particular John Connelly, and Gavin Gibbons and Lynsee Fowler at the US National Fisheries Institute, Marcus and Hazel at UK Seafish, Alastair Macfarlane, Kathryn Stark, Karen Galloway and Tom Rossiter (thanks for the craic).
Outside fishing and aquaculture, there are 15 Rural Research and Development Corporations that have been constant companions. While on occasion I have sat at the big table with the chairs and CEOs (and Tim Lester), most of my time has been spent working with the many communicators and marketers. Individuals like Kylie Dunstan (Grains Research and Development Corporation and now Isentia), Ruth Redfern (Cotton RDC), Kate Harvey (Wine Australia), Lachlan Bowtell (formerly Meat & Livestock Australia) and Emily Mackintosh (previously at Pork Australia).
For a big part of the last decade, I have also had the privilege of working with many talented people in food service, primarily as a result of the Appetite for Excellence awards program. Key to this were founders Luke Mangan and Lucy Allon. Many others have also been part of the program, in particular Richard Ousby, Colin Barker, Jake Nicolson, Josh Niland and, of course, Nick Hill. Many other chefs and foodies have also been part of my journey – Pete Manifis and Don Hancey, Pete Hilcke, Brigid Treloar and many more.
Helping deliver all the content have been the creatives. A group that takes my rambling and disparate thoughts (creative insight) and turn them into things of beauty (and, in some cases, works of art). A great big thanks go out to Lindsay Davidson at Whitefox and Allison Mortlock at AngelInk, Matt Blyth, Andrew Ettingshausen, Will and Hanna Meppen and the team at Coretext, in particular Catherine Norwood, Brad Collis, Adrienne Dolphin, Tim Claeys, Fiona James and the many, many writers who have graced the pages of FISH magazine.
Lastly, a mention goes to all the FRDC staff and directors past and present. Working at the FRDC is a unique experience for most. They get to do more, see more and become more than almost anywhere else I have worked. Many I have known for a long time – Peter Dundas-Smith and John Wilson (those responsible for employing me) and Annette Lyons, Crispian Ashby and Patrick Hone who were there from day one.
To my team – Annabel Boyer, Ilaria Catizone, Angela Tsang and the comms/ICT team of Kyaw Kyaw Soe Hlaing, Dennis Payne and Lee Armson, thank you. You put up with my plans (crazy and otherwise) to create, communicate and deliver day in and day out. Last year during COVID was a testament to this with the team producing five editions of FISH, starting a new e-newsletter and being happy to call industry across the country to touch base. You guys are awesome!
So farewell for now, travel safe, enjoy the ride and thanks for all the fish!
Fishy futures
As I leave the FRDC I cast my mind to FISH magazine and all stakeholders across Australia who enjoy reading it. The overarching objective for all the communication activities and, in particular, for FISH magazine is to improve how they operate, improve adoption of the R&D and build a strong fishing and aquaculture community. Over the years the team has driven change, and incorporated changes based on feedback from readers. Some, like the previous FISH writer Mal Maloney, have sent some solid suggestions for the magazine – such as stories focusing on the people as much as possible.
I am sure the FRDC's communications team will continue to develop it into an even better publication, reaching even more stakeholders. In the age of COVID-19 and the digital renewal, FISH magazine will expand what can be delivered online, but when a large number of your audience spends most of its time at sea or in remote areas with limited connectivity, there remains a need for the old-fashioned ink on paper to engage their minds.
I look forward to seeing where the team will take the magazine in the future.
Image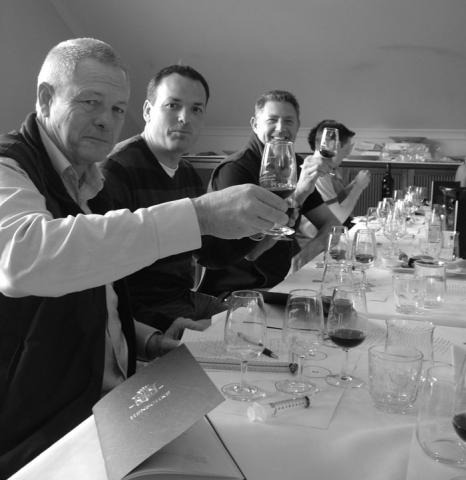 A younger Peter Horvat (second from left) with Tom Clancy from NSW Department of Primary Industries (left) and WA chef Don Hancey (right).
Photo: FRDC
New day, new role
Post-FRDC, I will be taking on the role as manager of the AusIndustry engagement team. AusIndustry's role is to support Australian businesses to grow and transform for the benefit of all Australians. Programs include the R&D Tax Incentive and Entrepreneurs program, which a few fish folk have participated in.
The role will see me doing something I am passionate about, supporting businesses, helping them build connections and networks and tell their stories, albeit across a much wider range of industries.
Looking forward to keeping in touch – and look me up if you want to conquer the world!