A hybrid event will allow people to gather in person in Adelaide, and online from around the world, to share the latest research driving a sustainable future for our fisheries
By Catherine Norwood
After a year of disruption resulting from the COVID-19 pandemic, the eighth World Fisheries Congress (WFC2021) is back on. Early bird registrations for the event in Adelaide in September are closing at the end of June.
WFC2021 will run from 20 to 24 September at the Adelaide Convention Centre, with the theme of 'Sharing our oceans and rivers – a vision for the world's fisheries'. A hybrid format offers in-person or virtual attendance.
Image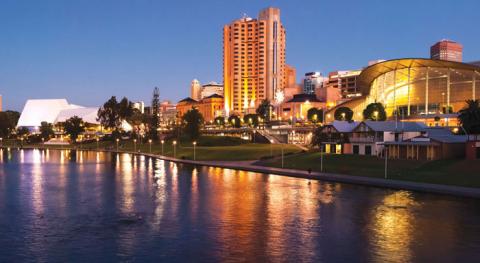 Adelaide will host the World Fisheries Congress in September, with virtual attendance also an option.
Photo: Shutterstock
The congress is the largest international gathering of fisheries research, industry and management sectors. Normally held every four years to discuss the latest advances in fisheries worldwide, it aims to foster cooperation and engagement in commercial, recreational and Indigenous fisheries.
World leaders in research, industry and international fisheries policy are expected to provide inspiring forums on key developments needed to ensure the future sustainable development of the world's oceans, lakes, estuaries and rivers.
Organisers say the response to the call for presentation and poster abstracts was overwhelming with more than 1400 submissions under the four key themes:
Sustainable Fisheries (Assessment, Regulation, Enforcement)
Fish and Aquatic Ecosystems (Biodiversity, Conservation, Ecosystem Function, Integrated Management)
Fisheries and Society (Contributions to Sustainable Development)
Future of Fish and Fisheries (Innovations in Fisheries).
With multiple concurrent sessions over four days, the program is set to be dynamic, comprehensive and engaging. The congress is expected to attract about 1500 delegates and they will have access to recordings of all sessions for up to six months after the event.
The FRDC and the Government of South Australia are founding sponsors for the WFC2021. CSIRO and the US National Oceanic and Atmospheric Administration (NOAA) are premium sponsors and Austral Fisheries is the event's major industry sponsor.
Austral Fisheries CEO David Carter says events such as WFC2021 provide important forums for learning about the global challenges facing fisheries and the enormous opportunities for growth, innovation and change.
"It provides a unique opportunity for representatives from commercial, recreational and Indigenous sectors to come together and engage on topics that concern the fishing industry as a collective," he says.
"It's an important opportunity to raise awareness of the fantastic work being done to develop safer and more sustainable fisheries for the future."
Keynote speakers
Ambassador Peter Thomson, who is the United Nations secretary-general's special envoy for the ocean, will deliver the opening keynote address. His role with the UN is to drive global support for the UN Sustainable Development Goal 14, to conserve and sustainably use the ocean's resources.
The Fijian diplomat is a founding co-chair of the Friends of Ocean Action. He is also a supporting member of the High Level Panel for a Sustainable Ocean Economy, of which Australia is a member.
Plenary speakers will include:
Martin Exel of Austral Fisheries, who is also the managing director of SeaBOS (Seafood Business for Ocean Stewardship). This is a collaborative venture involving 10 of the world's largest seafood businesses and the Stockholm Resilience Centre in Sweden, which aims to transform wild capture and aquaculture fisheries to sustainable seafood production and promote a healthy ocean, globally.
Meryl Williams has more than 40 years' experience in fisheries, aquaculture, conservation and human development. Her past roles include director-general of WorldFish, director of the Australian Institute of Marine Science, and executive director of the then Bureau of Rural Sciences (Australia). In her recent work Williams focuses on trends in fish value chains, impacts on women and gender equality, and public knowledge for responsible fish production.
Matthew Osborne is a Kaurna and Narungga man with extensive experience in Indigenous fisheries. As program leader, aquaculture and regional development in Northern Territory Fisheries, he oversees a range of Aboriginal and industry development programs and supports small-scale fishing and aquaculture operations in remote Aboriginal communities.
Beth Fulton is a principal research scientist with CSIRO Oceans and Atmosphere. Her work focuses on sustainably managing multiple uses of marine environments and adaptation to global change, including effective means of conserving and monitoring marine and coastal ecosystems.
International speakers will include:
Toyoji Kaneko from the University of Tokyo, who will offer insights on behalf of his colleague Katsumi Tsukamoto, an expert on freshwater eel biology, ecology and conservation in Japan, who is unable to attend.
Manuel Barange, director of the Fisheries and Aquaculture Policy and Resources Division at the Food and Agriculture Organization, will provide an overview of climate and anthropogenic impacts on marine ecosystems and related management and policy needs.
Ratana Chuenpagdee a professor at Memorial University of Newfoundland in Canada, will address the major global research partnership she leads, 'Too Big To Ignore', which is raising the profile and importance of small-scale fisheries in national and international economies.
Kerstin Forsberg, founder and director of Planeta Océano, will discuss the Peruvian non-profit organisation empowering coastal communities in marine conservation through research, education, policy and sustainable development efforts.
Nicholas Mandrak, a professor and director of the University of Toronto's Conservation and Biodiversity master's program, will present
on research related to freshwater fisheries conservation, on behalf of Olaf Weyl who was chief scientist at the South African Institute for Aquatic Biodiversity.
Business participation grants
WFC2021 business participants are invited to apply for the Australian Federal Government's $50 million Business Events Grant program. This offers up to 50 per cent of eligible costs to support attendance, with grants of between $10,000 and $250,000 available.
Expenses can include but are not limited to travel, accommodation, registration, exhibition costs and sponsorship packages.
Grant applications close on 30 June or earlier if the funding runs out. Visit the Business Events Grant program website for more information.
To discuss WFC2021 sponsorship or exhibits, contact event coordinator Rebecca Gabriel rebecca.gabriel@aomevents.com.
Early bird registrations end on 28 June, after which standard registration rates apply.
To register, go to www.wfc2021.com.au
---
More information
World Fisheries Conference 2021
Indigenous heritage  
The World Fisheries Congress will be hosted on the lands of the Kaurna people of the Adelaide region.