Fisheries expert in leadership program
The recently announced 28th cohort of the prestigious Australian Rural Leadership Program (ARLP) includes fisheries consultant from Mount Nelson, Tasmania, Andrew Sullivan, who is sponsored by the FRDC.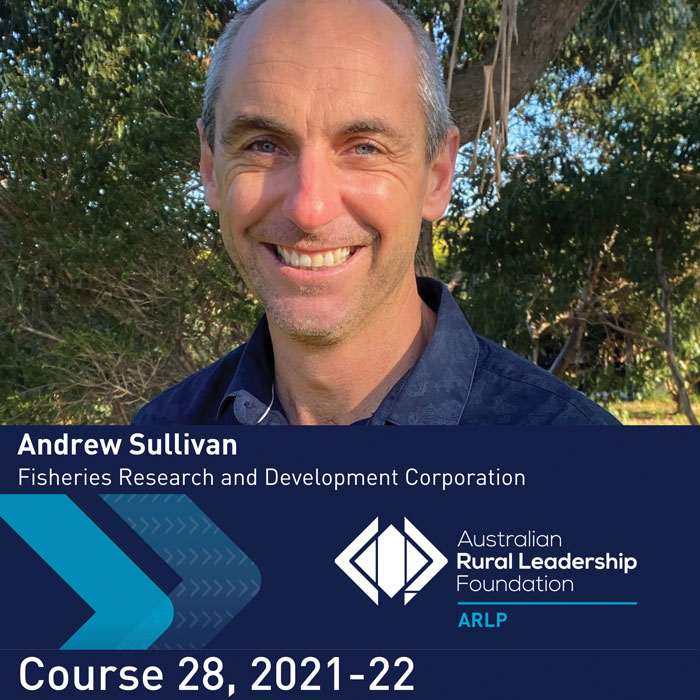 Sullivan is the director of Fish Focus Consulting and the executive officer of both the Commonwealth Fisheries Association and the Bass Strait Scallop Industry Association. He has extensive experience and knowledge of Australia's commercial fishing sector.
The program gives participants valuable opportunities to enhance their capacity and create a network of like-minded leaders to positively influence their organisations, industries and communities. The ARLP is Australia's longest and most in-depth experiential leadership program designed to build leadership capability in people in rural, regional and remote Australia. Participants attend 50 days of experiential learning and mentoring across four sessions over a 15-month period.
The program, commencing in June 2022, will bring together a diverse cohort of 25 to 30 leaders from across rural Australia. f
More information
https://rural-leaders.org.au/our-programs/arlp
---
New FRDC directors appointed
Minister for Agriculture and Northern Australia David Littleproud has appointed seven non-executive directors to the FRDC, five of whom are new to the board.
Directors re-appointed are:
Colin Buxton, Adjunct Professor, Fisheries, Aquaculture and Coasts Centre, Institute of Marine and Antarctic Studies, University of Tasmania; and
Saranne Cooke, director, Leading Age Services Australia, New South Wales
New directors are:
Dr Chris Calogeras, director, C-AID Consultants, Queensland;
Suzanne (Suzi) Hullick, National Head of Indigenous Banking, Westpac Bank, Northern Territory;
Boris Musa, chief executive officer, Mainstream Aquaculture, Victoria;
Alex Ogg, manager, National Energy Resources Australia; and
Lyndal Thorburn, managing director, Viria Pty Ltd, New South Wales.
Assistant Minister for Forestry and Fisheries Jonathon Duniam says the FRDC's mission is to act as a national thought leader, facilitating knowledge creation, collaboration and innovation to shape the future of fishing and aquaculture in Australia for the benefit of the Australian people.
"Research and innovation will play a key role as the sector looks to new opportunities and continues to recover from the impacts of the pandemic.
Outgoing directors are Kate Brooks, Katina (Katie) Hodson Thomas, Mark King, John Lloyd and Lesley MacLeod.
Chair of the FRDC board, appointed separately in March 2020, is former Senator for NSW John Williams. f
More information
https://www.frdc.com.au/about/frdc-directors
---
Industry-led export expansion
An $888,000 grant from the Australian Government has been awarded to Seafood Industry Australia (SIA) to develop and expand markets for Australian seafood exports.
The grant will be used to explore expanding Australia's seafood exports into new markets and markets with high growth potential, such as North Asia, South Asia, the Pacific, Europe and the Americas. Rock lobster and abalone will be a key focus.
Seafood Industry Australia CEO Veronica Papacosta says a key piece of the program will be the creation of a 'one-stop shop' for seafood exporters.
"There is a plethora of information, resources and databases out there for seafood exporters; however, it can be difficult for producers to keep track of them all and know how to find them," Ms Papacosta says.
"We are planning to create a digital platform that will curate all the resources in one place. This will allow our producers to focus their time on delivering the world's greatest seafood to all corners of the globe.
"Importantly, this funding will support whole of industry, regardless of sector or location. It will allow us to immediately put boots on the ground to quickly deliver much-needed support to the sectors who need it most."
SIA will engage two trade export managers to build capacity for seafood exporters across Australia. The grant will also go towards promoting the Great Australian Seafood brand under brand Australia. By working in partnership with Austrade, SIA will help design a promotion schedule for Australian seafood in export markets. f
More information
jessica@seafoodindustryaustralia.com.au