The fishing life wormed its way into Ross Casey's soul, drawing him back to the sea after years as a 'land lubber', despite the rigours of the work
By Larissa Dubecki, Photo Phil Copp
As July rolled around, Ross Casey headed out from his home base in Townsville for what he expects will be his final season chasing Spanish Mackerel (Scomberomorus commerson) in the Gulf of Carpentaria.
He counts himself lucky to have fallen in love with fishing twice in his life, first as a young man, netting Barramundi for a living. Later in life he returned and he has been making a living line fishing for Spanish Mackerel for the past 15 years.
In early July, he departed Townsville with his wife Kalie Obah, taking the seven-day journey to the tip of Cape York on their 45-foot fibreglass boat, Moonshot. Their arrival in Cape York marks the start of six months of work to earn the income that will see them through the rest of the year.
The fishing is tiring, time consuming and sometimes tedious. But Ross, now aged 66, still finds it hard to decide whether he prefers the land half or the sea half of his year.
"We live on the boat, but we have to go into [the northern Queensland town of] Weipa every three weeks for fresh veggies and I just feel my stress levels rising," he says. "I'm always relaxed until I go into harbour. We actually look forward to getting back on the boat and going. It's good to get away from the human race."
Ross wasn't born to a life on the water. He taught himself to fish as a 13-year-old, loved it, and became a commercial fisher. But the responsibilities of adulthood got in the way, with children, a mortgage and other commitments. "I'd been netting Barramundi but sold my boat and got a land job. I was sad to give it up but felt I had no choice."
In the intervening years he became a boilermaker, fitter and turner, and diesel mechanic before turning his hand to teaching at TAFE, specialising in mechanical engineering.
And then fate came knocking in the shape of an impressive fibreglass boat.
"I'd been watching the boat for years.
It was an old prawn trawler in dry storage and I'd asked the owner for six years to sell it to me. One day he rocks up out of the blue and asks me if I still want it. It was mine for $90,000."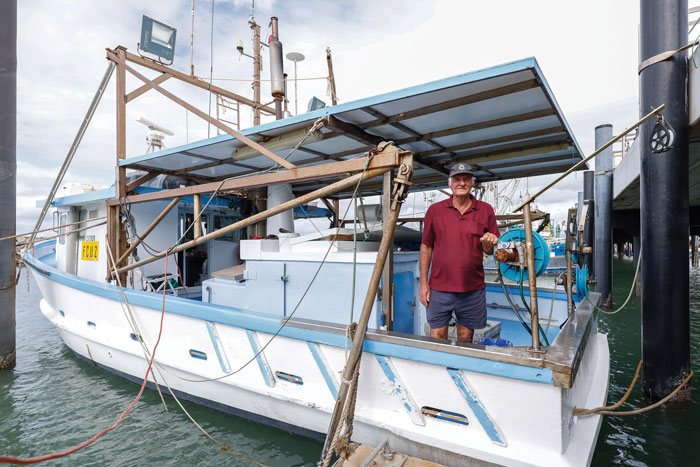 Solace at sea
Four years later he was made redundant and the die was cast, setting him to sea again.
Life on board revolves around the hard graft of commercial fishing. "You get up in the morning, have a shower and defrost the garfish bait, check all your lines and pull your anchor up, and head off to your mackerel grounds and fish all day."
The pace of fishing varies. Some days they get two fish, other days 100, although they average 80.
At night the work doesn't stop. Once the fish have been caught, they need to be processed.
Ross takes them out of the brine tank to fillet them while Kalie prepares the boxes and packs them into the chiller before they wash the boat down ready for another day.
"Sometimes it's 10 o'clock, 12 o'clock, 2am before you're finished. Then you wash the blood and guts off the boat, think about having a meal. Have a bath and a cold drink and go to bed. It's tough work."
The boat is a fully kitted floating home.
There's hot water and a cooktop. Dinner is often pan-fried Spanish Mackerel with lemon juice and salad; sometimes a tin of baked beans. Entertainment comes in the form of a computer hard drive with movies downloaded.
At night they anchor anywhere along the Gulf beaches. "Because the wind blows south-easterly across to the west at Cape York, the land formation shelters you from the wind at night."
They meet a mothership to take on fuel and water and to offload the catch every fortnight, but otherwise their contact with the outside world is minimal. It's not the most glamorous life, Ross is the first to admit, but he likes it. "It's good.
It's just lovely to be out there."
Future challenges
Ross's boat is one of a dozen actively fishing commercially for Spanish Mackerel in the Gulf of Carpentaria.
He sees major challenges ahead for the fishery with falling fish stocks and increasing shark predation of the catch, and he believes the potential contribution of charter fishing to these issues needs greater consideration when stock assessments are undertaken.
Ross believes charter boats are attracting sharks and this is having a real impact on the Spanish Mackerel stock. There are 30 charter boats operating out of Weipa.
He knows all too well the challenges of evading sharks. He has high-speed hydraulic reels on his boat that pull the fish across the surface and out of the water quickly.
But those pulling in lines by hand are more adversely affected, he says. "I can get eight out of 10 fish, but with handlines you can land two and the sharks get eight."
Ross acknowledges that he won't have to face the existential crisis that other Spanish Mackerel fishers may be facing.
The dwindling catch, exacerbated by global warming, which is changing the Spanish Mackerel's spawning season, is biting in monetary terms. His best year saw him take home $220,000, but his worst was last year, when that dropped to $84,000.
He outlines management changes in response to changing stock levels that include a move to close the fishery off the east coast off Townsville for two years, and the introduction of quotas in the Gulf. Under quota, he suspects his allowable catch may not be enough to remain financially viable as a fisher.
Along with the aches and pains of an ageing body, he sees it as a sign that it's time to give up the sea, leaving these challenges to the next generation of fishers and fishery managers.
He says he will miss life out on the water, far from everyone. His wife, Kalie, an Indigenous woman from Palm Island, will miss the trio of Gulf dolphins she has called her pets for the past five years. "She calls them the three amigos," explains Ross. "They come right up to the boat when she calls them and dance for her. They won't do it
for me."
Moonshot is on the market and he even plans to sell his two tinnies when he returns home.
"No more fishing," he says. "I'm going to play pool and enjoy my three grandchildren." f