FRDC is taking a lead role in the Australian AgriFood Data Exchange initiative, which aims to develop digital infrastructure to transform operations in primary production and food supply chains
By Catherine Norwood
A cohesive and secure data value chain has the potential to drive major efficiencies across fisheries, aquaculture and other food production systems. It will provide business insights and operational improvements, and offer marketing advantages.
Image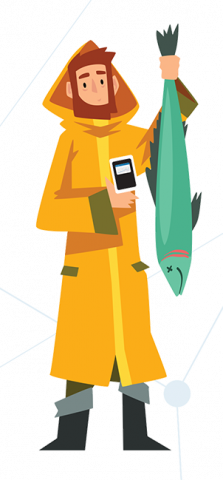 But there is a gap in existing underlying infrastructure and platforms that makes it hard to bring together the greatly fragmented data pools along the primary production supply chain.
To address this gap, the Australian AgriFood Data Exchange was launched in 2021 as a collaborative initiative. It aims to drive the development of an optimised data-sharing platform to meet the present and future needs of primary producers and food supply networks.
Connecting data highway
The vision of the Australian AgriFood Data Exchange is to create an interconnected data highway for Australia's agrifood value chain, enabling permitted, secure and timely access to information along every step of the production and supply chain.
FRDC is one of the leading partners in the AgriFood Data Exchange, which has attracted more than $3 million in funding from a diverse range of industry, government, research and technology partners.
FRDC Managing Director Dr Patrick Hone sees it as critical national infrastructure, with the potential to transform fishing and aquaculture, along with other Australian primary production and food production systems. "It will help address many of the complex challenges that Australian primary producers are facing – continued access to global markets, increasing competition, climate and water related risks, global economic shocks," he says.
He believes it will add value beyond digitising analogue processes and systems. "It will connect fishers and aquaculture operators into their broader communities and supply chains and allow the data that may be stored in many disparate systems to come together as a distributed system.
"The challenges and opportunities of extracting the most from true digital transformation are more than fishing and aquaculture can tackle alone," he says. "That's why the collaboration with other industries and stakeholders through the AgriFood Data Exchange is so important."
In the past year, the AgriFood Data Exchange has undertaken four experiments, testing different data protocols and different user requirements. These include:
Experiment #1:

reducing the burden of regulatory compliance (red meat industry);

Experiment #2:

identifying and anticipating biosecurity risks (wine industry);

Experiment #3:

benchmarking performance to inform decision-making (grains industry); and

Experiment #4:

improving compliance and traceability (fisheries industry).
Results of the four experiments were showcased in late March at a virtual demonstration day. This showed the different methods of enabling data exchange and how these could add value to agrifood industries, with specific use cases across biosecurity, traceability, benchmarking and compliance.
Fisheries use case
Australian Western Rock Lobster (Panulirus cygnus) was chosen as the commercial species use case for Experiment #4. Chair of this project team was Kyaw Kyaw Soe Hlaing, FRDC's General Manager of ICT and Digitalisation. Kyaw Kyaw says the team, while working on showcasing traceability, also addressed other pressing issues such as logistics planning, accelerating quota reconciliation of fishers' catches and streamlining compliance reporting.
The technology partners for the use case were Telstra and IBM, which combined their capabilities and platforms, including Telstra Data Hub and IBM's Blockchain Transparent Supply. Industry partners in the fisheries experiment included lobster fishers represented by the Western Rock Lobster Council Inc (WRL), rock lobster processors Geraldton Fishermen's Co-operative and Indian Ocean Rock Lobster, and the Western Australian Department of Primary Industries and Regional Development (DPIRD).
The aim of the 12-week experiment was to demonstrate how permitted data sharing underpinned by robust security and access control can result in trust and collaboration to unlock more value from collected data.
Mark Cason from IBM says the prototype stitched together existing technologies in a new way. It also resolved the challenges of standardising datasets collected in different ways. It anonymised data when necessary and provided secure specific permissions that allowed the data to be shared between multiple users while meeting privacy, confidentiality and security requirements.
Data possibilities
Under the current manual quota reporting processes in Western Australia, it can take up to two weeks to reconcile landed catch with a fisher's remaining entitlement. In the experiment, the digital exchange of information between fishers, processors and DPIRD provided a near real-time reconciliation – a result that would allow fishers to plan future trips more readily and with more certainty.
Other efficiencies identified through the exchange of data included real-time tracking of catch on-board and landing locations. This would allow processors to coordinate the timely collection of catch from port using vehicles of the right size, while also delivering correct bait needs to fishers, thereby reducing waste.
Matt Taylor is CEO of project partner WRL and says the experiment generated significant goodwill between the industry partners. "There's been a lot of groundbreaking just to take this first step, in terms of sharing information that wasn't shared before and creating new connections.
"It's been a great opportunity to identify how we can resolve the inefficiency in quota reconciliation, but also how we can generate and use new information for current and new innovative uses for fishers, government and researchers," he explains.
"For example, fishers could potentially put lobster grades, bait, fuel and labour costs into a smartphone or tablet app and come up with a trip profitability analysis. They can then compare trips where similar grades of lobster were landed or compare grades at similar times across years and establish industry benchmarks over time."
Taking part in the experiment aligned with WRL's broader digital strategy, launched in 2021. Matt says the WRL digital strategy identifies traceability as essential to the industry's future. Having the right digital infrastructure and protocols to share information across the industry is central to this.
General Manager – Supply Chain Operations at Geraldton Fishermen's Co-Operative Glen Davidson says the ability to exchange data with fishers and DPIRD to better understand who is fishing where and when will provide real improvements from a logistics management perspective. Nikki Thompson at Indian Ocean Rock Lobster agreed, saying the project highlighted how archaic some compliance processes are and the potential gains that digitisation can bring.
Image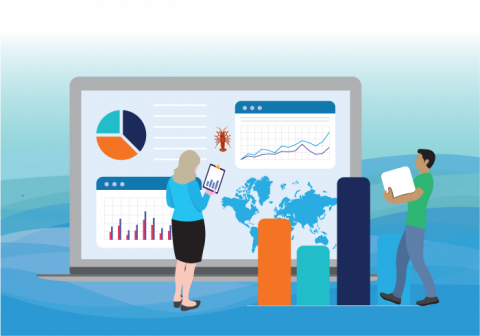 Illustration: Adapted /Creative Market
Future developments
Matt Taylor says all project partners seem keen to move forward with putting the prototype into practice.
The key to being able to do this will be to continue to collaborate and to align each participant's digital projects, leveraging the user stories, future state mappings and recommendations that will come out of the final report for the experiment.
An example is the DPIRD's Fisheries Digital Transformation Project that began recently. The experiment has helped document existing processes for DPIRD, fishers and processors, and provided evidence of what can be achieved.
Matt says that although the current data exchange prototype has been developed for the Western Rock Lobster industry, it provides a model that other fisheries can use, particularly given DPIRD's involvement in WRL's digital transformation program, which could allow for data exchange technology to be rolled out more broadly across WA's fisheries in coming years.
Kyaw Kyaw Soe Hlaing will outline FRDC's vision of a data-enabled future for Australian fisheries, with Matt Taylor discussing the Western Rock Lobster industry as a case study, at the 2022 Seafood Directions conference in Brisbane from 13 to 15 September. f
More information
Kyaw Kyaw Soe Hlaing - kyawkyaw.soehlaing@frdc.com.au;
Matt Taylor - matt@westernrocklobster.org;
Australian AgriFood Data Exchange - www.integritysystems.com.au/ozdata; www.youtube.com/watch?v=UKfIJdyia0M&t=16s;
Ashford Pritchard - apritchard2@kpmg.com.au
FRDC research codes