Published:
26 October 2023
Updated:
30 October 2023
Back to News
FEEDBACK/STORY SUGGESTIONS
Dempsey Ward
Communication Coordinator
+61 2 6122 2134
dempsey.ward@frdc.com.au
A new strategic plan aligning the Australian mud crab industry will strengthen collaboration for economic and environmental benefit. 
The Australian Mud Crab fishery, that operates across multiple jurisdictions, is taking a new national approach to build capacity and collaboration.  
Mud Crab fishers, the post-harvest sector, fishery managers, researchers and FRDC staff came together at a workshop to discuss the future of the industry and a coordinated pathway forward.  The four Mud Crab jurisdictions – Queensland, Western Australia, New South Wales and Northern Territory – were represented along with Victoria's post-harvest sector.  
The workshop, held as part of FRDC project 2018-177, resulted in the creation of the 2023-2028 Australian Mud Crab Commercial Industry Strategic Plan, which included a key recommendation for the creation of a national working group to support Australia's Mud Crab industry.  
By having a clear plan facilitated by a national working group, the jurisdictions hope to improve communication across the industry. This will help identify knowledge gaps or areas of improvement for fishers and fisheries to address. There will also be an opportunity to build capacity with Indigenous fishers as they build greater presence in the commercial sector.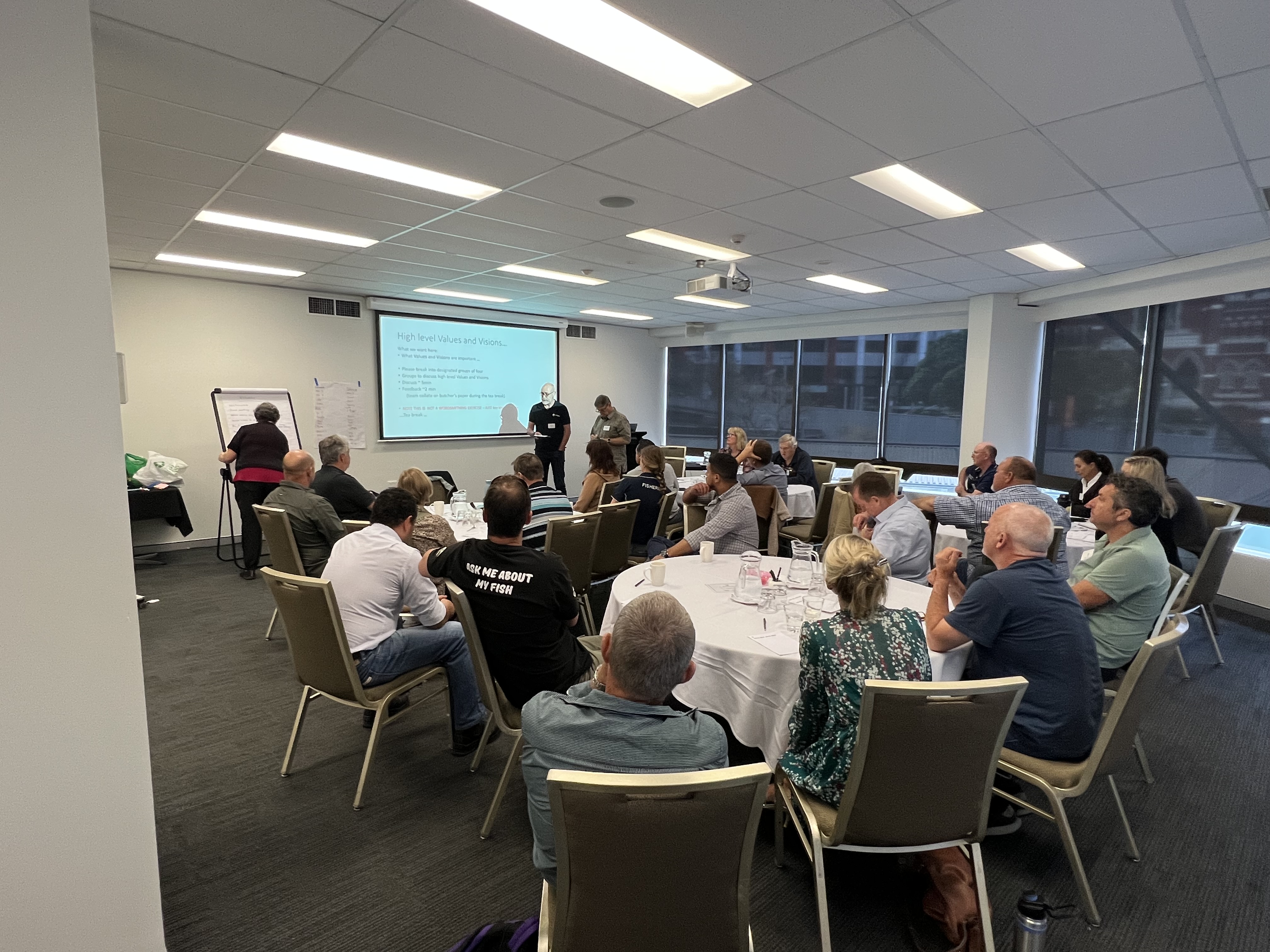 Optimising opportunities 
The developments were sparked in 2019, by a 'light bulb' moment. Director of C-AID Consultants and Principal Investigator Dr Chris Calogeras, who was chair of the Northern Territory Mud Crab Licensee Committee, had asked a NSW colleague for their opinion on vessel monitoring systems and the process they followed. "I thought 'if we're about to do the same thing in the Northern Territory, why would we reinvent the wheel'?", he says. 
Chris realised the Australian Mud Crab industry could benefit from shared research, experience and marketing, turning the small, independent jurisdictionally based industries into a national one that together is worth almost $60 million. 
A subsequent phone call between Mud Crab industry leaders to discuss the status of the individual fisheries and the opportunity for an aligned approach only strengthened his belief that the jurisdictions could benefit from working together.  
"It became apparent that we were all going through similar circumstances, which were quite tough at the time, and we weren't talking very well together," Chris said.  
"We were not optimising opportunities in research, management, marketing or people capacity."  
Market demand 
The same two species of Mud Crab – Scylla serrata. (Giant or Green Mud Crab) and Scylla olivacea (Brown or Red Mud Crab) are supplied to similar markets within Australia and overseas.  
Demand for Mud Crab is strong; however, the market is mainly domestic due to the preference for live products and a highly competitive export market.
"If we came together, we could get a broader understanding of the issues everyone faces," Chris says. For example, species monitoring, R&D and fisheries management would benefit from a coordinated approach. The idea of a workshop was floated to explore the concept of a national approach to represent the combined interests of the industry. It received universal support. 
Meet and greet 
Dr Rik Buckworth was brought into the project as a co-investigator to work with Chris to develop the format, identify key issues and facilitate the workshop that was held in Brisbane in October 2022. 
Over the two-day workshop, talks focused on issues facing the fishery and future-proofing the industry. Representatives discussed how they could improve operations and economic, social, and regulatory outcomes. They also shared their vision, values, challenges, and formulated the idea of a national organisation to represent all jurisdictions.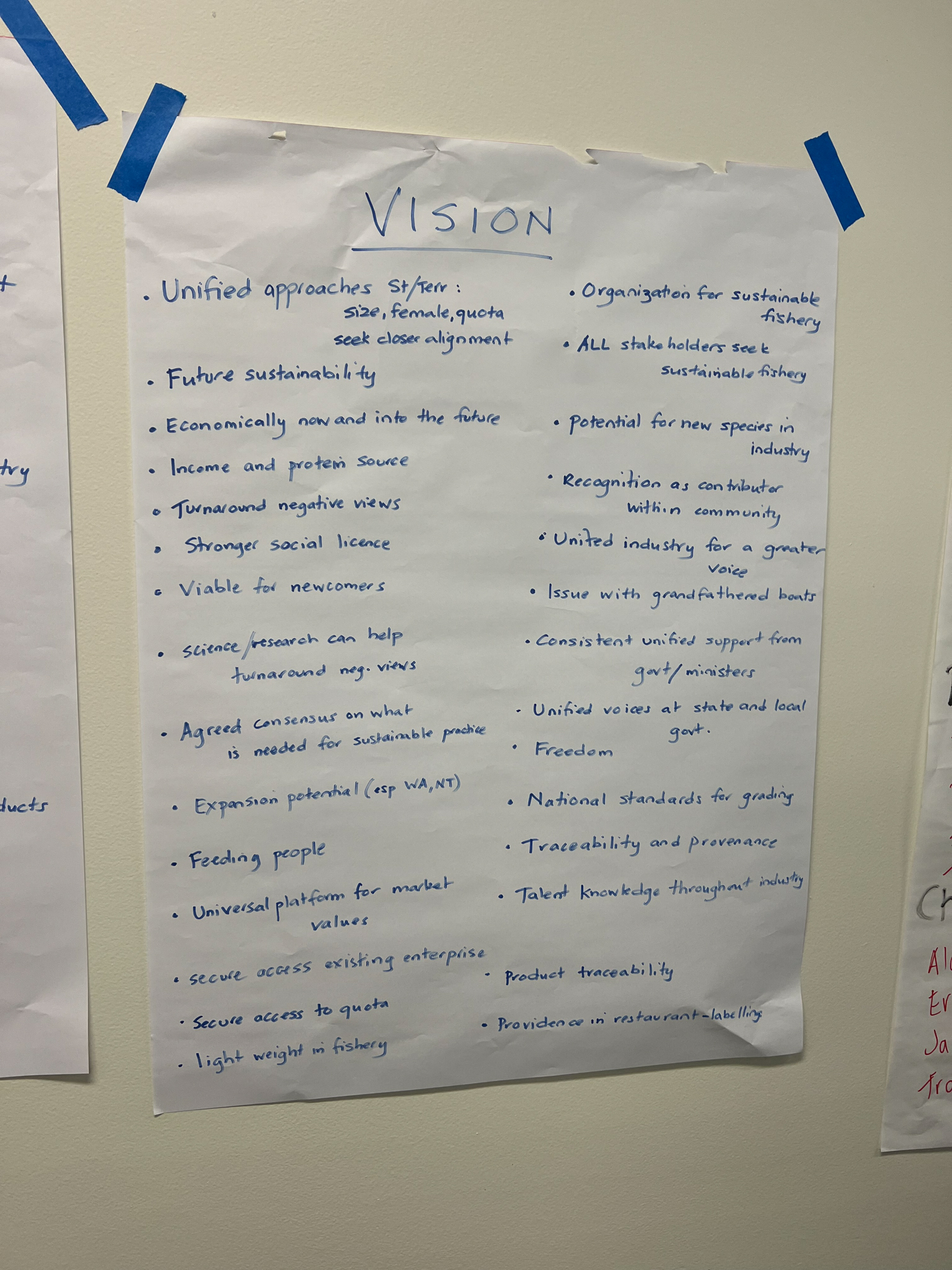 Workshop participants were encouraged to let ideas flow and come up with a plan to make the Mud Crab industry more sustainable and organised. Butcher's paper, post-it notes, whiteboards and computers captured viewpoints and the creation of a shared vision. 
The face-to-face format proved invaluable for brainstorming and generating data used to develop the national strategic plan.  
"The idea was to try to give everybody a chance to have their thoughts captured so we could start to aggregate the ideas and get stuff happening", Chris says. 
Since the workshop, several ideas put forward in the strategic plan have been developed. These include an investment scheme to support technical advances, the improvement of fishing gear and practices, and the implementation of compliance and management plans. An interim national working group was also established. 
Moving forward 
FRDC Research Portfolio Manager Adrianne Laird says moving forward with the strategic plan will showcase the industry as a high-quality Australian seafood provider.  
"We've seen this in other wild catch sectors like prawns, lobster and abalone, where fishers come together with researchers and fishery managers to do this sort of work to develop strategic plans and research priorities, to ensure the long-term sustainability of the industry," she says. 
"It was really encouraging to see all of those different groups working so well together," Adrianne says. "There might be research or management measures that are being used in one jurisdiction that could be suitable to other jurisdictions. So working together, they'll be able to identify these and improve the sustainability and economic outcomes." 
The challenge is to keep up the momentum and ensure the interim working group becomes a permanent fixture. It is hoped further funding will be secured, as well as leaders to champion the process. The next steps will be guided by the working group as it continues to make headway with the national plan. 
"This work is important because it has brought together a sector to operate cohesively and build capacity within the industry", Adrianne says.  
"We need to harness the momentum, so the plan doesn't become another document on the shelf."  
The full strategy can be viewed here. 
Related FRDC Projects 
2018-177: 'If you don't know where you are going, you'll end up someplace else' - Future proofing the Australian Mud Crab industry through improved strategic direction