Published:
12 May 2022
Updated:
19 October 2023
Summary
Aquaculture, commercial and recreational fishing and indigenous stakeholders have identified an opportunity to build capability and resilience in increasingly complex environments, arising from a lack of access and pathways for people working or aspiring to work in fishing and aquaculture. The capability and capacity needed to manage the drivers of change and an understanding of how these changes affect access to employment and business structures in the future has not been fully realised.
Over the next 10 years, 41% of jobs in agriculture, forestry and fisheries will be transformed by technology. One in three new jobs created in these sectors will be tech-related, making digital and data literacy essential. People who can lead, solve problems, think differently and adapt are critical to the success of fishing and aquaculture industries.
FRDC's Capability and Capacity plan, including the C&C Steering Committee (C&C SC) has been established to guide FRDC's capability and capacity initiatives and address key opportunities in FRDC's 2020-2025 R&D (Research & Development) Plan. 
Strategy IV of FRDC's 2020-2025 R&D Plan is to 'Build capability and capacity'.
Capability and Capacity Objectives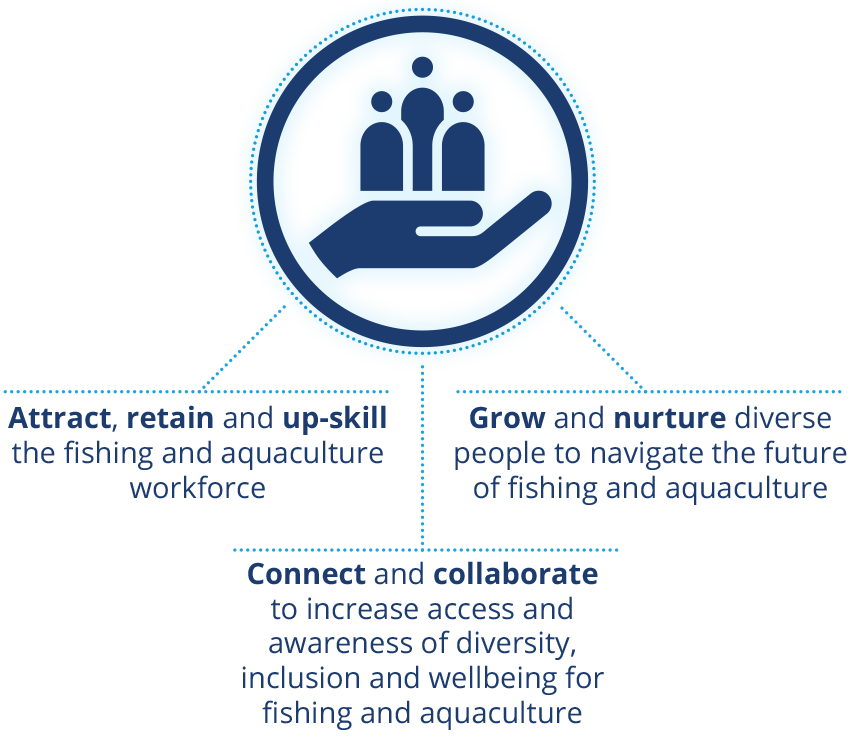 Key Capability and Capacity Investments 
Establish an accurate baseline of who is working in fishing and aquaculture and understanding the diversity of our workforce (2022-034), by assessing and challenging the current methods of collecting data
Partner with Seafood Industry Australia to build Seafood Careers, an interactive online platform showcasing roles and opportunities across fishing and aquaculture, including tools to explore pathways and training (2022-183 and 2022-194) 
Work with Women in Seafood Australasia on Turn the Tide, which is looking to increase the capacity and capabilities of all women and help change the perceptions and culture within fishing and aquaculture. Turn The Tide aims to make workplaces more attractive and encourage diversity, inclusion and wellbeing. 
Work with River & Sea to develop the Recreational Fishing Fundamentals & Vocational development course (2022-033), enabling women across Australia to access resources and networks to commence and continue their recreational fishing journey 
Continue to invest in National Seafood Industry Leadership Program (NSILP) (2022-187), Australian Rural Leadership Program (2022-192) and Nuffield (2016-407) opportunities to grow and nurture the emerging and existing leaders of fishing and aquaculture
Collaborate with Primary Industries Education Foundation Australia (PIEFA) (2022-073) to conduct research and understand current levels of engagement, barriers, and opportunities to position fishing and aquaculture within primary and secondary schools. PIEFA provides a mechanism to showcase fishing and aquaculture and food and fibre more broadly in Australian schools. 
 
Capability and Capacity Media
Contact 
Image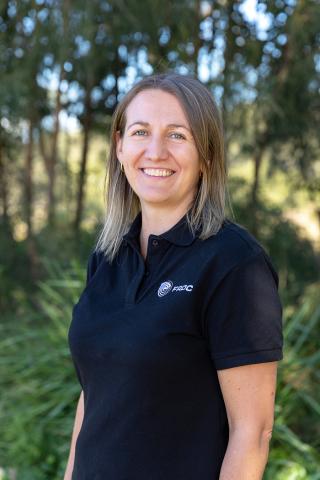 For more information, please contact Sally Roberts, Capability, Capacity and Culture Change Manager on Ph: 0407 186 433 or Sally.Roberts@frdc.com.au
Related Projects
| | | |
| --- | --- | --- |
| Project Number | Title | Status |
| | National Seafood Industry Leadership Program 2018 - 2021 | Current |
| | Women in Seafood Australasia - Understanding, supporting and promoting effective participation by women within the Australian seafood industry | Current |
| | To develop a national marine safety extension resource toolkit and to trial with all fisheries jurisdictions | Current |
| | Aquatic Animal Health Technical Forum and Training workshops | Current |
| | Digital literacy for Queensland commercial fishers stage 1 - Improving business efficiencies  | Current |
| | Engagement for Success: evaluation of engagement events to inform industry management strategies | Current |
| | Aquatic Animal Health Training Scheme 2019-2022 | Current |
| | National RD&E Seafood Industry Safety Initiative | Current |
| | Bursaries to fund three South Australian Recreational Fishing community members to attend the National Recreational Fishing Conference 2019 | Current |
| | Industry travel bursary to attend the Thirteenth Meeting of the Conference of the Parties to the Convention on the Conservation of Migratory Species of Wild Animals (CMS COP13) | Current |
| | SeSAFE – Delivering Industry Safety through Electronic Learning | Current |
| | Australian Society for Fish Biology: Scientific networking, early career development, international engagement and 50th celebrations | Current |
| | Human Dimensions Research Coordination Program 2021-24 | Current |
| | Future proofing the northern Australia aquaculture industry need for skilled staff to 2050 | Current |
| | Building capability in food safety in Australian shellfish | Current |
| | National Seafood Industry Leadership Project 2022 | Current |
| | Safety in Seafood - Saving lives through a culture of safety | Current |
| | Capacity & Capability Steering Committee - Independent Chair | Current |
| | Developing leadership and networking capability in Australian prawn farming | Current |
| | Profiling and tracking change in Australia's seafood workforce: establishing a baseline workforce dataset | Current |
| | Building capability and capacity of women in recreational fishing: online course development  | Current |
| | Australian Rural Leadership Foundation 30th Anniversary Sponsorship - Silver Package | Current |
| | 2023-2025 Science and Innovation Awards for Young People in Agriculture, Fisheries and Forestry | Current |
| | Bursary to attend the 2022 Microplastics and Seafood: Human Health Symposium in the United Kingdom - Bronwyn Gillanders | Current |
| | Bursary to attend the 2022 Microplastics and Seafood: Human Health Symposium in the United Kingdom - Nina Wootton | Current |
| | Capability & Capacity Steering Committee (operations) | Current |
| | FRDC Australian Rural Leadership Foundation Alumni bursaries 2022 | Current |
| | Attracting the next generation - Primary Industries Education Foundation Australia Membership 2022-2023 | Current |
| | 2023 EvokeAG bursary | Current |
| | Evoke Ag 2023 Attendance | Current |
| | Fishing and Aquaculture Workforce Capability Framework | Current |
| | Registration for International Seaweed Symposium (Hobart 2023) - bursary | Current |
| | Attendance and participation at the Governing Changing Oceans Workshop and PICES-5th International Symposium on the Effects of Climate Change on the World's Ocean - Bergen Norway | Current |
| | Seafood employment and training platform (build - structure and design) | Current |
| | Fisheries Management Training Course Bursaries | Current |
| | Nuffield Australia Farming Scholarship to study practices in the fishing Industry | Current |
| | People development program: Australian Agricultural Industries Young Innovators and Scientists Awards | Current |