Recfishing recruits young leaders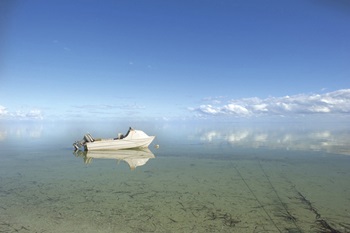 The peak recreational fishing organisations in Victoria and South Australia are actively expanding the pool of potential leaders for the sector, with a recent leadership course targeting younger recreational fishers. VRFish and RecFish SA joined forces to hold a four-day future leaders workshop at Port Fairy, Victoria, in December 2013.
The course was run by Ian Cartwright, former head of the School of Fisheries at the Australian Maritime College and well-known fisheries consultant. Participants responded to a widely advertised call for applications and nine candidates were selected.
The course provided a wide range of information on diverse subjects including fish biology, stock assessments, compliance, conservation, management and advocacy.
VRFish general manager Dallas D'Silva says he would like to see the workshop become an annual event.
"The recreational fishing sector is so diverse, and this type of program will help us to ensure that we can incorporate that diversity into our peak representative bodies and advocacy groups.
"These courses are vital if the sector is to grow into the future, effectively represent fishers and keep our fisheries sustainable in the years ahead."
He says the course highlighted the need for recreational fishers to work with fisheries managers and other users, such as commercial fishers and non-extractive users.
It also reinforced the need to have systems in place to monitor changes in fish stock numbers and fishing pressure over time.
Participants compiled a list of priority actions that they would like to see implemented to improve recreational fishing.
Participant Anthony McGrath says the course provided a great opportunity for the next generation of recreational fishers to get involved in advocacy. A mentoring program will be put in place to ensure the future leaders become a part of VRFish and RecFish SA.
Funding for the course was provided by the Australian Department of Agriculture, with support from Fisheries Victoria and Primary Industries and Regions SA. 
More information
Dallas D'Silva, 03 9686 7077
dallas@vrfish.com.au
---
$10 million pool for 2015 research
The FRDC and the Fisheries Research Advisory Bodies (FRABs) are gearing up for the 2015 annual competitive round of research, development and extension funding. The FRDC expects to invest more than $10 million through this round. FRABs will meet in March and April 2014 to finalise their priorities, which will form the basis of the call for applications for 2015 projects.
The call will be made in early May 2014.It will outline the priorities each jurisdiction would like applications to address. The priorities of the Aquatic Animal Health, Indigenous RD&E and Recfishing Research subprograms will also be included.
Expressions of interest must be submitted by 15 June 2014. Information on how to apply will be available on the FRDC website as well as through the FRABs' networks.
People Development opportunities
Applications are also invited for several People Development awards, bursaries and scholarships:
Applications close 23 April 2014
Aquatic Animal Health Training Scheme
Peter Dundas-Smith Scholarship
Indigenous Development Scholarship
Emerging Leader Governance Scholarship (Australian Institute of Company Directors)
Governance Scholarship for Women (Australian Institute of Company Directors)
International Travel Bursaries
Visiting Expert Bursaries
Applications close 31 July 2014
Australian Rural Leadership Program
Applications open 1 April 2014, Closing date TBA
Nuffield Australia Farming Scholarship
Find out more or apply on the FRDC website.