Researchers investigate public perceptions of wild-catch fishers and suggest new approaches to improve trust in the industry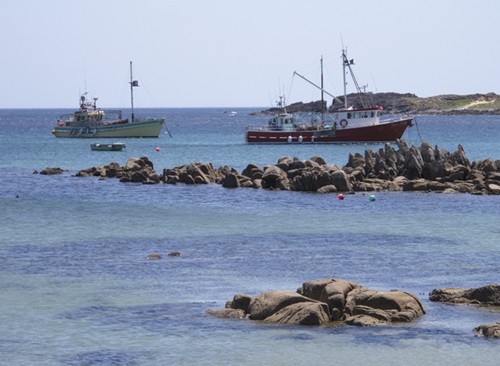 Photo: Catherine Norwood
By Emily Weekes
When controversies arise in any industry, so too, can a compelling urge to flood the media with information that will "correct the public's attitude". Yet 'public opinion' represents a vast convoy of competing interests and influences, ever shifting and difficult to define, social researcher Nicki Mazur says.
In the wild-catch commercial fishing sector, both specific controversies and the ongoing issue of fishery sustainability have sparked this informational overload response from industry.
However, Nicki Mazur's research suggests a long-term approach based on building relationships, could be more effective in building a positive platform from which to operate and influence decision-makers in the future.
She has led the FRDC-funded project 'Let's Talk Fish' along with her Charles Sturt University colleague Allan Curtis and Andy Bodsworth from Cobalt Marine Resource Management.
They have tackled the challenge of identifying how public perceptions about the sustainability of the wild-catch sector are formed, and how 'potent' or strongly held those perceptions are.
"These perceptions underpin the social acceptability of the sector, or the social licence to operate. 'Social acceptability' is a valuable currency across many sectors. Public debate can influence community support and decision-makers alike, presenting the potential to alter the viability of the industry," Nicki Mazur says.
She says if the wild-catch industry is to prosper, regulations governing access to fish and marine resources must in part reflect a sense that the sector is operating with the widespread approval of society.
Approval rating
To investigate current levels of social acceptability felt towards the sector and the motivations driving these judgements, researchers developed a mail survey and distributed it to a random sample of residents across Brisbane, Sydney and Melbourne.
The survey results revealed widespread public approval for a wild-catch fishing sector in Australia, but it was conditional on the belief that the sector was being effectively regulated and acting in an environmentally sustainable manner.
While the largest number of respondents elected to 'disagree' with positive statements about being able to rely on the wild-catch commercial fishing industry to act sustainably and in the interests of the environment, almost as many declared themselves to be 'unsure'.
"Public trust is critical to social acceptability for primary industries and for governments alike," Nicki Mazur says.
"We wanted to find out to what degree respondents thought this industry is prepared to act in the public's interest, not just its own interests, and how able it is to fish sustainably."
In designing the survey, the research team consulted with the project steering committee and representatives from fisheries management, the fishing industry, the research community and the environmental non-government organisation (NGO) sector.
Questions were refined to ensure the tone and nature of the survey would elicit a distinct response as well as measure a respondent's values, beliefs and norms, perception of risk, and trust in and attitude towards the industry, as well as government.
To address the possibility that the respondents might not be representative of the wider public, researchers tested the selection against Australian Bureau of Statistics household and population data for age and education.
"The sample did appear to be composed of slightly older Australians with slightly higher levels of education," Nicki Mazur explains, "but there weren't any significant differences when tested against social acceptability judgements."
A question of trust
To gauge how trustworthy respondents felt the industry was in terms of fishing sustainably, researchers included questions about the sector's benevolence, integrity and ability to adopt best-practice methods and work towards a sustainable future.
Most respondents identified themselves as having strong environmental values and demonstrated a belief that the sector can and does have a negative impact on marine habitat, animals and birdlife, recreational fishing and the availability of fish species for seafood in the future.
While respondents consistently favoured Australian seafood over imported products, they also wanted more funds invested in preventing harm to marine animals and birds, and in better understanding the impact of recreational and commercial fishing on the environment.
Nicki Mazur acknowledges that the survey did not measure the importance of the environment relative to other issues, but says that the findings nonetheless suggest that strong environmental values exist in the public sphere.
"Overall, the low level of trust in the sector is an area of concern," Nicki Mazur says.
"One of our key recommendations is for the industry to improve its engagement with the public but, to an even greater degree, with stakeholders."
In the wild-catch commercial fishing industry, stakeholders can represent a range of interests and experiences, from decision-makers to environmental NGOs, industry groups to recreational fishers and fisheries.
Influence over access
Researchers were keen to investigate the influence of social acceptability factors on key access decisions in the industry.
They conducted more detailed interviews with a range of stakeholders to examine the factors those stakeholders thought influenced decisions about and perceptions of the industry, from different standpoints.
Four different fisheries-access decisions were used as case studies for the interviews. Decision-makers and fisheries and interest group representatives were asked to identify factors of influence as well as the extent to which these factors impacted access decisions in Australia.
The case studies included:
establishment of the South-west Commonwealth Marine Reserves Network;
New South Wales Government buyback of commercial fishing licences and establishment of recreational havens;
changes to the Environmental Protection and Biodiversity Conservation Act 1999 to reinstate recreational fishing for migratory Mako sharks; and
development and implementation of the Commonwealth Fisheries Harvest Strategy Policy.
Interviewees suggested a broad range of factors influenced access decisions, including policy commitments, scientific frameworks, consultation processes, policy issues and controversies, and separation of fisheries management and conservation agencies.
The values and beliefs of influential people within the fishing industry, interest groups and government decision-makers also influenced decisions.
When asked to identify to what extent they thought each decision was influenced by interest groups, public opinion and the media, interviewees spoke of the role of environmental NGOs and public campaigns in raising awareness and encouraging the public to take action.
The interview data pointed to the ability of interest groups to rally parts of the public with similar values and beliefs to their own.
In turn, decision-makers have to decide how representative those responses are of the wider public and to what extent and in what way policy should be changed to reflect those interests.
Interests align
Nicki Mazur says that in all four case studies interest groups, decision-makers and the fishing industry had all tried to understand how and to what extent public opinion aligned with their respective interests.
While this might seem an obvious goal for stakeholders to pursue, it confirms the complex nature of the challenges facing the industry. However, there is hope.
"We believe that our research confirms the importance of these issues and that some of our findings shed new light on the subject," Nicki Mazur says.
"But these results are only a snapshot. Social acceptability is dynamic and always changing."
The researchers presented the findings in a workshop at Seafood Directions, the Australian seafood industry national conference held in South Australia in October 2013. It was a delicate task but
one that was met with interest and energy from participants.
"We really wanted to consult as widely as possible," Nicki Mazur says.
"Our workshop was about focusing on the problem and what the implications might be when it comes to creating an engagement strategy for the future. It was a diverse audience and that was important. We worked with an insightful group of fisheries government managers and industry association leaders, as well as representatives from conservation interest groups."
Nick Rayns, executive manager of the Australian Fisheries Management Authority and a member of the project steering committee, attended the workshop and found the discussion valuable in capturing different perspectives.
"It was good to talk through the perspectives the industry has and other jurisdictions too, in terms of what they thought of the research," he says.
"There was discussion about having a peak body for the industry where this dialogue could take place and deal with some of these issues."
While agreeing on issues might sound simple, it is a complex and integral step needed before tackling how the industry can engage differently with key stakeholders and the public and build a sense of trust. Some of the participants suggested revising the language used to describe the industry, using 'wild harvest' and 'professional' instead of 'wild catch' and 'commercial' to better reflect the setting and skills required to fish sustainably.
Nick Rayns admits that phrases such as 'exploiting fish stock' tend to conjure up confronting images, but cautions against changing language to disguise actions.
"In the end, industry and in many cases the government have to be honest about the fact that when you harvest fish you often accidentally kill other marine wildlife, seals, dolphins," he says.
"In the minds of many members of the public, they think, 'Why is that happening and what are you doing about it?' I think those are fair questions that deserve an honest answer."
Since facilitating workshops at Seafood Directions and with the Women's Industry Network for Seafood Community, the researchers have arrived at a set of guidelines on which to build an engagement strategy for the sector.
"The general public is a broad, diffuse target," Nicki Mazur says.
"Likewise, the fishing industry is not one homogenous group; it is made up of many distinct sectors and groups that are spread across Australia so it makes targeting 'the public' very difficult.
"We know from previous work that in times of low trust it is better to start to build genuine engagement and dialogue with government decision-makers, members of interest groups and their local communities, than engaging in expensive information war in the media after a controversial issue has erupted," she says.
The report notes it takes time to build relationships and that sectors should focus on identifying and engaging with those who have significant influence in decision-making contexts and the ability to galvanise parts of society with similar interests.
"If you don't understand the values and beliefs of your audience," Nicki Mazur says, "just telling them that you can be trusted isn't sufficient."
Nick Rayns agrees: "The public won't trust you unless you're honest with them. That's why part of the debate needs to be around what sort of approach could be used to gain the public's trust.
"It's a tough debate but it has to be had if the wild-catch industry is going to thrive in the future."
The Let's Talk Fish final report also recommends that the industry establishes a strategic vision or aspirational goals consistent with predominant social values and demonstrating a commitment to environmental sustainability.
"We by no means suggest that you just turn around and make friends with people," Nicki Mazur says.
"It's just not that straightforward. But we do feel that the industry would benefit from repositioning its strategies to focus on relationship building, and that's not a simple thing to do." 
---
Guidelines for more effective engagement
Focus on engaging rather than communicating with stakeholders.
Build a positive vision for the industry's future.
Avoid information wars and build stakeholder relationships.
Selectively communicate with the public.
Improve understanding of the policy process and manage expectations.
Engage internally to help people move forward.
Seek professional assistance and continue to build engagement capacity.
Identify the roles and responsibilities of every person in the industry.
---
FRDC Research Code: 2012-301
More information
Nicki Mazur, 02 6262 9075
nickimazur@grapevine.net.au