Algae is one of the rising stars on the aquaculture horizon, but scientist Pia Winberg has been working to consolidate its role as an essential link in sustainable food production for more than a decade
By Rose Yeoman
Nick Savva, manager at the AbTas abalone farm in Clarence Point, Tasmania, showing Pia Winberg juvenile abalone fed a weaning diet of seaweed to increase growth rate and condition.
Photo: Ana Rubo
For Swedish-born Pia Winberg, the time has come to step out of the world of academic research and to 'join the fray' of commercial development. Since 1998 she has been working with algae and researching its potential in food production systems. 
For the past five years it has been part of her role as director of the Shoalhaven Marine and Freshwater Centre (SMFC) at the University of Wollongong. But this year she is making the move into a commercial venture, with the aim of putting the ideas developed during research into action. Venus Shell Systems Pty Ltd is her newly formed company, which will focus on the land-based production of seaweed biomass.
The company has secured a site in the Shoalhaven region on the New South Wales north coast for pilot-scale production of three tonnes of seaweed this year. Her long-term goal is for commercial-scale production of seaweed for high-value bioactive ingredients for use in food and other products.
Early inspiration
Pia Winberg credits her journey into marine science to two childhood experiences: studying science at school and snorkelling, where she marvelled at the new world available to her under water. But it was in 1998, enrolled as an honours student at Stockholm University in Sweden and researching processes in a Tiger Prawn farm in Sri Lanka, that she became fascinated with algae.
She became aware of the potential in building a mini-ecosystem by matching species that use each others' waste streams and in which seaweed is one of the most important components.
"At the prawn farm in Sri Lanka, we were looking to overcome white spot disease by using a closed-loop production system that was isolated from polluted lagoon water.
I was measuring the water-quality dynamics in this new, integrated, multi-trophic aquaculture farm; looking at where the nitrogen went from prawn waste to sediments and to other species such as Milkfish (Chanos chanos) and Tilapia (Oreochromis mossambica), mussels and seaweeds. It was an eye-opener for me about how we can make aquaculture more sustainable."
This growing awareness helped develop what was to become one of Pia Winberg's major research interests: marine food production systems that are sustainably integrated with the coastal and marine environment. In 2008, she graduated from the University of Wollongong with a doctorate in marine conservation ecology.
She was then appointed director of SMFC, where her focus has been on the development of seaweed cultivation systems for Australia, determining which species of seaweed are suited to Australian conditions. The seaweeds selected must 'tick the boxes' for good productivity and remediation, consistent biomass and consistent quality, and offer opportunities for new high-value markets in Australia.
Marine food chain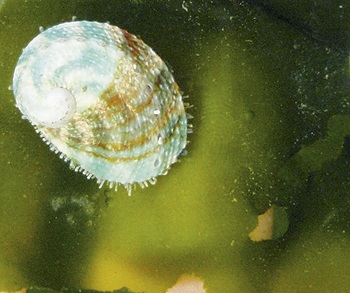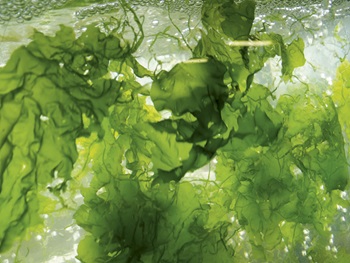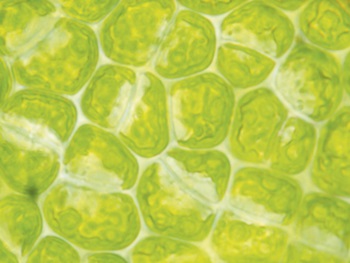 Pia Winberg says production of these seaweeds can be attached to other aquaculture systems to remediate nutrient-rich water, and there are some projects in Australia already focused on this.
Used in this way, seaweed has a role in bioremediation, where it strips out nitrogen, phosphorus and carbon, and re-oxygenates and buffers water.
"We've achieved 90 per cent recirculation in a marine fish and seaweed integrated, multi-trophic aquaculture system. The value of the seaweed in reconditioning the water for fish is excellent."
Seaweed can also be used as an ingredient in aquaculture feeds because it is high in protein and has omega-3 fatty acids as well as bioactive carbohydrates.
"The global trend is to use soybean meal in aquaculture feeds, but there are other ways to incorporate protein and nutrition that keep the marine food chain intact," she says.
Will Mulvaney, a PhD candidate working with Pia Winberg, has shown that abalone production improves when seaweed replaces at least part of the formulated plant-based feeds.
"Seaweed is currently missing in our food chain," she says.
Her vision is to incorporate cultivated seaweed biomass into soil, and as food for animals and people, to improve sustainable industry opportunities for good population health.
High-tech applications
The extraction of unique molecules from seaweeds, in particular gel or dietary fibre molecules, is one opportunity for the emerging industry.
"These are molecules used by the seaweeds for structure and flexibility and also for protection against bacteria, fungi, viruses and other stressors of the ocean environment. When extracted, they can be purified to deliver high-value compounds that also function in a similar way in soils, animals and humans."
Pia Winberg says in Australia seaweed has an image as "fluffy and alternative".
"It has been a challenge getting people to open their eyes to the scope and opportunities in seaweed. People think that sushi and miso soup are all you can do with it," Pia Winberg says.
However, seaweeds are already recognised in scientific fields as being nutritionally and medically important. There are small pockets of research and industry in Australia where seaweed gels are central to the progress of very high-tech medical research that Pia Winberg describes as "groundbreaking".
For example, stem cell culture and even new biological 3-D printing for medical implants will rely heavily on seaweed extracts, which are often highly cell compatible and also have the appropriate gel texture to make such high-tech materials.
An ancient crop
Analysis of 14,000-year-old middens in Chile has shown that seaweed was nutritionally important and valued and one of the oldest food crops, but that knowledge has been lost, Pia Winberg says.
The global status of the $6 billion seaweed industry is important, but as a crop it is not as sophisticated as land crop industries. Issues such as genetic bottlenecks are starting to emerge, as well as lost opportunity through low species diversity or a lack of knowledge of the new and emerging markets.
"Some of our most important neighbouring countries such as Indonesia and the Philippines developed seaweed industries as recently as the 1980s. Now there are dedicated seaweed villages where the income provides the resources for educating children. In some regions, seaweed has become vital for hundreds of thousands of families.
"It will be very important for Australia to engage with these nations to cooperate and serve the collective interests in the development of sustainable marine industries. A first step could be offering help to re-establish seaweed farms that were hit by the recent typhoon in the Philippines – seaweed farms can be a cost-efficient and rapid road to recovery as seaweed crops are fast growing." 
Image captions (from top)
Ulva australis, a seaweed used as an abalone feed.
Ulva laetevirens, a species of sea lettuce that grows in Australia
A microscopic view of Ulva laetevirens cells.
A species of sea lettuce, Ulva laetevirens, inculture experiments for bioremediation.
Photo credit: Pia Winberg
---
International conference
Phycology is the study of algae and from 22 to 27 June 2014, 600 national and international delegates are expected to attend the 5th Congress of the International Society for Applied Phycology at Australian Technology Park in Sydney.
Pia Winberg is a co-convenor of the event and says she is looking forward tothe conference, which has the theme 'Exploring real-world applications of algae'.
A main focus of the conference will be the high-value components of all types of both macro-algae (seaweeds) and micro-algae (phytoplankton) and will also include a BioMarine Thinktank session looking at how new marine industries can attract investment, develop and progress.
The event will also include the 'Great Biofuels Debate', to reflect on the reality of algal biofuels.
---
More information
Pia Winberg, 02 4429 1522
pia@uow.edu.au