Age-old Indigenous methods of fishing and resource management are combining with modern science to tackle fisheries challenges and provide sustainable futures for local communities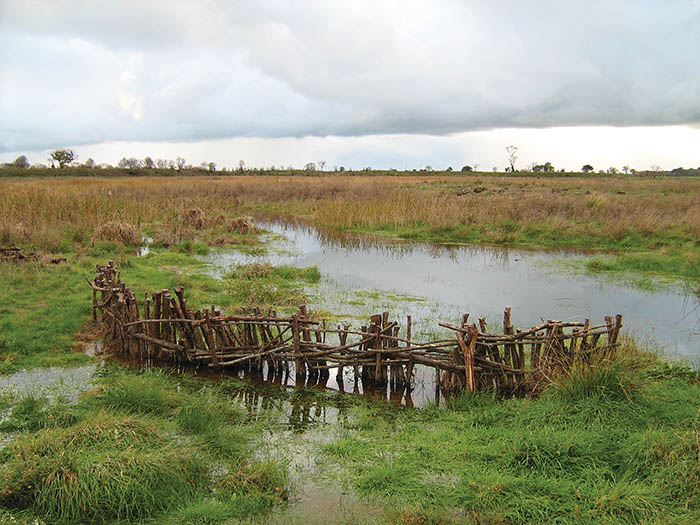 Channel with reconstructed stake, branch and weir. 
Photo: Tyson Lovett-Murray, Gunditj Mirring Traditional Owners Aboriginal Corporation
By Elisabeth Howie
On the western coast of Cape York, Queensland, a small team of land and sea rangers look after 183,000 hectares in the Aboriginal Shire of Mapoon, including 70 kilometres of coastline and three main river catchments.
On any given day, Mapoon rangers can be found on country removing debris from rivers and beaches; patrolling for illegal activities; monitoring wetlands and seagrass, and even directing rigorous research to enhance the survival of various turtle species, including the endangered Olive Ridley Turtle.
The Mapoon rangers represent one of many similar groups around Australia working to restore ecosystem health, protect vulnerable species and help manage Australia's aquatic landscapes. 
Ranger programs, and work being done within Indigenous Protected Areas, are revealing innovative ways to combine the strength of Indigenous traditional knowledge with modern science to meet the challenges of changing environments.
As part of the oldest continuing cultures on the planet, many Aboriginal and Torres Strait Islander communities have a long history of fishing and aquatic resource management. And in today's world, they are combining this knowledge with new initiatives, developing their fishery resources to enhance economic, cultural, environmental and social wellbeing.
Enterprises with a range of different business and governance models are providing benefits for Aboriginal and Torres Strait Islander people and empowering them to create a future for themselves that is both progressive and respectful of each region's values and authenticity.
Cultural tourism at Budj Bim
More than 6000 years ago, Gunditjmara people in south-west Victoria worked together to engineer one of Australia's oldest, largest and most culturally significant aquaculture systems, designed for the trapping and farming of kooyang – the short-finned eel (Anguilla australis).
The system they created was so productive that it allowed for year-round food harvesting and provided a significant economic and social foundation for Gunditjmara society.
Denis Rose, Gunditjmara elder and knowledge and estate manager of Gunditj Mirring Traditional Owners Aboriginal Corporation, says that the Gunditjmara people's continued management of the Budj Bim cultural landscape has enabled the community to sustain their traditional practices and pride in looking after country.
Increased opportunity
Budj Bim's recent UNESCO World Heritage recognition has brought a number of increased economic and tourism benefits with it, including $13 million funding from the Victorian Government to help implement the Budj Bim Master Plan.
The master plan was created with the aim of strengthening the region as a world-class destination, sharing its cultural landscape with the world whilst supporting the Gunditjmara people in achieving self-determination.
"It is essentially a tourism enterprise," says Denis Rose. "But also one that is environmentally sustainable and has important cultural education values."
The three-stage plan outlines visitor targets for the region and sets a goal of more than 150,000 visitors
a year in the next 10 to 25 years. It also recognises the need to manage tourism sustainably so that visitor growth will not have a negative impact on the region.
The plan includes creating better boardwalks, signage and access to some of the 3000 hectares of Gunditjmara-owned property within the Budj Bim landscape. For example, a pedestrian and light vehicle bridge will allow improved access to the landscape's largely inaccessible Muldoon aquaculture system.
Plans for construction of a traditional eel aquaculture facility have also been drawn up, with work expected to begin in 2020. The facility will support the development of eel products for sale and provide an educational experience for visitors to learn more about Gunditjmara people's traditional practices and culture.
"In particular we'll be looking at selling eel products and having tastings of eels – eel pâté, smoked eel, fried eel," says Denis Rose.
Two-way knowledge sharing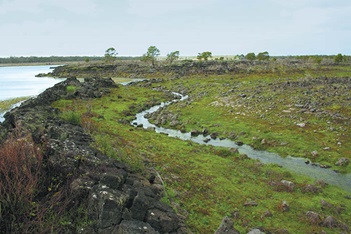 Lake Condah, Budj Bim.
Photo: Tyson Lovett-Murray, Gunditj Mirring Traditional Owners Aboriginal Corporation
He says the Gunditj Mirring Aboriginal Corporation and its community are dedicated to increasing their own knowledge of the short-finned eel, as well as other species found in the Budj Bim landscape.
In collaboration with scientists at the Arthur Rylah Institute, Budj Bim rangers have been supporting the satellite tagging of eels to better understand their movements through different landscapes.
The innovative technology will help to identify eel migration routes, along with spawning areas and differing environmental conditions during their migration. Early results have shown tagged eels located thousands of kilometres north, on their way to presumed spawning grounds in the Coral Sea.
This three-year research project involving Victoria's Department of Environment, Land, Water and Planning (DELWP), the Gunditjmara Traditional Owners and the Glenelg Hopkins Catchment Management Authority, offers a valuable knowledge exchange opportunity. DELWP staff are taking in traditional eel husbandry knowledge, while traditional owners learn about modern surveying and tracking methods.
Climate challenges
Denis Rose says climate change will be a significant challenge for the Budj Bim landscape, in particular for its water systems and wetlands.
"We're doing a lot of work at the moment with hydrologists and the local water authorities to get a better understanding of what the water is doing and planning for more resilience of our systems. It is a tough country, it is lava flow, and it will survive," he says.
"Our job is to bring it back to health as best we can. And that includes the health of the plants, the animals and the people."
A voice for Mabuiag fishers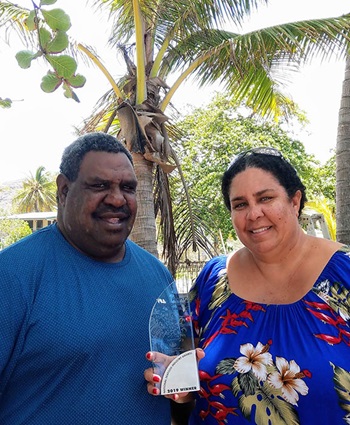 Johnny Malakula Kris, Mabuiag Island fisher and community representative, with Flora Warrior, Mabuiag Island fisher advocate who won the 2019 National Seafood Award for People Development.
Photo: Tyson Lovett-Murray, Gunditj Mirring Traditional Owners Aboriginal Corporation
On the small island of Mabuiag in the Torres Strait, Flora Warrior – traditional owner, community advocate and mentor – volunteers much of her time to support the development of the local seafood industry, mostly Tropical Rock Lobster, for the Goemulgal people.
She says initially she found herself acting as a translator for local fishers, then became an advocate for them. She was speaking on their behalf with government agencies and businesses, companies and suppliers; she was also explaining supply chain and management processes to fishers, and directing them to training and development opportunities.
"It all began with one fisher turning up [to consult with me]," she says. "Followed by another and another, until the word had spread and I realised that there were much bigger issues at stake here."
She says that Mabuiag fishers find themselves at the poor end of the supply chain and her community has been asking itself some vital questions regarding the future of its local seafood economy.
"How do we find our rightful place in the broader industry? How do we maximise opportunities so that the benefits flow back to the community? And how do we get the next generation involved in the seafood sector?"
During her business studies at James Cook University in Cairns, she explored the possibility of developing a fisheries social enterprise to improve the economic prospects and wellbeing of Mabuiag's traditional owners and community.
The idea focused on the direct global export of Tropical Rock Lobster to foreign markets, and she undertook a university project to develop a social business structure that supported local suppliers and fishers, and tackled economic challenges while reflecting the community's value system.
Fast forward a few years and Flora Warrior is using her skills to improve local governance structures in the fishing industry to ensure Mabuiag's sustainability.
She says she is optimistic about her community's aspirations, which include developing its own processing facilities so that Mabuiag can have a stronger position in the seafood market. However, sourcing capital for a facility that meets stringent food quality standards for international trade remains a challenge.
"As a very remote Indigenous community, we are often out of sight and out of mind for many stakeholders," she says.
"We don't have a post office, a high school, a bank, or infrastructure and all of the regular things that other towns have, and our [telecommunications] connectivity is really poor."
Working from her kitchen table, she has also been instrumental in establishing a micro-finance program for low-income families to bring white goods and minor assets into their homes.
The program has been extended to allow fishers to purchase equipment, such as flippers, wet suits and diving masks, so that they can go out and dive with the other fishers. "It's only a small amount," she says. "But for a lot of families, it has been a life saver."
Flora Warrior says she wants to help Mabuiag's fishers realise their worth and value to the seafood sector as a whole. And not just as fishers, but as Indigenous fishers.
"My participation in the National Seafood Industry Leadership Program in 2017 had a substantial impact on me," she says. "I realised how much my people had missed out on, and now I pass that knowledge and experience along to my community."
"Though I'm not a fisher myself, I am supporting the development of the sector – creating awareness and understanding around how the wider industry operates," she says.
"And today, we are trying to find a voice and a space for ourselves in the greater economy, and make our own decisions in the process."
Flora Warrior was the winner of the 2019 National Seafood Award for People Development.
More information
Gunditj Mirring Traditional Owners Aboriginal Corporation
reception@gunditjmirring.com
---
Indigenous RD&E Priorities for Fishing and Aquaculture, developed by the FRDC's Indigenous Reference Group
Primacy for Indigenous people
Acknowledgement of Indigenous cultural practices
Self-determination of Indigenous rights to use and manage cultural assets and resources
Economic development opportunities arising from Indigenous people's cultural assets and associated rights
Capacity-building opportunities for Indigenous people are enhanced