Initiatives that target women and help build their confidence with the rod and reel are part of efforts to make recreational fishing more inclusive and to create a larger and more diverse community of participants
By Bianca Nogrady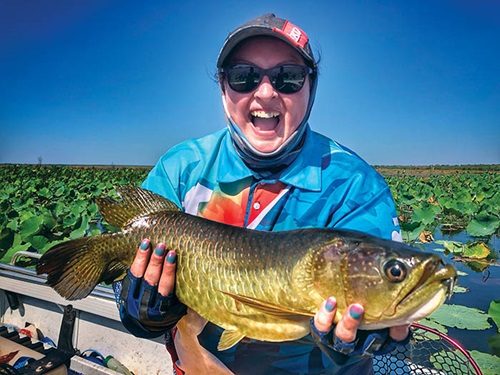 Nadia Taylor shares in the joy of the catch, an experience being shared more widely through training programs designed to bring more diverse members into the recreational fishing fold. 
Photo: Jo Starling
Recreational fishing has long been the domain of men, in modern Australia at least. So, when Nadia Taylor participated in an all-female fishing tournament, she felt a greater sense of self-confidence and belonging in the recreational fishing community than she had in the past. 
The tournament was a testing ground for the skills she has learned and the culmination of her apprenticeship with the Barra'Prentice initiative – a mentoring program for women recreational fishers.
The Barra'Prentice program, run by Jo Starling and Vicki Lear, takes one woman each year as an apprentice, trains them in everything from knots and casting to hooking up a boat trailer and reversing down a boat ramp, then tests them in the all-female Secret Women's Business Barra Challenge fishing competition in the Northern Territory.
The program began because Jo Starling realised that so many women, like her, were keen on recreational fishing but didn't want to have to rely on their partners to teach them. Jo Starling was fortunate that two of her sisters-in-law, both experienced recreational fishers, took her under their wing and taught her the ropes. That inspired her to want to do the same for other women, and so, Barra'Prentice was born.
The feedback from the six women who have graduated from the program over the past five years, including Nadia Taylor, has been overwhelmingly positive.
"What they get out of it is the self-belief that comes from becoming proficient at something that they always thought they'd just be a novice at and a tag-along," Jo Starling says. "They end up going home and teaching their husbands knots, and taking the kids fishing when husband's away."
The Barra'Prentice program is one of a growing number of initiatives working to broaden the appeal and accessibility of recreational fishing beyond the middle-aged male stereotype.
"It's all about encouraging as many people to fish as possible," says Belinda Yim, from the Victorian Fishing Authority. "Fishing is very popular amongst the male population already, but we're missing the women and the kids. If we can attract the women, then more than likely they'll bring their kids along too."
Women's network builds confidence
The Victorian Fisheries Authority is working towards this goal with its Women in Recreational Fishing – WIRF – network, which is building and nurturing women recreational fishers around the country.
That project came out of a 2017 survey that aimed to understand why women fish and what could be done to encourage more women into recreational fishing.
"One of the main findings from it was women wanted a comfortable space to be able to ask questions and share their fishing story," Belinda Yim says.
The first response to that need was to create a WIRF Facebook group, which proved so popular that it soon expanded out from cyberspace into a series of events and initiatives targeted at women interested in recreational fishing. There are the 'Ladies' Nights In' events, where the program has partnered with tackle shops to run workshops for women.
"Some women feel a little bit anxious walking into a tackle store, so we're holding events there – running talk nights on whatever topic they really want to learn about, whether it's tying knots or getting tips on what's biting at the time," Belinda Yim says.
It's not just about getting more women out on the water; the WIRF initiative wants them to take leadership roles as well. In 2018, they sent a group of female recreational fishers along to a major trade show to meet some of the big movers and shakers in recreational fishing, from celebrity fishers and FRDC representatives to CEOs of companies such as fishing equipment manufacturer Shimano. The program now has 16 WIRF leaders, who are everyday women paving the way for more women in recreational fishing.
The network is growing rapidly. It already has around 1600 members and hopes to grow that to 3000 by the end of 2020.
Increased diversity
Dallas D'Silva, director of fisheries policy, science and management at the Victorian Fisheries Authority, says the authority is keen to improve diversity across the board in recreational fishing.
"Historically we've had a certain demographic of rec fisher represented on those committees – generally Anglo-Saxon males above 50, for example," Dallas D'Silva says. "Now with the work we're doing with the Chinese community, multicultural community, women in rec fishing, the Aboriginal community, we're getting a much bigger group that's more diverse."
That work includes special fishing forums with the Victoria Chinese Angling Association to raise awareness of fishing regulations among Chinese fishers, and forums with the Burmese Karen community.
"These have been a great success in building positive relationships and networks with parts of the multicultural community," Dallas D'Silva says.
The Victorian Government's Target One Million campaign is a push to grow recreational fishing and get more people fishing more often, especially children, women, and people from diverse backgrounds.
Funding from recreational fishing licence fees supports programs such as the stocking of lakes ahead of school holidays, to attract families for recreational fishing. The organisation issues a media release ahead of school holidays to let people know which lakes have been stocked and they get plenty of enquiries from eager fishing families.
It is an acknowledgement of how much recreational fishing contributes not only to the health and wellbeing of those who fish, but to the communities they fish in.  
"That's recognising how important rec fishing is to the visitor economy and tourism industries and flow-on businesses, particularly in regional Victoria," Dallas D'Silva says.
The make-up of committees and advisory bodies for recreational fishing is also changing to better reflect Australia's diverse recreational fishing communities. Evidence and experience show that more diverse representation leads to better policy outcomes and decision-making.
Owen Li, executive officer of the Recreational Fishing Research Subprogram at the FRDC, says the increasing diversity has implications for communication about recreational fishing practices and regulations. "If you want to maximise the ability to reach certain cultural groups, the messaging needs to adapt," he says.
He says Asian and Pacific communities, in particular, have a strong attachment to seafood because it is a huge part of their culture and identity. "In Chinese culture, the harvest of seafood from a wild environment is a gift to the family and a highly prized commodity."
More information
Jo Starling
create@jostarling.com
Belinda Yim
belinda.yim@vfa.vic.gov.au
---
Fish habitat initiatives
Recreational fishing is going through a change; not just in its diversity, but also in its goals. All around the country, recreational fishers are putting down their rods and reels, and taking up the cause of habitat restoration.
The organisation behind this movement is OzFish, a national not-for-profit that is engaging recreational fishers in hands-on restoration work in their favourite fishing habitats. "We're basically mobilising that army of fishers to get out there and make positive change for fish," says Cassie Price, director of habitat programs at OzFish.
This includes harvesting seagrass seeds and using them to restore the seagrass meadows in Cockburn Sound in WA, and collecting discarded oyster shells from restaurants and wholesalers to rebuild oyster reefs in Moreton Bay in Queensland, to name just a couple of projects underway.
There are also large-scale projects using heavy machinery to return big dead tree trunks, or snags, back to the Murray River on the NSW–Victoria border as habitat for the Murray Cod and other threatened native fish species.
While OzFish has coordinated these projects, the initiative and drive come from the members of the recreational fishing community themselves, who form OzFish 'chapters' to tackle issues in their local waterways. OzFish now has 33 chapters around the country, with a presence in every state and territory except the ACT, and two Indigenous chapters. And, according to Cassie Price, it is growing "exponentially".
"There are some huge concerns out there in the community about declines in the health of a lot of their fishing spots and lack of fish to catch, and not a lot of knowing what to do about it," Cassie Price says. "Fishers come to us with a problem, we work together to find a solution and then make it happen with them."
As a result, OzFish partnered with the FRDC and the Fish Habitat Network to launch the National Fish Habitat Strategy last year, to take a more coordinated approach to habitat restoration.
"How do we mobilise everybody in the same direction and get that good science out to everyone?" asks Cassie Price. The strategy identifies opportunities to seek support and funding from local, state and federal governments, and highlights opportunities such as developing citizen science initiatives and carrying out a National Fish Habitat Assessment.
By better understanding waterways and wildlife, fishers are acting to ensure there will be fish in the future. For instance, they are engaging in more sustainable fishing practices such as catch-and-release. They are also taking responsibility for fish in crisis areas like the Darling River, helping to install aerators to make fish refuges and reducing fishing where fish populations might be under stress.
"We now have groups of fishers all over Australia taking a responsible stand; they are devoting thousands of hours to better habitat outcomes," Cassie Price says.
FRDC RESEARCH CODE: 2015-501
More information